Eruption of Italian Supervolcano Campi Flegrei Could Produce 100-Foot Tsunami, Study Claims
An underwater eruption of Italy's supervolcano, Campi Flegrei, could produce 100-foot tsunamis that could severely impact populated coastal areas like Pozzuoli and Sorrento, scientists have said.
By modeling offshore eruptions at the active volcano, which sits to the west of Naples, researchers were able to show that tsunamis could pose a risk to the region. They believe the National Emergency Plan for Campi Flegrei should be updated accordingly.
Campi Flegrei is a volcanic complex consisting of 24 craters and edifices. Many of these are underwater, in Pozzuoli Bay. The volcano last erupted in 1538, when a week-long discharge led to the formation of a new volcano, Monte Nuovo. Campi Flegrei has been active for 60,000 years, with the caldera forming during two large explosive eruptions.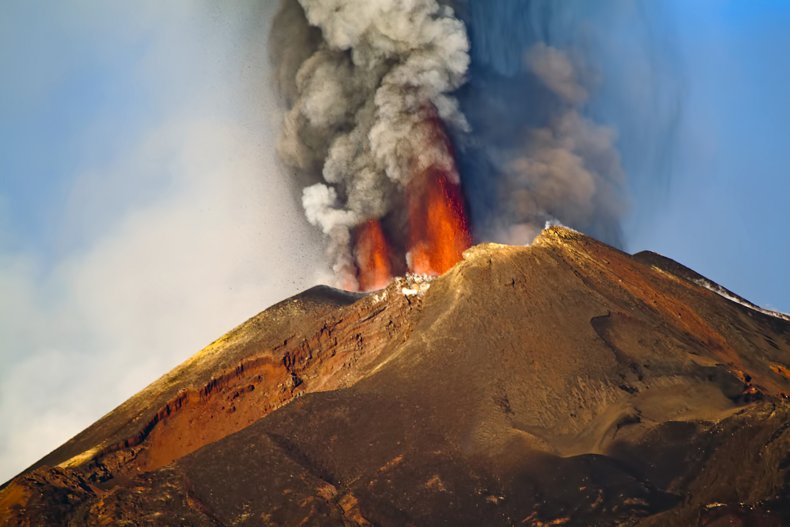 Several recent studies have indicated changes are taking place at the system. In one, researchers discovered magma appears to be building under the volcanic system, suggesting Campi Flegrei is entering a new caldera cycle. This new phase, they say, could "at some undetermined point in the future," culminating in a "large volume eruption." In another report, researchers looked at the ground deformation that has taken place in the region since the 1950s, finding that the volcano has been building energy throughout this period, potentially indicating it is "evolving towards conditions more favorable to eruption."
A significant tsunami hazard
Because of the risk Campi Flegrei poses—around 500,000 people live in the volcano's "red zone"—the Italian government has a National Emergency Plan for the event of an eruption. This plan, however, does not include the event of an eruption taking place at sea.
"Campi Flegrei is an active volcano that has been producing explosive eruptions in the past for at least 60,000 years including two super eruptions," Martina Ulvrova, from ETH Zurich's Institute of Geophysics, told Newsweek. "There are several high risks associated with this volcanic activity including large explosions that would destroy landscape and emit ashes into the atmosphere, dense pyroclastic flow of hot gas, ash and other volcanic material that is ejected into the atmosphere during an eruption."
Ulvrova added that, while the evacuation plan for a more likely land-based eruption is well established, a tsunami could also pose a risk: "We cannot neglect it and it should be included in the hazard maps for the region," she said.
In a study published in the Journal of Volcanology and Geothermal Research, Ulvrova and her colleagues produced models showing the potential tsunamis produced by eruptions of different sizes in various locations in the Bay of Pozzuoli. According to their tests, an explosion would form a "crater-like cavity at the water surface" with a column of water appearing in the center. When the column collapses, it would produce a second wave.
Their findings suggest that "a significant tsunami hazard exists in many areas of the Bay of Naples," with the risk most prominent in Pozzuoli Bay.
Under most of their eruption scenarios, tsunamis were produced that spread and hit populated areas. Most regions would only be affected by relatively small waves—under 30 feet in height, with most likely around five feet. The waves would take about 15 minutes to cross the Bay of Naples.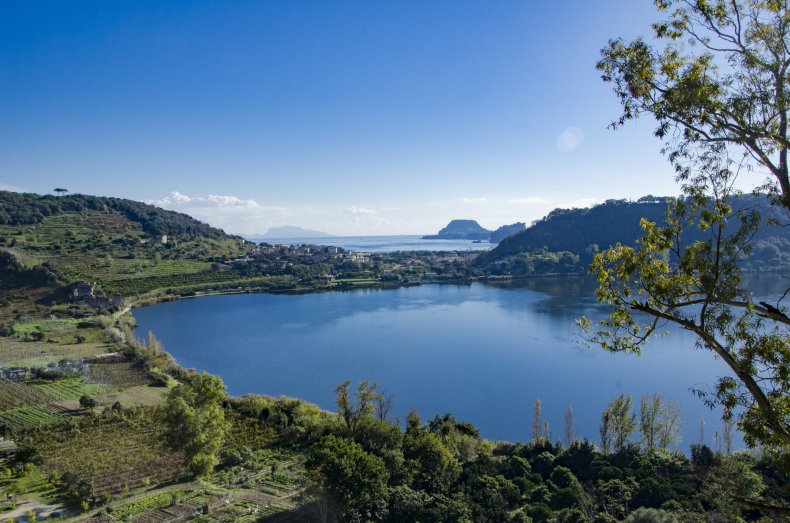 However, in a worst case scenario, waves measuring 100 feet could hit the coast: "In case that there is a big explosion in the Pozzuoli Bay, our predictions suggest that tsunamis generated by such explosion would have waves hitting the coast that are as high as tens of meters," Ulvrova said. "This would largely impact highly populated coastal areas in the Pozzuoli bay with dense infrastructure including houses, railway network, restaurants, historical buildings, etc.
"For the largest explosions, incoming waves hitting Naples would have the highest amplitudes of around 1.5 meters. The impact on the coast will definitely be smaller compared to the Pozzuoli but these waves can still have damaging effects in the harbour and on buildings in the Naples region. We talk about one of the most densely populated areas on Earth."
The team says tsunami risk should be included in the National Emergency Plan for Campi Flegrei. Ulvrova said that while the probability an offshore eruption is fairly low, "results can directly serve as input in decision making should there be an emergency related to volcanic explosion in that area."
Christopher Kilburn, a professor of Earth Science at University College London, told Newsweek that research on the volcanic threat at Campi Flegrei has largely focused on land-based eruptions, "however, an eruption offshore cannot be categorically excluded, so the [study] is important to make sure that Italy's Civil Protection is prepared for even the less-likely scenarios."
Correction 7/22, 2.25 a.m. The original article said the latest study was published in the journal PLOS One.