Viral Video Shows Superyacht Crashing Into Bridge Control Booth in St. Maarten
A $75 million yacht owned by Pakistani billionaire Alshair Fiyaz rammed into a control booth in the Caribbean, destroying the structure.
Boat International reported that the yacht Ecstasea entered Simpson Bay Lagoon on the island of St. Martin on December 15. Due to what is believed to be a combination of high winds and current conditions, it began veering to the right outside of the pilot's control.
In a video posted on SuperYachtFan, an observation platform on the bow of the Ecstasea hit the control booth of the Simpson Bay Bridge, tearing through the structure and knocking it into the water. The bridge's operator was able to jump free of the building and make it to safety.
Bystanders on the scene captured the entire incident on video and uploaded it to social media.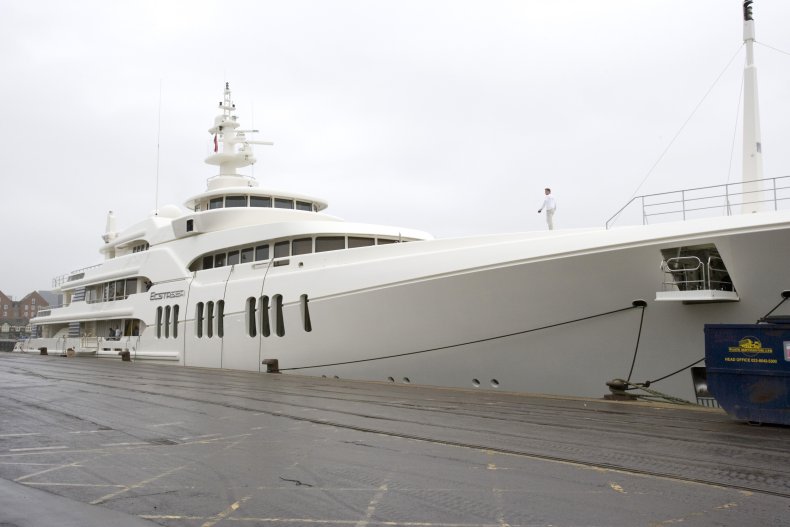 Although the control booth structure was destroyed, the bridge controls were undamaged and the Simpson Bay Bridge will remain operational. The boat itself incurred minor damage.
Ecstasea was commissioned by Russian-Israeli businessman Roman Abramovich, who built a fortune during the early 1990s as the Soviet Union opened up to private businesses. Starting out selling dolls and toys, he expanded his holdings to oil, metals and other resources.
By the middle of the decade, he had become close with President Boris Yeltsin and moved into an apartment in the Kremlin, according to The Guardian. In 1999, he was elected governor of the province of Chukotka.
Abramovitch was also an early supporter of Russian President Vladimir Putin. His career has also been dogged with controversy, as a 2008 article in the Times of London reported that he had admitted to paying out billions of dollars in bribes and protection money to secure his aluminum interests in Russia.
2004 saw him commission the construction of Ecstasea from the First Export Association of Dutch Shipbuilders, a collaboration between two Dutch shipyards known for building the custom superyachts. At the time, it was the largest vessel the group had built.
Composed of solid steel, Ecstasea measures 282 feet from bow to stern and boasts a host of amenities. An enclosed helicopter hangar on the foredeck is paired with an open landing pad in the aft. Inside, the ship features seven passenger cabins and 12 for the crew, along with a cinema, exercise room, sauna and multiple bars.
In 2009, Abramovich sold the vessel to Mohammed bin Zayed Al Nahyan, the crown prince of Abu Dhabi, for $120 million. Sheikh Mohammed then sold it to shipping magnate Fiyaz in 2014.