Support for Asylum Seekers Forced to 'Remain in Mexico' Wanes As U.S. Suspends Hearings for Weeks
Volunteer groups working to support asylum seekers and migrants forced to wait in Mexican border towns while their immigration cases are processed in the U.S. under the Trump administration's Migrant Protection Protocols (MPP) have warned of the impact the coronavirus outbreak has had on their ability to provide support.
In an interview with Border Report on Monday, Andrea Rudnik, who organizes volunteers for Team Brownsville, a group helping deliver food to asylum seekers and migrants affected by the MPP, said fears around the coronavirus outbreak had forced a months-long food delivery program to cease.
For months, he said, the non-governmental organization World Central Kitchen had been preparing daily dinners in Brownsville for asylum seekers and migrants staying at a tent camp in Matamoros. Volunteers with Team Brownsville, he said, would then deliver the meals.
However, the project has now been brought to a halt over growing concerns around the COVID-19 pandemic.
The decision came after President Donald Trump announced the U.S.-Mexico border would be shut to non-essential travel, with World Central Kitchen making the decision to stop people across the border.
Meanwhile, Team Brownsville, Rudnik said, has also struggled with how to carry out volunteer work without posing a risk to both volunteers and to the asylum seekers and migrants they are trying to assist.
The fear, Rudnik said, is that volunteers might bring COVID-19 into the Matamoros camp.
"We can't invite volunteers from other places right now," Yet, she said, volunteers are needed for food preparation and distribution.
For the time being, Team Brownsville, which Newsweek has contacted for comment, has reportedly started working with a local restaurant in Matamoros to provide meals for asylum seekers and migrants, with the organization paying for the food using online donations. The restaurant has also been asked to prepare daily breakfasts to the camp, according to Border Report.
"People are eating. People have their meals. We also have distributed a lot of bulk food items like rice and beans and pasta and canned meats and canned vegetables. So people are able to make meals," Rudnik said.
Still, immigration advocates have been critical of the U.S. and Mexican governments' lack of support for asylum seekers and migrants forced to remain in the country, leaving non-governmental organizations to pick up the slack.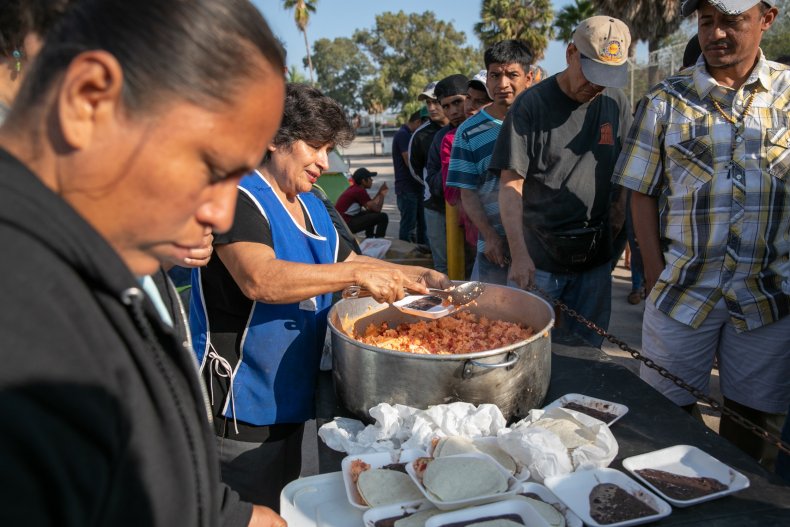 Concerns over the sustainability of the current support system also come as the Trump administration announced on Monday that MPP case hearings would be postponed until April 22, due to COVID-19 fears.
The Department of Homeland Security and the Executive Office for Immigration Review (EOIR) said in a statement that "due to circumstances resulting from COVID-19, all Migrant Protection Protocol master calendar and merit hearings presently scheduled through April 22 will be rescheduled."
The statement stressed that "neither the MPP program nor any hearings will be canceled," but, postponed instead.
"Any individual with an MPP hearing date through April 22 should present themselves at their designated port of entry on their previously scheduled date to receive a tear sheet and hearing notice containing their new hearing dates," the statement advised.
Both the DHS and EOIR, it claimed, "are deeply committed to ensuring that individuals 'have their day in court' while also ensuring the health and safety of aliens, our frontline officers, immigration court professionals, and our citizens."