Support for BLM Movement Fell 9 Points Since June But is Up 15 Points Since 'Unite the Right' Rally in Charlottesville, Poll Says
A new poll published Wednesday shows that support for the Black Lives Matter movement has fallen by 9 percent among registered voters since protests began in the wake of George Floyd's death at the end of May.
A majority of the 1,988 registered voters contacted for the Morning Consult and Politico poll between August 28 and 30 told pollsters they have a positive opinion of Black Lives Matter, but that majority still represents a drop from June 6 and 7, at which time a similar poll found 61 percent of registered voters voiced support for the movement.
Those numbers are a close match with independent voters' views, while Republican support—23 percent in August—is far lower and Democratic support—79 percent in August—is much higher. Republican support for Black Lives Matter protests has dropped by 13 percent since June, the poll found, while Democratic support has been relatively consistent over the past three months. The polls found the swing among independent voters was in between that of Republicans and Democrats, with an 8 percent decrease in support for the movement between early June and late August.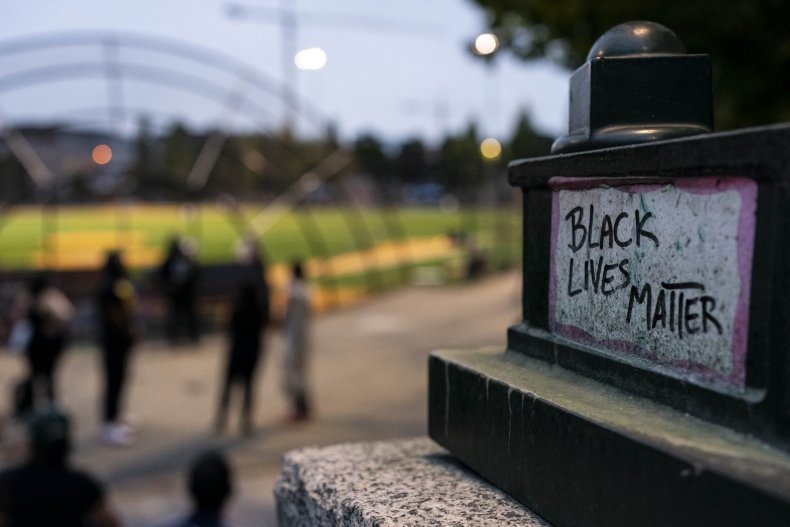 In addition to questioning respondents about their overall opinions on the Black Lives Matter movement, the June and August polls asked voters about their support for demonstrations tied to specific incidents, namely the death of George Floyd in late May and the shooting of Jacob Blake on August 23. While 57 percent of June poll respondents said they either strongly or somewhat supported the protests that began in response to Floyd's death, only 49 percent of August's poll respondents said they supported the Blake protests. The decline of support for specific waves of protests between June and August is nearly identical to that of general support for the entire Black Lives Matter movement, the poll found.
Though overall support for Black Lives Matter protests appeared to have dropped over the summer, comparisons with voter opinions documented three years ago show that the movement has gained traction among Democrats, Republicans and independents. Days after a "Unite the Right" rally in Charlottesville, Virginia, left one person dead and several others injured, a Morning Consult and Politico poll surveyed registered voters and found that 61 percent of Democrats, 14 percent of Republicans and 31 percent of independents supported the movement, numbers that have increased by nearly 20 points among Democrats and independents and just under 10 points among Republicans.
The August poll's results come as President Donald Trump and Democratic presidential nominee Joe Biden are locked in battle on a number of controversial issues leading into the general election, including law enforcement strategies and systemic racism. While several speakers at last week's Republican National Convention said Trump would work to restore "law and order" in the U.S. following the last several months of protests, Biden said he believed the country was ready to "do the hard work of rooting out our systemic racism." Though two months remain before the election on November 3, polling averages compiled by FiveThirtyEight from several recent national polls show that Biden had a 7.5 percent lead over Trump as of Wednesday, September 2.