Support for Citizenship Path for Undocumented Immigrants Plummets in 2 Months of Biden's Presidency
The number of Americans that support a citizenship pathway for undocumented immigrants living in the U.S. has decreased over the past few months, according to a new poll, reflecting a disapproval of President Joe Biden's immigration policies.
Morning Consult/Politico surveyed 1,994 registered voters from March 19 to March 22 and reported a margin of error of plus or minus 2 percentage points.
The poll found that 43 percent said undocumented immigrants living in the U.S. should be allowed to stay and become citizens if they meet certain requirements. Nineteen percent said they should be allowed to become legal residents but not citizens, 27 percent said they should be deported or removed from the U.S. and 11 percent said they didn't know.
The 43 percent that support a citizenship path for undocumented immigrants is a decrease from previous months. A poll conducted by Morning Consult/Politico from January 25 found that 57 percent said undocumented immigrants living in the U.S. should be allowed to stay and become citizens.
Support for a citizenship path for undocumented immigrants among Democrats decreased 15 percent from January (72 percent to 57 percent). Twenty-six percent of Republicans said they support the citizenship path, down 13 percent from January's 39 percent.
The most recent poll also found that 40 percent of Americans believe that the immigration system under Biden has gotten worse. According to the poll, 24 percent said it has stayed the same and 23 percent said it has gotten better.
The poll's findings come as Biden has sought to overturn a number of immigration policies previously imposed by former President Donald Trump. Biden has faced criticism for his new policies, with many saying that the U.S. is facing a border crisis with the influx of undocumented immigrants crossing the border.
Last week, the House of Representatives passed two immigration bills that would establish citizenship paths or legal status for millions of undocumented immigrants coming to the U.S. The bills were voted on along party lines, with Democrats in favor.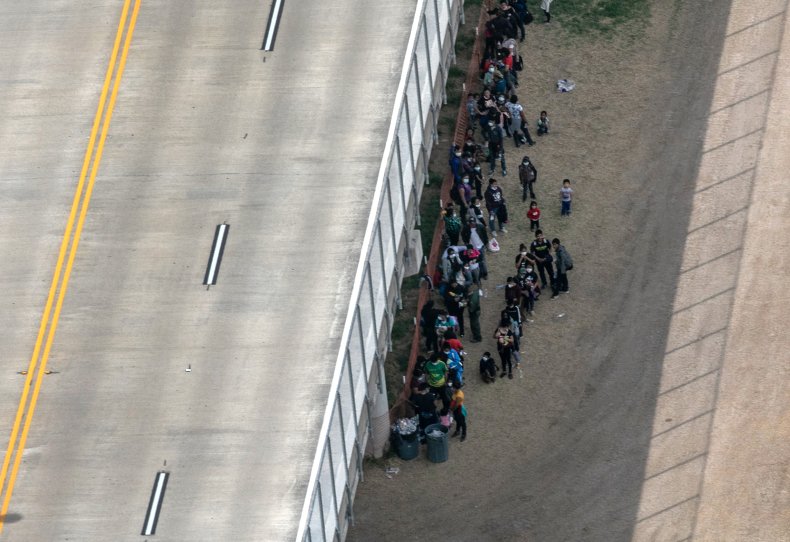 While the bills would provide citizenship paths for numerous undocumented immigrants, because of the ongoing COVID-19 pandemic, Biden's administration has continued to insist that now is not that time for immigrants to cross the border.
"Our message has been straightforward and simple," DHS Secretary Alejandro Mayorkas said during a recent interview with NBC's Meet the Press. "And it's true, the border is closed. We're expelling families, we're expelling single adults and we've made a decision that we will not expel young vulnerable children."
Despite the comments from Mayorkas, numerous reports have detailed that undocumented migrants have been held in Customs and Border Protection (CBP) custody for longer than the legally established limit and photos of the migrant facilities across the U.S.-Mexico border have shown crowded conditions.
Newsweek reached out to the White House for comment but did not receive a response in time for publication.