Support for Donald Trump's Impeachment is Higher Than His Approval Rating, New Poll Shows
President Donald Trump isn't exactly popular right now. In fact, a new poll shows that more people seem to support impeaching him than approve of the job he's doing.
The survey from Public Policy Polling—a Democratic polling company that also does public polls—pegged Trump's approval rating at just 40 percent, while 57 percent disapproved. Forty-six percent of voters, meanwhile, supported impeaching Trump, while just 44 percent are opposed, according to the poll.
The survey polled 760 registered voters from January 19 through 21. It had a margin of error of plus or minus 3.6 percentage points.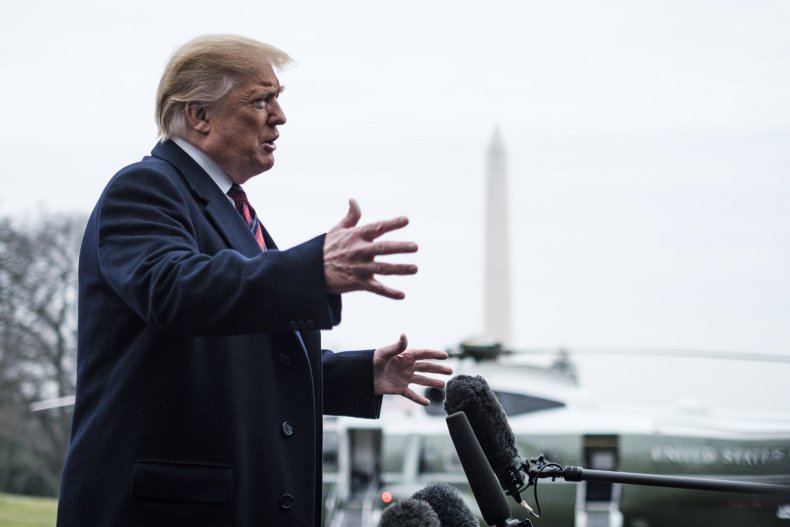 The survey also pitted Trump against hypothetical Democratic opponents for the 2020 election to see where things stood. Trump trailed all seven likely Democratic candidates that the company used: former Vice President Joe Biden (53 percent to 41 percent), Vermont Senator Bernie Sanders (51 percent to 41 percent), California Senator Kamala Harris (48 percent to 41 percent), former Texas Representative Beto O'Rourke (47 percent to 41 percent), Massachusetts Senator Elizabeth Warren (48 percent to 42 percent), New Jersey Senator Cory Booker (47 percent to 42 percent) and New York Senator Kirsten Gillibrand (47 percent to 42 percent).
"It really doesn't matter which Democratic hopeful you test against him right now," said Dean Debnam, president of Public Policy Polling, in a statement. "Voters prefer any of them over Trump at halftime of his Presidency."
And while many voters seem to support the idea, it would be a tall task to remove Trump from office through impeachment since Republicans control the Senate, which would have to vote to convict him of the charges. But Democrats could move to begin impeachment proceedings in the House. Trump himself brought this up over the weekend, maintaining that impeachment would hurt the stock market.
He tweeted on Saturday: "The Economy is one of the best in our history, with unemployment at a 50 year low, and the Stock Market ready to again break a record (set by us many times) - & all you heard yesterday, based on a phony story, was Impeachment. You want to see a Stock Market Crash, Impeach Trump!"
In the tweet, Trump appeared to be referencing an article from BuzzFeed News that said Trump directed his former lawyer Michael Cohen to lie to Congress, according to two unnamed federal law enforcement officials. A spokesman for special counsel Robert Mueller disputed aspects of the story (without going into much detail), but BuzzFeed says it stands by its reporting.