Support Dreamers' Futures via the Reconciliation Bill | Opinion
On first glance, we may seem an unlikely pairing. Delaware State University (DSU) is a leading Historically Black College and University (HBCU), while the University of Nevada, Reno (UNR) is near the threshold for an Hispanic-Serving Institution (HSI), designated for universities with student enrollments of at least 25 percent Hispanic. Meanwhile, the states of Delaware and Nevada may seem as different as our backgrounds: one of us was a two-term Republican governor while the other heads President Joe Biden's Advisory Board on HBCUs.
Despite these outward differences, we share a vision for more equitable and accessible higher education and a deep commitment to Dreamer students. On our campuses and in our careers, we have seen firsthand why expanding opportunities for immigrant youth benefits us all. It's time we all worked together—in higher education and as state and federal policymakers—to take the next steps to secure and support Dreamers' futures.
From in-state tuition eligibility to supporting our undocumented alumni's post-graduate goals, there is much to do at the state and local level. On each of our campuses, we have been proud to enroll Dreamers and to celebrate their successes.
DSU is one of the nation's top choices for Dreamer students, thanks in equal measure to our partnership with TheDream.US scholarship program and our belief that Dreamers' inclusion is the logical extension of the historic HBCU mission to provide access to high-quality, low-cost education to all. This includes students such as our first Dreamer graduate at DSU, Dulce Guerrero. She grew up in Georgia believing that high school might be the end of her formal education, but today is a proud DSU graduate who works as a paralegal en route to law school.
Meanwhile, at UNR, the success of our Dreamer students, such as Perla Gonzalez Roman, has long been a point of "Wolf Pack Family" pride. Perla became the first person in her family to graduate from college and did so debt-free thanks to her participation in the Nevada Guarantee, an institutional program designed for low-income Nevada residents, including students with the Deferred Action for Childhood Arrivals (DACA) program. She is currently studying in graduate school to become a high school counselor. As governor of Nevada, I was proud to sign into law measures that helped support and stabilize the future of Dreamers in Nevada and to join bipartisan calls to action to protect the future of DACA. It's a reminder that support for Dreamers should not be a partisan issue.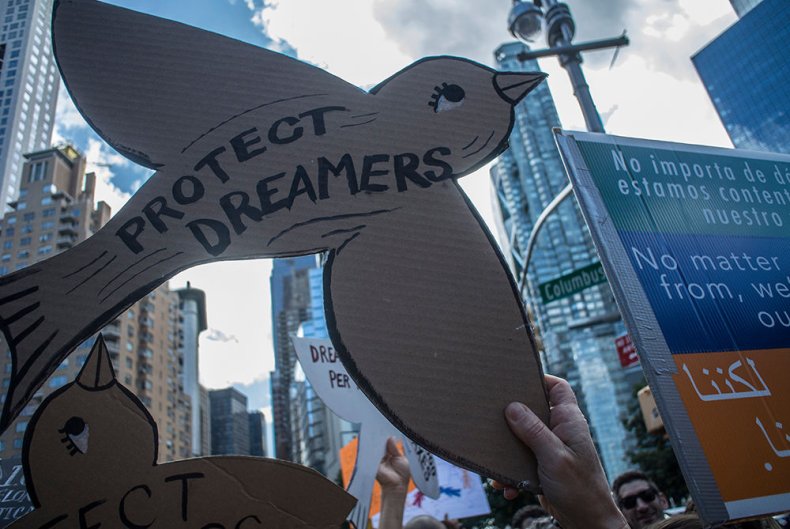 For Dulce Guerrero and Perla Gonzalez Roman, and thousands of DACA students just like them who are finding ways to make their communities a better place, DACA and a path to citizenship are critical to their success and our country's future. Yet there's only so much we can do at the campus or state level. More consequential reform must come from Washington, a fact highlighted when a federal judge in Texas again threw the future of the successful DACA program into uncertainty this past July. Despite the current administration's ongoing attempts to solidify DACA, the continued legal and procedural challenges underscore the dire need to build on DACA's successes and deliver legislation with citizenship for Dreamers.
Unfortunately, gridlock in Washington suggests that the short-term outlook for citizenship is at best uncertain. Yet there are still important steps forward for immigrant youth contained in the reconciliation bill in Congress that we support. These include work permits and protection from deportation for Dreamers and their parents who have been in the U.S. for at least 10 years, as well as measures to expand Pell Grants and ensure that Dreamers would be eligible for federal financial aid. While we continue to advocate for a path to citizenship, these interim steps forward would strengthen the futures of Dreamer students and our broader community.
When we say America is a "nation of immigrants," most people visualize long lines of people debarking from trans-Atlantic steamers at Ellis Island or large-scale naturalization ceremonies. The reality is that many arrived involuntarily as indentured servants, enslaved Africans, contracted railway laborers, or carried across the border as small children. Immigrants have built our transportation network, harvested our crops, enriched our national culture and—most recently—risked life and health to care for those suffering during the COVID-19 pandemic. Many immigrant children have thrived in our K-12 education systems, succeeded on campuses across America and are starting careers that will enrich our society.
It is in all of our interests to ensure that these Dreamers have the chance for full participation and the pursuit of happiness in the only country many have ever known as home. This starts by supporting the reconciliation bill and its immigration provisions, while remaining steadfast in calls for citizenship and state-level reforms.
Tony Allen is the president of Delaware State University and a Steering Committee member of the Presidents' Alliance on Higher Education and Immigration.
Brian Sandoval is the president of the University of Nevada, Reno, a former two-term governor of Nevada and a Steering Committee member of the Presidents' Alliance on Higher Education and Immigration.
The views expressed in this article are the writers' own.