Congressional staff seeking to unionize over what they say is low pay and grueling work conditions gained the support of House Speaker Nancy Pelosi and other members of Congress on Wednesday.
A survey of congressional staff released last month by the Congressional Progressive Staff Association found that nearly half of respondents struggled to make ends meet and nearly a third of non-management staff had a second job to supplement their income.
Congressional staffers have taken to an anonymous Instagram account called "Dear White Staffers" to complain of low pay and "toxic" work environments.
A spokesman for Pelosi, a California Democrat, announced the House Speaker's support for the push to unionize staff on Twitter.
"Like all Americans, our tireless Congressional staff have the right to organize their workplace and join together in a union, " Drew Hammill, deputy chief of staff for Pelosi, said in a tweet. "If and when staffers choose to exercise that right, they would have Speaker Pelosi's full support."
Speaking to reporters earlier on Wednesday, Pelosi dodged a question about whether she supported efforts by staff to unionize.
"Well, we just unionized at the [Democratic Congressional Campaign Committee], and I supported that, yeah. I supported that," said Pelosi, who moved on to another question.
Pelosi was referring to how staff for the Democrats' congressional campaign arm voted last week to form a collective bargaining unit under the auspices of Teamsters Local 238. The Democratic Congressional Campaign Committee staff union is the largest collective bargaining unit within the Democratic Party, according to a press release from Teamsters Local 238.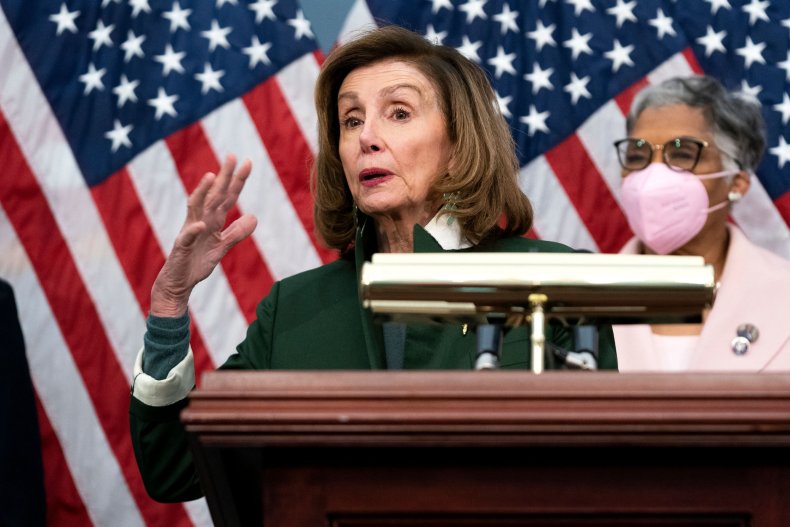 The unionization follows a vote last month of staff at the Democratic National Committee, who approved joining SEIU Local 500.
There are about 31,000 congressional staffers, according to the Federal Managers Association, which represents managers and supervisors. Of those employees, 12,500 work directly for members of Congress and 6,000 for committees. The remainder working at the Library of Congress and the Government Accountability Office.
Congressional staffers on average are age 35, younger than the average 47 for federal employees, according to the association. Roughly 85 percent have at least a bachelor's degree, "but tend to be paid less and work longer hours than Executive Branch employees," according to the Congressional Progressive Staff Association.
Federal law permits congressional staff to form a union. The Capitol Police, the Congressional Research Service and the Government Accountability Office have unions.
Newsweek has reached out to the Congressional Progressive Staff Association, as well as the Office of Congressional Workplace Rights, which performs many administrative functions for congressional staff, for comment.
Pelosi's announcement was followed by other members of Congress throwing their support behind efforts of staff to unionize.
"Congressional staff need unions now!" Representative Andy Levin (D-Mich.), said on Twitter. "Congress couldn't run without them and I'm committed to supporting their voice at work."
California Democratic Representative Eric Swalwell also reacted by saying, "They'd also have my support."