Support for Indigenous Is Key to Protecting the Amazon | Opinion
The Amazon forest was once thought of as the lungs of the world. Today, we know that among all human organs, it is most like a heart that beats and circulates humidity, through its many rivers and its rain. Along with the Cerrado—the Brazilian savanna—it guarantees climate stability for the South American continent. It is also a key element of global carbon accounting. According to the Greenhouse Gas Emission and Removal Estimating System (Seeg) initiative, deforestation and land use changes were responsible for 43 percent of Brazilian emissions in 2020. Forest restoration of degraded areas represents one of the best possible solutions to combat climate change.
Today the situation of most of the Amazon rainforest, including the Brazilian Amazon, is tragic. Deforestation runs rampant, reaching more than 13,000 square kilometers in 2021, driven by predatory agricultural practices, organized crime and illegal mining. After years of a pandemic, as well as economic and political crises, Amazonians live in a situation of vulnerability and insecurity.
In this very difficult context, the world needs to look at the Amazon forest. Both because of the social and environmental war there, but also because it is the place where such great climate solutions can be built. In a world that is currently consuming its last years of relative climate stability, it is urgent to bet massively on these solutions.
When looking at the Amazon from above, green patches of protected territories appear. Anyone who thinks that the forests have remained there because the lands are said to be "protected" or because government agencies have specific responsibilities there would be wrong. These territories are only preserved today because Indigenous populations live there, being the main actors in this protection.
The state of Mato Grosso, in the south of the Amazon, is an important laboratory that demonstrates the strength and potential of Indigenous populations as a solution to climate change. In it live 43 Indigenous groups, occupying 116 territories and more than 200,000 square kilometers of forests. Forty-three ethnic groups, 43 languages, 43 ways to think about the word and 43 cosmologies.
But despite that and despite having several symbols of indigenism in its territory, such as the Kayapo leadership itself—the great Chief Raoni—Mato Grosso is not known worldwide for its Indigenous cultural diversity. It is known much more for its agriculture. After all, in 2020, it produced more than 36 million tons of soy, had more than 30 million heads of cattle and according to the Instituto Escolhas, had a quarter of the gold extracted illegally in the Brazilian Amazon from 2015 to 2020.
It is in this territory where challenges presented by competing land use models are apparent—that the role of Indigenous populations has emerged strongly. With the support of several partners from civil society, from governments and from the international community, the State Federation of Indigenous People and Organizations (FEPOIMT) has supported Indigenous peoples with fund raising and emergency actions during the pandemic, has defended their rights in the State Assembly and in the federal Congress, as well as invested in litigation outside Brazil.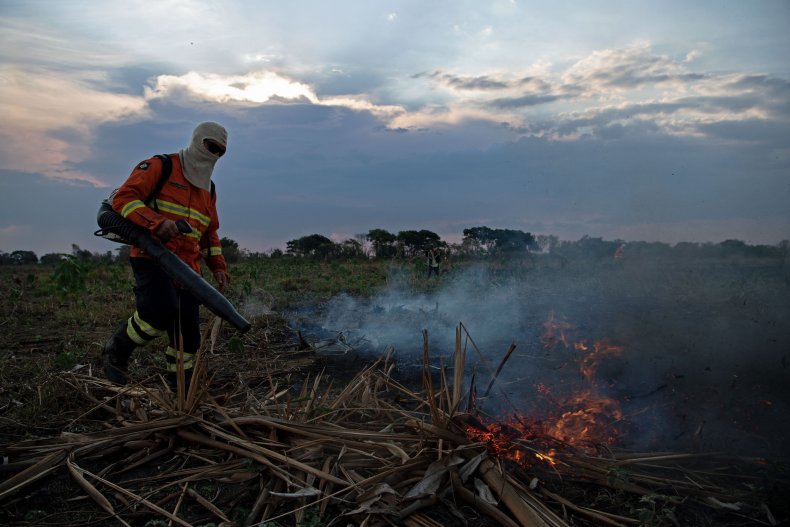 The example of FEPOIMT is far from unique, as there are several other state federations such as FEPIPA (Federation of Indigenous Peoples of the State of Pará), APOIANP (Articulation of Indigenous Peoples of Amapá and Northern Pará), or regional federations such as COIAB (Coordination of Indigenous Organizations in the Brazilian Amazon) and national as the APIB (Articulation of Indigenous Peoples of Brazil).
Compared to traditional Indigenous organizations, FEPOIMT is quite new. It was founded in 2017 based on a clear vision from Mato Grosso's Indigenous people: that even if a federation model was very different from traditional Indigenous governance, they needed an institution that could act at the state level to defend their interests. When the Mato Grosso government began to negotiate international support for REDD+—the U.N. acronym for reducing emissions from deforestation and forest degradation—based on the reduction of deforestation in the state between 2004 and 2014, FEPOIMT was able to clearly state the rights of Indigenous people to obtain part of these resources.
To guarantee this right, a 12-month process of consultation was organized by FEPOIMT to define collectively with 42 of the 43 Indigenous groups how to share the benefits of REDD+ through the Early Movers Program established with the support of Germany and the U.K. Today this program is present in almost all the Indigenous territories of Mato Grosso with projects supporting local food production and economical activities, planting and protecting forests, as well as strengthening governance among the different groups.
The threats against forests and against the people that defend them are still there. Other solutions are needed to ensure that the state of law prevails. But who better than empowered Indigenous people to monitor and support the state for the law enforcement that needs to happen?
In a world that is increasingly anxious about climate change—increasingly questioning the effectiveness of solutions—it is necessary to repeat and reaffirm this principle: Powerful solutions already exist and these solutions are not receiving the necessary level of support. We urgently need to have more Indigenous voices at the negotiating table, more resource flowing to strengthen these Indigenous voices, and greater support on the ground to guarantee their well-being.
Crisanto Rudzö Tseremey'wá is president of FEPOIMT, the Mato Grosso Federation of Indigenous people and Indigenous organizations and is also the traditional chief of the Xavante community Tres Maria.
Alice Thuault is executive director of Instituto Centro de Vida (ICV) and has been working for more than 15 years in the Brazilian Amazon.
The views expressed in this article are the writers' own.