Support for Medicare For All in U.S. Surges Amid Coronavirus Pandemic, New Poll Shows
Support among voters for Democratic presidential candidate Bernie Sanders' signature policy proposal, Medicare for All, has risen to a nine-month high amid the coronavirus pandemic, new polling data reveals.
The survey, conducted by Morning Consult and Politico from March 27 to 29, showed that 55 percent of voters back the Vermont senator's proposal for a single-payer universal health care system. That's the highest level seen by Morning Consult since June 2019, and nearly equal to the record high of 56 percent support reported back in January 2019.
"Thirty-five percent of voters continue to oppose the proposal, putting net support—the share who support minus those who oppose—at 20 points, a 9-point jump from mid-February," Morning Consult reported. The poll surveyed 1,997 respondents and has a margin of error of plus or minus 2 percentage points.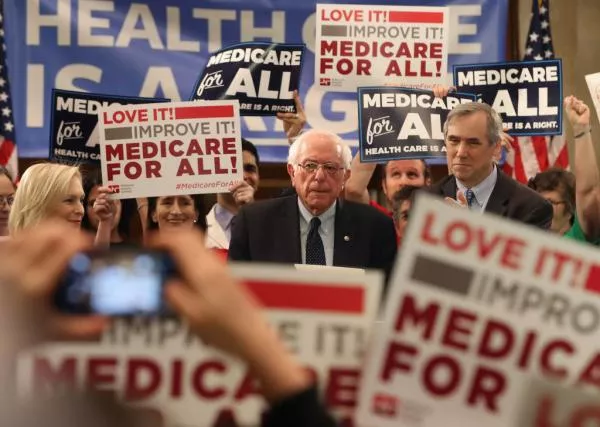 Progressive lawmakers, including Sanders, have pointed to the coronavirus pandemic and its wide-reaching economic repercussions as a sign that Medicare for All is necessary to meet Americans' health care needs. As unemployment surges nationwide, even many who were previously insured are concerned about how they can cover their future health care costs.
"Our health care system should be about protecting lives, not making huge profits for corporations," Sanders tweeted on Monday.
Democratic Representative Alexandria Ocasio-Cortez of New York, who has endorsed Sanders, raised the same argument in a Tuesday tweet.
"Every year we sacrifice human lives for the sake of our for-profit healthcare system, & next year is poised to get worse," Ocasio-Cortez wrote. "What happens when your insurance becomes unaffordable, but you 'make too much' for Medicaid? Millions go uninsured & underinsured. We need #MedicareforAll."
While Congress has already made coronavirus testing free as part of the recent economic stimulus legislation, many progressives have noted that treatment for those infected could still rack up tens of thousands in medical bills. As tens of millions of Americans remain uninsured or underinsured, this could bring a significant additional financial burden to many in the midst of a growing economic crisis.
Although Sanders is trailing former Vice President Joe Biden in the race for the Democratic nomination, his proposal for universal health care appears to be widely popular among voters across the country. Exit polls by CNN have shown that a majority of Democratic voters in nearly every state to have held caucuses or primaries have voiced their preference for a government-run universal health care system over private insurance.
Separate polling data from a Kaiser Family Foundation survey conducted in February showed that a slim majority of voters supported Medicare for All. In that poll, 51 percent of respondents backed universal health care, while 44 percent opposed it. Among Democrats, support stood at 74 percent, while 50 percent of independents and only 20 percent of Republicans backed the idea.
{{#isDisplay}} {{/isDisplay}}