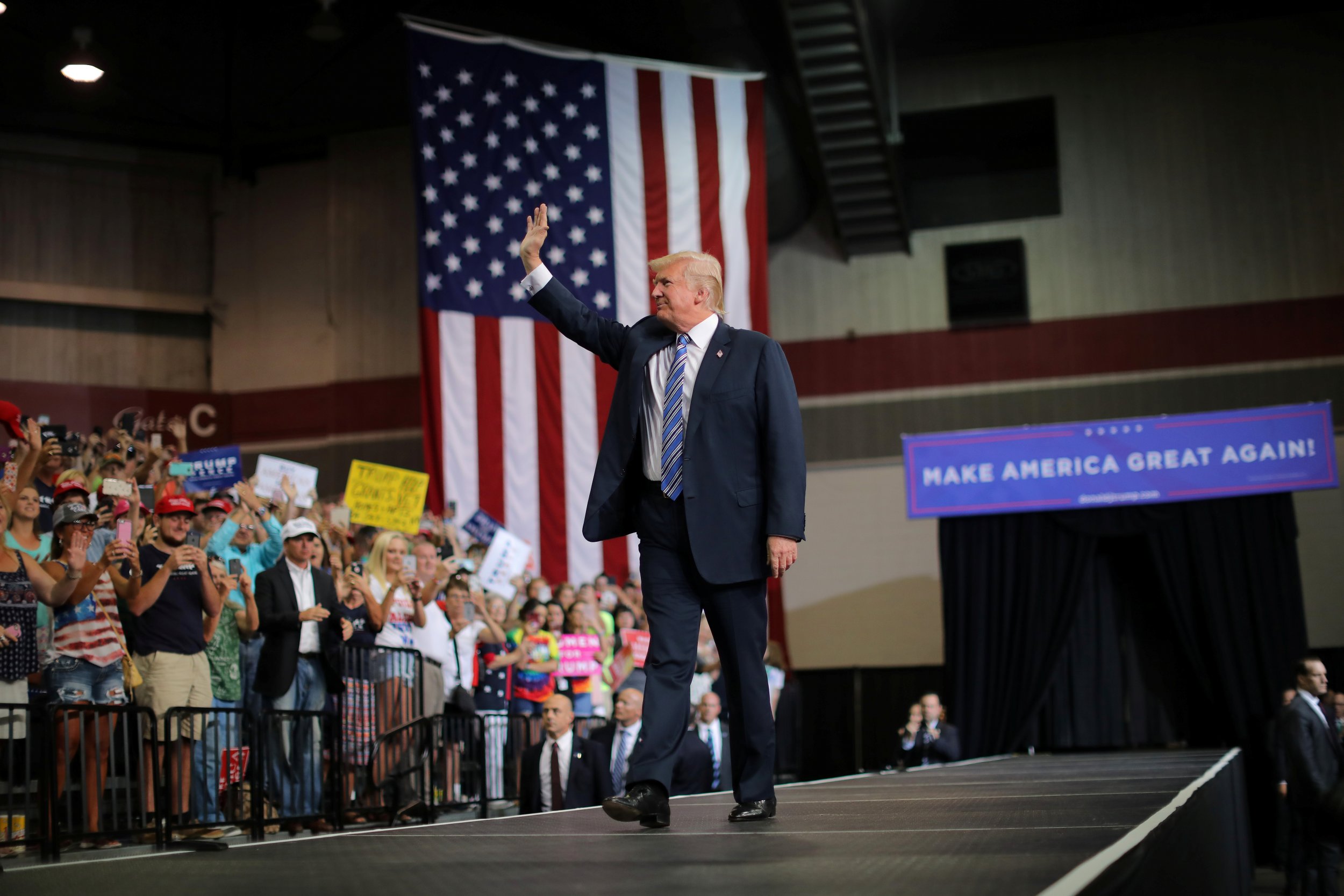 President Donald Trump has lately spent a curious amount of time talking about his "base," raising the idea that he might be aware it is vanishing.
The latest poll released by Investor's Business Daily/TechnoMetrica (IBD/TIPP) showed not only that the president's approval rating had plunged to an all-time low but also that the dip was a result of a decline among the demographic groups that helped send Trump to the White House.
On Monday, when the poll came out, the president fired off a series of tweets dismissing reports that voters who supported him were starting to pull back.
He posted: "The Trump base is far bigger & stronger than ever before (despite some phony Fake News polling). Look at rallies in Penn, Iowa, Ohio and West Virginia. The fact is the Fake News Russian collusion story, record Stock Market, border security, military strength, jobs, Supreme Court pick, economic enthusiasm, deregulation & so much more have driven the Trump base even closer together. Will never change! Hard to believe that with 24/7 #Fake News on CNN, ABC, NBC, CBS, NYTIMES & WAPO, the Trump base is getting stronger!"
The data don't back him up. The IBD/TIPP poll pegged Trump's approval rating at a paltry 32 percent, while 59 percent disapprove of the job he has done. And among Republicans—Trump's own party—his approval has sunk 12 percentage points between July and August, to 71 percent from 83 percent.
The former reality-TV star's support fell in key voter demographic groups as well. Among folks with a household income of $30,000 to $50,000, his support plunged 13 percentage points, to 27 percent. Just 44 percent of white men, meanwhile, approved of Trump's job performance, a 7-point decline from July, according to IBD/TIPP. To put that in perspective, CNN exits polls found 62 percent of white men voted for Trump in November.
Trump's approval rating has declined steadily amid a series of failures and controversies, including ongoing investigations into his administration's connections to Russia, infighting in the White House and a failed GOP attempt to replace Obamacare. IBD/TIPP found, for instance, about two-thirds of respondents thought Trump colluded with Russia to meddle in the 2016 election.
"The appearance of disarray within the White House has created a sense of uncertainty and puzzlement among Americans," Raghavan Mayur, president of TechnoMetrica Market Intelligence, said in a statement. "Trump's skirmish with Attorney General [Jeff] Sessions did not go well with many conservatives, and former communications director Anthony Scaramucci's vulgar exchange with a reporter upset many. On top of this, the daily dose of insinuations from the media regarding collusion with Russia also help to explain the low approval rating."
The poll from IBD/TIPP interviewed 904 people from July 28 through August 5. It had a margin of error of plus or minus 3.3 percentage points.