IS Supporter Gets Life in Prison for Killing U.K. Lawmaker David Amess
An Islamic State supporter who fatally stabbed U.K. lawmaker Sir David Amess last year will face life in prison, a judge ruled Wednesday.
The judge said that Ali Harbi Ali's murder of Amess "struck at the heart of our democracy," the BBC reported.
Ali stabbed the 69-year-old Amess, who was a member of the Conservative Party, in October 2021, over 20 times at a meeting in Leigh-on-Sea, which is located about 40 miles east of London. Amess' murder shocked and saddened fellow Parliament members and other figures, prompting the U.K. government to order a review of security for lawmakers after the attack, Newsweek previously reported.
Ali, 26, told the court that he was seeking revenge against members of Parliament who had voted in favor of airstrikes on Syria and that his plans were not limited to Amess, the BBC reported. Cabinet minister Michael Gove was among the other figures who were targeted, Ali said.
Amess' family said in a statement released by the Metropolitan Police that the sentencing brought them "no elation" and that "nothing will ever compensate" for the loss.
"We will struggle through each day for the rest of our lives. Our last thought before sleep will be of David," the statement read. "We will forever shed tears for the man we have lost."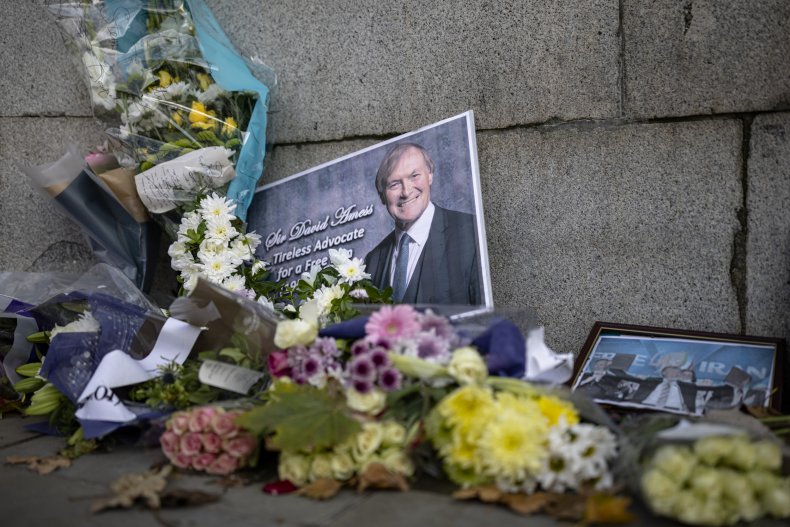 Ali was able to get access to Amess by pretending to be a National Health Service (NHS) employee moving to the area during a constituency surgery with the lawmaker on October 15, 2021, according to the BBC. Surgeries allow members of a lawmaker's constituency to meet with them to discuss matters of concern, according to the U.K. Parliament.
Noting that Amess would have went into the meeting with Ali believing that he was one of his constituents, the family said that it "breaks our heart to know that our husband and father would have greeted the murderer with a smile of friendship and would have been anxious to help."
"How sickening to think what happened next. It is beyond evil," the statement read.
While Amess' family was seen wiping away tears in the courtroom during the sentencing, Ali appeared to show little emotion, the BBC reported. In a decision that only took 18 minutes, a jury found Ali guilty of murder and preparation of terrorist acts on Monday.
Ali said during the trial that he had no regrets about his actions, and the judge said during the sentencing hearing that the defendant "has no remorse or shame for what he has done."
Metropolitan Police Commissioner Matt Jukes said in a statement after the sentencing that Ali is a "cold, calculated and dangerous individual," while Amess was an "honorable man who gave everything for his community and who loved his family."
"Sir David was callously and senselessly murdered working in his constituency, as he had done over a distinguished political career of nearly 40 years.
Newsweek reached out to Ali's lawyer for comment.
Update 4/13/22, 12:26 p.m. ET: This story was updated with additional information and background.