Supporters of Trump-Admiring Brazil Presidential Candidate Have Attacked 50 Opponents in Two Weeks
An investigation has found that supporters of Brazil's far-right presidential candidate, Jair Bolsonaro, are to blame for 50 separate acts of violence in a two-week period. Both candidates are now calling for peace just weeks before the second round of voting takes place on October 28.
Violent attacks have also come from supporters of leftist presidential candidate Fernando Haddad. Agencia Publica, a nonprofit investigative journalism agency in Brazil, reported six attacks on supporters of Bolsonaro, also known as "bolsonaristas."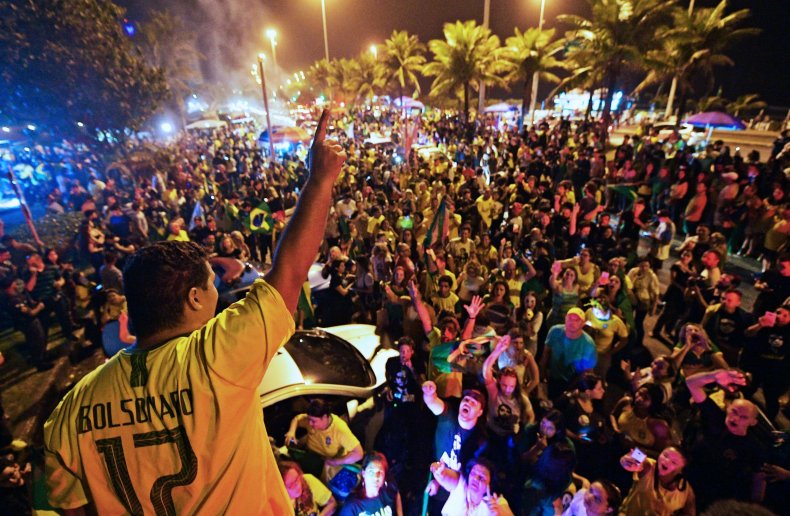 Supporters of the far-right candidate, who himself became a victim of violence when he was stabbed during a campaign rally early last month, have reportedly attacked members of the media and activists.
One man confessed to police that he stabbed a martial arts instructor and supporter of Haddad to death because of a political discussion, and a university professor allegedly ran over a t-shirt vendor for selling Bolsonaro merchandise.
"A guy with my t-shirt goes too far. What has that got to do with me? I am not in control of the millions and millions of people who support me. The violence comes from the other side," Bolsonaro said on Wednesday, according to The Guardian.
The former army captain, however, backed away from his comments in a tweet that night, saying that he didn't want the vote "of anybody who practices violence against those who didn't vote for me," according to The Associated Press.
Critical of the press in the past, Bolsonaro called the media "trash" in a tweet on Thursday. The presidential candidate then seemingly changed his stance when he called reporters "friends" during a press conference.
"Members of the press, or maybe I should say 'friends,' … we're going to guarantee the freedom of the press. We're not going to have any of that business of media control. We want for you to really be independent, and be responsible in everything that you write," he said, according to Reuters.
During the conference, the candidate's first since winning 46 percent of the vote in the first round of voting, Bolsonaro added that he isn't a far-right leader, and spoke of his respect for President Trump.
"I'm not far-right. Point to me an act of mine that is far-right. When I spoke of the migration question, it's because we can't have a country with open borders," he said, according to Agence France-Presse.
"I'm an admirer of President Trump. He wants a great United States – I want a great Brazil," he added.