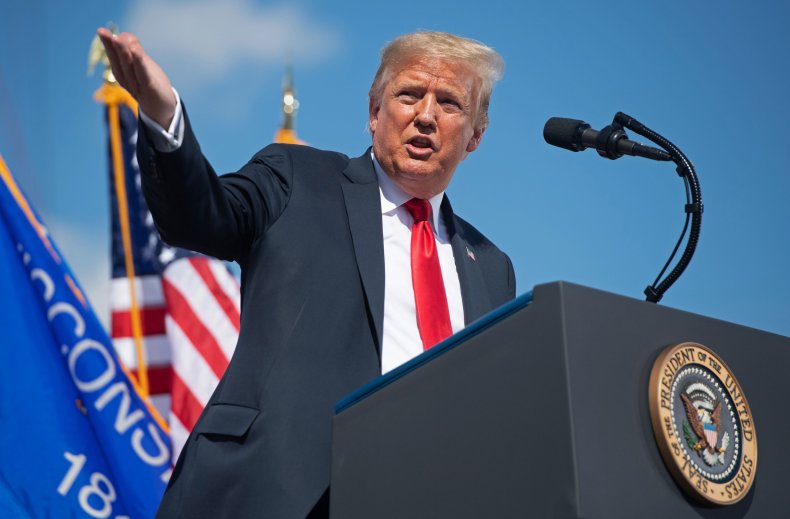 President Donald Trump has lashed out at a pair of Supreme Court rulings on access to his financial records, calling them part of a "political witch hunt," but the court's decision to send both cases back to the lower courts could prove to be a big political win heading into the fall election.
Experts generally agree that it's unlikely the public will have any chance peeking into Trump's financial records before November 3—if ever.
"Nothing is gonna happen before November election, that's for sure," Columbia law professor Michael Graetz told Newsweek.
Rick Lempert, law professor at the University of Michigan, told Newsweek the ruling near guarantees that the information remains "secret until after the election in November."
"From Trump's point of view, if what he's really concerned about is the political harm that might be done from him, it looks like a complete victory," he said.
And Claire Finkelstein, faculty director of the Center for Ethics and the Rule of Law at the University of Pennsylvania, told Newsweek that even if documents are soon given to a New York grand jury, it would be illegal for them to get out despite intense public interest.
"I expect the financial records will remain secret," she said.
The Supreme Court ruled 7–2 in two cases, with Trump-appointed justices Neil Gorsuch and Brett Kavanaugh joining Chief Justice John Roberts and the court's liberal bloc, that the fight over a New York state subpoena for Trump's tax records and a congressional subpoena for financial documents should be sent back to lower courts.
After a morning of tweeting negatively about the rulings, Trump told reporters at the White House Thursday afternoon that he was "satisfied" with one ruling and "not satisfied" with the other. He specifically took issue with the court's rejection of his legal argument that a sitting president has "absolute immunity" from subpoenas and can't be forced to respond.
"Well, the ruling's basically starting all over again, sending everything back down to the lower courts and start all over again," Trump said.
White House press secretary Kayleigh McEnany called the court's actions "a big win" for Trump, aside from the immunity issue.
The experts who talked to Newsweek said that, at least politically, they agree.
"The bottom line is we're not going to see them before the election," said Nick Akerman, an assistant Watergate special prosecutor.
Trump could decide to release or hand over all or parts of the documents at any time.
His Democratic presidential rival Joe Biden tweeted Thursday a video message of himself from the fall with the statement, "Trump, you want to talk about corruption? I've released 21 years of my tax returns—release yours or shut up."
Lempert said he wouldn't be surprised if Trump's legal team handed over some innocuous documents to the grand jury while throwing up legal hurdles to keep records they are trying to keep concealed under wraps. Anything given to the grand jury would be kept confidential, unless illegally leaked, so the public likely wouldn't know the contents either way.
"The more they can turn over, the more he can say 'I'm not trying to obstruct,'" Lempert said. "I would not be surprised if the grand jury got some documents."
While most major contenders for president have customarily released their tax records for public inspection, Trump, citing ongoing audits, has spent the past four years arguing against the release of his.
McEnany told reporters Thursday that those audits continue but she didn't know which years remain in question.
"When they are no longer under audit, he will release them," she said.
Finkelstein said the court's ruling in the congressional case, in which House Democrats were seeking access to information about Trump's financial dealings, showed Trump's critics to be on a "fishing expedition" and raised questions about the impeachment of Trump earlier this year.
"It was a huge mistake for House leadership to rush that process," she said. "It made it impossible for them to have the leverage they needed. That's why they lost the case—they didn't make it clear why they needed the records."
---
Newsweek reporter Alexandra Hutzler contributed to this report.