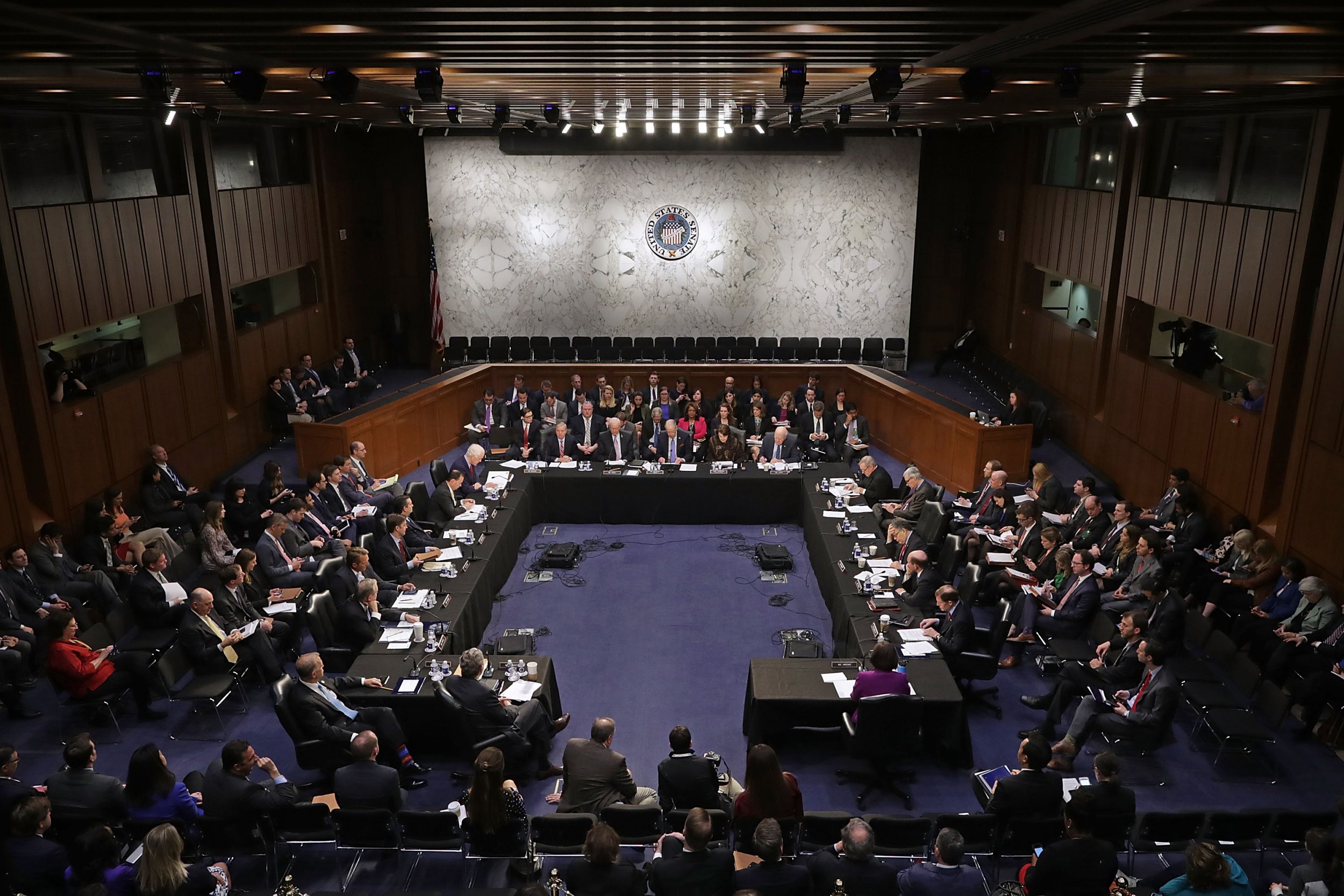 President Donald Trump announced Monday that his Supreme Court nominee to replace retiring Justice Anthony Kennedy is Brett Kavanaugh. But the conservative federal judge will still have to make it through the Senate confirmation process to take his seat on the bench.
Kavanaugh was a rumored favorite throughout the president's interview process and is respected among Republican circles for his perceived unwavering loyalty to the text of the Constitution. The 53-year-old judge will have to garner at least 51 votes in the Senate to be confirmed. And while a Republican majority currently holds the chamber, an easy ascension to the Supreme Court is not guaranteed, as lawmakers from both sides of the aisle consider the possible consequences of Trump's nominee.
Democratic leaders, including Chuck Schumer and Nancy Pelosi, are predictably denouncing Kavanaugh and hope to freeze the confirmation process until after the 2018 midterm elections by employing the same tactics used by Republicans to block President Barack Obama's justice nomination during the 2016 election.
But the senators who are most likely to be crucial to the voting process include a handful of Democrats from red states and two Republicans who have voted alongside their liberal colleagues on issues like health care and abortion rights.
Lisa Murkowski, a Republican senator from Alaska, has not said how she will vote for Kavanaugh but did announce in a Twitter statement that she intends to review all possible information before "determining whether or not to support" Kavanaugh.
Maine Senator Susan Collins is the second Republican lawmaker who is the most likely to swing with Democrats during the confirmation vote. Collins also released a statement on social media saying that she needs to think more about Kavanaugh before deciding what her vote is going to be.
Both Murkowski and Collins supported Justice Neil Gorsuch during his controversial confirmation to the Supreme Court last year, but they have both surprised members of their own party when they've voted with Democrats on hot-button issues like reproductive rights and Obamacare.
The women are supporters of abortion rights and last year voted with Democrats to uphold the Affordable Care Act, despite the Republican effort to repeal the health care legislation.
According to a recent report by The New York Times, outside advocacy groups dedicated to blocking Kavanaugh's nomination are spending millions to advertise against Trump's pick in Collins and Murkowski's home states in an effort to swing their vote.
Other lawmakers who are under close watch throughout the Senate's confirmation process include Democrats from red states who are battling to be re-elected in the 2018 midterm elections. These senators include Heidi Heitkamp of North Dakota, Joe Donnelly of Indiana and Joe Manchin III from West Virginia.
Heitkamp responded to the president's announcement on Twitter, saying that she has "no doubt that many members of Congress and outside groups will announce how they stand on the nominee before doing their due diligence and instead just take a partisan stance—but that isn't how I work." Though Heitkamp supported Gorsuch, she added that his nomination process was "exhaustive and fair" and that the case for Kavanaugh should be the same.
Donnelly echoed Heitkamp's sentiments, saying that he will take the same approach to Kavanaugh's potential appointment as he has during all other Supreme Court nominations.
Of these three Democratic lawmakers, Manchin III seems to be the most opposed to Kavanaugh holding a seat on the high court. Though the senator has not yet announced how he will vote, he has expressed concern for how the Supreme Court will decide on key issues for his state.
"The Supreme Court will ultimately decide if nearly 800,000 West Virginians with pre-existing conditions will lose their healthcare. This decision will directly impact almost 40% of my state, so I am very interested in his position on protecting West Virginians with pre-existing conditions," Manchin III wrote in a Twitter post on Monday night.
The senator added that he looks "forward to meeting with Judge Kavanaugh, examining his rulings and making a determination of whether to provide my consent."
Kavanaugh's rulings on health care have been traditionally conservative, but it is not easy to predict how he will vote on the Supreme Court. In a recent court decision, Kavanaugh ruled that the government could not provide abortion services to an illegal immigrant but did not go so far as to say that there was no constitutional right to abortion, period.
When it comes to Obamacare, there have been two instances where Kavanaugh has rejected constitutional challenges to the health care law, much to the dismay of his conservative colleagues.
In his speech in the East Room of the White House on Monday, Kavanaugh said that he will begin meeting with senators immediately and that if he is confirmed by the Senate he will "keep an open mind in every case, and I will always strive to preserve the Constitution of the United States and of the American rule of law."