Supreme Court to Decide Whether $30M Painting Looted by Nazis Will Return to Jewish Family
The Supreme Court of the United States (SCOTUS) is set to decide whether a painting stolen by the Nazis will be returned to the Jewish family from which it was taken.
SCOTUS began hearing arguments in the case on Tuesday, which revolves around the 1897 painting, "Rue Saint-Honoré in the Afternoon. Effect of Rain" by Danish-French impressionist, Camille Pissarro. The work was taken by Nazis in 1939 and is currently on display at the Thyssen-Bornemisza museum in Madrid, Spain, according to Raw Story.
At the time it was taken, the painting was owned by Lilly Cassirer Neubauer, a member of a renowned Jewish family in Germany. Neubauer was forced to give up the painting, valued today at around $30 million, for a small sum in exchange for being able to leave Germany.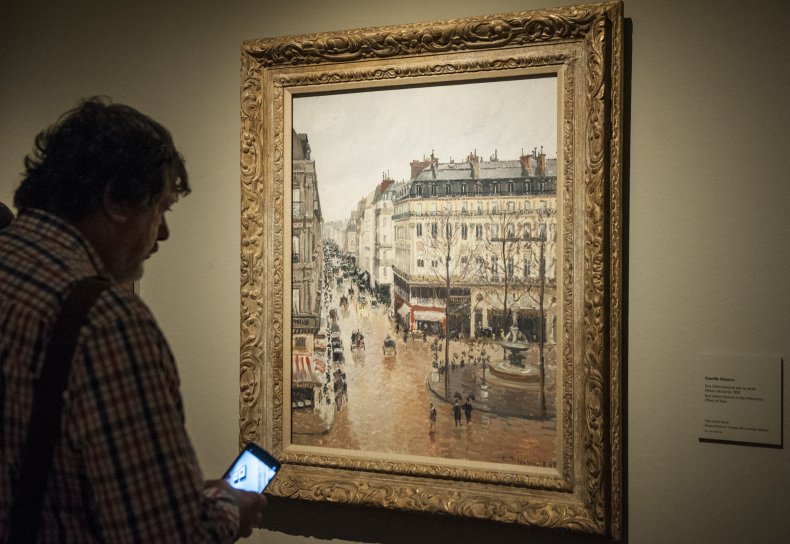 In the years since the end of World War II, Neubauer and her family lost track of the Pissarro painting. They ultimately accepted $13,000 as recompense for the loss from the German government in 1958.
Neubauer's grandson, Claude Cassirer, first discovered the painting on display at the Thyssen-Bornemisza gallery in 2000 and launched legal efforts to return it to his family, culminating in Tuesday's SCOTUS hearing after courts in Spain and California denied the case. Cassirer died in 2010, leaving his children, David and Ana, to continue the legal battle.
SCOTUS will decide whether the painting falls under Spanish or Californian law. In Spain, an item does not have to be returned if the purchaser was unaware of any illegal origins it had when the sale was made and if they have owned the item for more than six years. In California, stolen or otherwise looted items cannot be kept, even if the buyer was not aware of the issues.
The museum in Madrid, named for the man who acquired the painting in 1976, Baron Hans-Heinrich Thyssen Bornemisza, has said that the baron acted in good faith during the purchase.
Nazi Germany was estimated to have looted around 600,000 works of art from across Europe.
"During the Second World War, Adolf Hitler mandated that other nations' cultural property be obtained, often forcibly, for the greater good of the state," the United States Holocaust Memorial Museum wrote on its official website. "The Nazis targeted private Jewish collections, public museums and organizations deemed to be at odds with Nazi ideology, such as Freemasons."
The museum notes that the Soviet and American armies also plundered works during WWII. The Red Army, it wrote, did so "more thoroughly and systematically," while American looting was more "at the level of individuals stealing for personal gain."