The Supreme Court Is Deciding if I Can Stay in the U.S.—But My Home Is Here | Opinion
The Supreme Court heard oral arguments on Tuesday regarding the Deferred Action for Childhood Arrivals policy, which provides hundreds of thousands of young immigrants like me protection from deportation, work authorization and the ability to pursue dreams that once seemed impossible. When President Barack Obama announced the DACA policy in 2012, it gave me a new lease on life. Thanks to DACA, I was able to pursue my dream of becoming a lawyer and go on to use my legal skills to help immigrant communities.
But now my future—and that of hundreds of thousands of others—is in the court's hands.
Before Obama announced the DACA policy, I earned a living cleaning houses with my aunt and babysitting. Neither one of these jobs required me to present a valid Social Security number, and the money I earned went toward paying for my education. Cleaning other people's homes and caring for their children helped me pay my way through undergrad—enabling me to become the first in my family to graduate from college—and instilled in me a deep respect for labor that is both feminized and invisible. I was, and am, proud to have this work experience on my résumé. I also knew that I was capable of and eager to do so much more.
My parents and I migrated to the U.S. when I was 11 months old. Like many before us, we left Mexico seeking a more prosperous future. Neither one of my parents went to college. My dad graduated high school, and my mom completed only the sixth grade. I worked hard to be the first in our family with a diploma. I graduated from San Francisco State University in May 2012, uncertain if I could find a way to fulfill my childhood dream of becoming an attorney. Then, on June 15 that year, Obama announced the DACA policy.
DACA was a response to the collective bravery of hundreds of thousands of undocumented young people like me who shared their stories publicly, marched and continued the tradition of civil disobedience in the United States, with its roots in the civil rights movement, to draw attention and support for our struggle. DACA didn't just provide us protection from deportation and work authorization—it emboldened us to take risks and realize dreams that once seemed impossible.
Thanks to DACA, I not only attended and graduated from law school but also became the first DACA recipient admitted to the Connecticut Bar. Currently, I work as an immigration attorney at Make the Road New York, helping immigrants like me fight for the opportunity to remain in the country they call home. It's both a privilege and a burden to work on an issue that is so deeply personal. I'm reminded on a daily basis of the limitations and challenges of our legal system and how I, too, am at the mercy of the same laws and system I'm helping my clients navigate.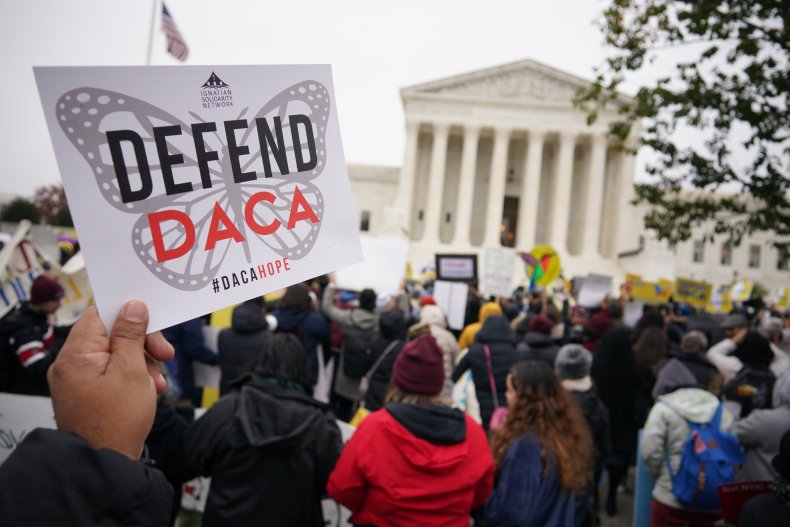 Before DACA, my life was full of uncertainty and fear. I worried about my parents getting deported, about how I would pay for school, and whether I would be able to pursue a legal career. Since DACA, I've been less afraid and better positioned to use my education and skills to serve my community. While DACA does not offer a permanent pathway to citizenship, it has given me and hundreds of thousands like me opportunities and privileges that were previously foreclosed. This policy has given us ways to continue contributing to the country we call home; more important, it has given us a semblance of stability and hope.
On November 12, the fate of this policy, and by extension, our fate as DACA recipients, will be decided by the Supreme Court. Inside the court, the justices will hear arguments about the legality of the policy. Outside the court, I will be standing with my fellow DACA recipients and other undocumented people, reminding the American people that our home is here and urging the justices to make the right decision.
Denia Perez in an Immigrant Justice Corps fellow and immigration attorney at Make the Road New York.
The views expressed in this article are the writer's own.