Supreme Court Declines de Havilland's Defamation Case vs. FX's 'Feud: Bette and Joan' Miniseries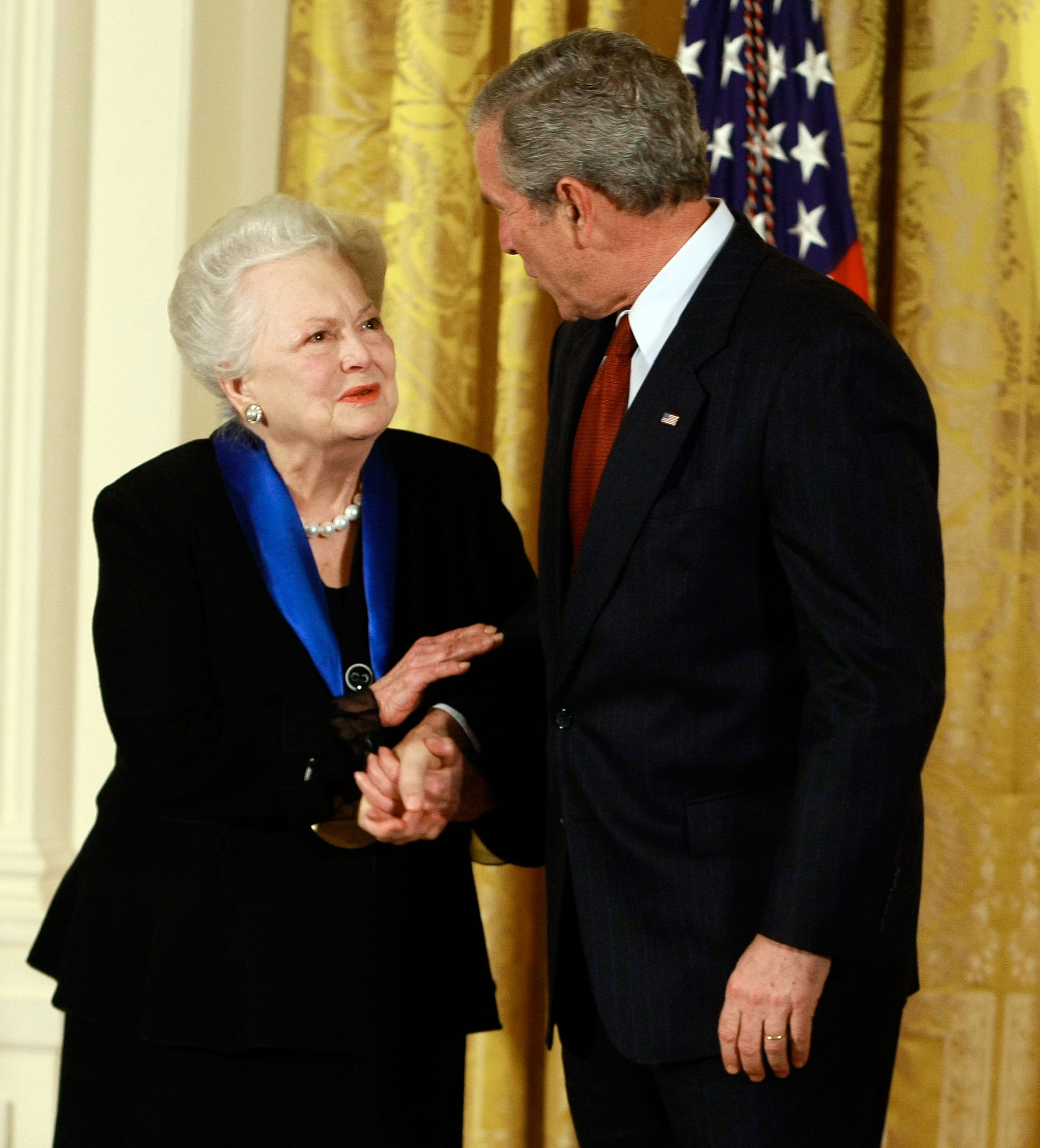 Two-time Oscar-winning actress Olivia de Havilland has lost her bid to have the U.S. Supreme Court take a case in which she objected to the way she was depicted in an FX miniseries, a ruling that could open the way for major Hollywood studios to wield more creative license in depicting real-life people in dramas.
The Supreme Court declined earlier this week to hear the case, according to the Associated Press.
De Havilland, 102, perhaps most famous for her role as Melanie in 1939's Gone With the Wind, filed a lawsuit against FX Networks. She vehemently objected to how her character was depicted in the eight-part miniseries Feud: Bette and Joan, focusing on the rivalry between actresses Bette Davis and Joan Crawford. Catherine Zeta-Jones plays De Havilland in the series.
Feud: Bette and Joan, De Havilland charged, damaged her "professional reputation for integrity, honesty, generosity, self-sacrifice and dignity," as the Los Angeles Times reported in December 2018.
Furthermore, the Times reported that De Havilland maintains that FX violated her own free speech rights by deliberately misrepresenting her as a profane gossip and attributing false words to her, including obscenities aimed at her sister, actress Joan Fontaine.
De Havilland said that her likeness was illegally used and that her character, as played by Zeta-Jones, comes across as a vulgar gossipmonger. De Havilland contends that no one asked for her permission to use her likeness or consulted with her on the project.
Since the Supreme Court has refused the case, it is upholding a California appeals court's decision to throw out the lawsuit. The appeals court unanimously ruled in 2018 that California law and the First Amendment required the lawsuit's dismissal.
De Havilland lost her bid in the California appeals court in March and the California state Supreme Court in July. That's when she and her lawyer petitioned the U.S. Supreme Court; their goal was to seek a reversal of the appeals court ruling and to pursue a jury trial, but those efforts are now moot.
The Times reported that Suzelle Smith, De Havilland's attorney, said in December that the case has larger implications for the power studios wield.
"The appellate court set out a rule that means everyone is at the mercy of the entertainment and news media," Smith told the Times. "Living people can be falsely portrayed because the public may have an interest in the story, whether accurate or a pack of lies."
The core issue of the lawsuit is whether De Havilland is considered a public figure. University of California, Los Angeles, School of Law professor Eugene Volokh told the Times that public figures don't have exclusive control over their name or likeness.
"They do when it comes to commercial purposes, like advertising, but that isn't the case here," said Volokh. "The question before the Supreme Court is not whether the [appellate] decision was wrong but whether it conflicts with decisions regarding the First Amendment in other states."
De Havilland's long run in Hollywood started with Alibi Ike, in 1935, and continued with higher-profile performances in Gone With the Wind, Hush...Hush, Sweet Charlotte (1964), the TV miniseries Roots: The Next Generation (1979), North and South, Book II (1986) and at least 55 other earlier films, TV series and TV guest appearances.
Ryan Murphy produced the 2017 miniseries for 21st Century Fox, which owns FX. As usual, the Supreme Court justices did not comment on the case's dismissal, according to the AP. FX reportedly declined to comment.
Supreme Court Declines de Havilland's Defamation Case vs. FX's 'Feud: Bette and Joan' Miniseries | U.S.