Brett Kavanaugh, Donald Trump's Rumored Supreme Court Top Pick, is No Conservative 'Bomb Thrower'
As President Donald Trump continues to mull candidates to fill the Supreme Court seat being vacated by retiring Justice Anthony Kennedy, one judge may be at the front of the pack. Brett Kavanaugh, a 53-year-old appeals court judge with years of federal experience, has been described by political experts as a fair-minded, independent and mild-mannered front-runner.
"He is a superb pick with a clear record of very thoughtful, erudite, principled decisions," John Malcolm, vice president of the Heritage Foundation's Institute for Constitutional Government, told Newsweek.
But perhaps most important for Trump and the Republican Party, Kavanaugh has been repeatedly described as predictable. While Kavanaugh is certainly conservative, he's not a "bomb thrower," in Malcolm's words.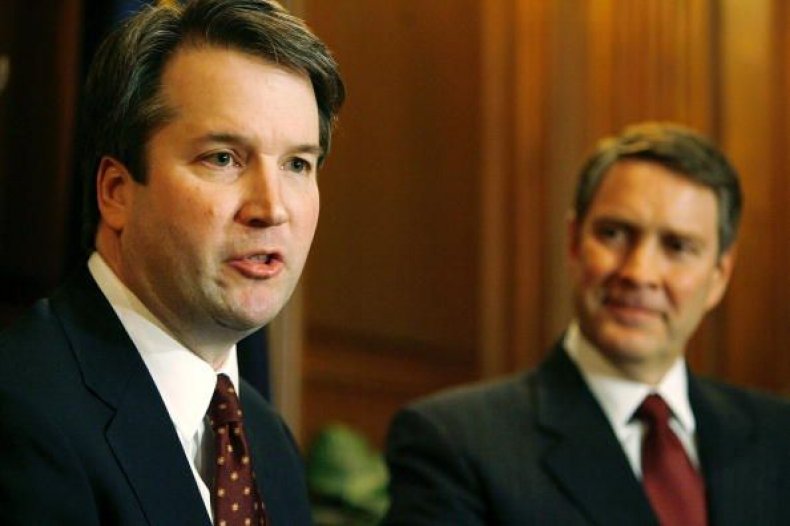 Kavanaugh has a reputation as a staunch originalist and conservative who more often than not rules in the favor of federal separation of powers and resists the expansion of administrative federal offices.
"All things that are music to the ears of conservatives and libertarians," Ilya Shapiro, a senior fellow at the Cato Institute, told Newsweek.
But Shapiro also noted that the judge has made no especially controversial rulings on hot-button issues like abortion or LGBTQ rights, and that a majority of his written opinions deal with reviewing the decisions of government agencies. In a recent decision, however, Kavanaugh ruled that the federal government could not administer an immediate abortion to an undocumented immigrant minor. But that decision was later vacated by the court. And liberals may worry about Kavanaugh's other decisions, like efforts to attack the Consumer Financial Protection Bureau.
"He's established a reputation for bread and butter constitutional efforts," Shapiro said. "He's very savvy and extremely smart, and he would both want the court to be sound in legal doctrine and build his own legacy as a leader."
Kavanaugh has been a judge for the U.S. Court of Appeals for the District of Columbia Circuit for over a decade. Before that, he worked in the White House as a counsel and staff secretary during the George W. Bush administration. And Kavanaugh also worked on "The Starr Report," which outlined the grounds for President Bill Clinton's impeachment. In his work on that report, Kavanaugh argued for a broad range of impeachable offenses—a position that might alarm Trump as he faces challenges to his own presidency.
In the report, Kavanaugh and his colleagues criticized Clinton for spreading "intentional and calculated falsehood to deceive the Congress and the American people," The New York Times reported.
Kavanaugh graduated from Yale Law School, where he adopted many of the views of late Supreme Court Chief Justice William Rehnquist. Early in his career, Kavanaugh served as a law clerk to Justice Anthony Kennedy, whom he may succeed if nominated by the president.
His ascension to the D.C. Circuit was met with controversy, though. A Senate committee blocked his nomination for three years as a group of Democrats repeatedly asked Bush to withdraw his recommendation because they considered him too partisan. The judge had to meet with the Senate Judiciary Committee twice but was appointed to the court in 2016.
Kavanaugh's career as a federal appellate judge has been largely defined by his support of the Constitution strictly as written, and some of his rulings reflect this textualist outlook more so than partisan politics. In his decade on the circuit court, Kavanaugh has sent the highest number of young lawyers to Supreme Court clerkships and has been bipartisan in his dealings, offering clerks to every justice on the high court except for Ruth Bader Ginsburg.
In two cases dealing with President Barack Obama's Affordable Care Act, Kavanaugh went against his more conservative colleagues and rejected constitutional challenges to the health care law.
In one of those cases, Kavanaugh dismissed his fellow judges for wanting to "decide these weighty and historic constitutional questions" for their reputation, arguing that the majority's decision to rule against Obamacare in this instance would break long-standing federal laws.
Trump met with Kavanaugh on Monday, along with three other contenders: judges Amy Coney Barrett, Amul Thapar and Raymond Kethledge.
Trump has said that after he finishes interviewing he will select his nominee to replace Kennedy by Monday. His speed in getting the nomination process underway is tied to the Republican Party's desire to get a justice approved before the midterm elections.