U.S. service members will continue to be barred from suing the Defense Department for medical malpractice after the Supreme Court declined to hear arguments on Monday from a 2015 case that challenged an almost 70-year-old legal precedent.
Walter Daniel, a former U.S. Coast Guard officer, filed a suit against the U.S. government under the Federal Tort Claims Act after his wife, 33-year-old U.S. Navy Lieutenant Rebekah "Moani" Daniel, suffered postpartum hemorrhaging and died hours after giving birth to their daughter, Victoria, at Naval Hospital Bremerton in Washington state.
The lawsuit had failed from succeeding in the lower courts due to a 1950 Supreme Court case, Feres v. United States, which established the controversial legal precedent known as the Feres doctrine. The doctrine prevents service members on active duty from leveraging medical malpractice lawsuits against the armed forces under the Federal Tort Claims Act for injuries and negligence.
"Sadly, the justice system remains closed to our family, our colleagues and the families who commit their lives to military service," Daniel said in a statement to Newsweek on Monday. "Victoria and I won't have the opportunity to learn what led to Moani's death, and to ensure others don't experience the same tragedy."
The petition was denied Monday, but two Supreme Court Justices with opposing political ideologies—conservative Justice Clarence Thomas and liberal Justice Ruth Bader Ginsburg disagreed with the decision, saying the high court should reconsider the 1950 ruling. Ginsburg did not join Thomas' dissent.
Thomas wrote that the Feres doctrine has had "unfortunate repercussions," such as denying "relief to military personnel." He also cited late Supreme Court Justice Antonin Scalia's dissenting opinion in a Feres doctrine case from 1987: "Feres was wrongly decided and heartily deserves the widespread almost universal criticism it has received."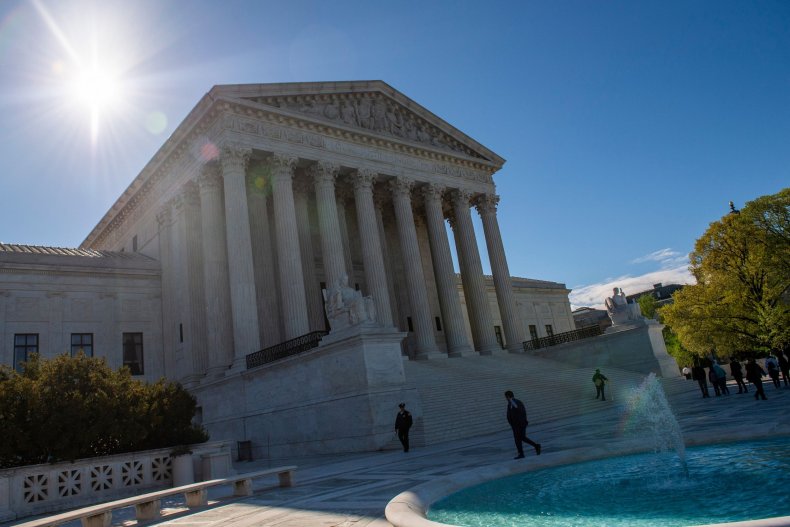 Monday's decision is a major blow to opponents of the Feres doctrine, who believe the Supreme Court precedent is excessively broad and is misinterpreted and outdated when examining today's Military Health System.
Advocates seeking to overturn the doctrine contend the Feres ruling is logical when it comes to barring service members from filing lawsuits for injuries sustained in a warzone but not for alleged medical malfeasance outside combat settings.
"The United States Supreme Court missed a clear opportunity to reexamine Feres, especially considering the sea change that has occurred since the court last addressed its bearing on medical malpractice cases seven decades ago," Andrew Hoyal, Daniel's attorney, said. "The legal underpinnings supporting this doctrine have eroded and shifted. The mission and nature of the Military Health System itself has been completely transformed. Our military personnel live and serve in a completely different world than when Feres was adopted, and it's tragic that their legal rights have failed to keep pace."
Supporters of the Feres doctrine take a different view, arguing that servicemembers being allowed to sue the U.S. government for medical decisions would adversely affect military order and erode discipline within the ranks.
A letter sent from Republican Senator Chuck Grassley's office and obtained by Newsweek indicates the Defense Department has raised concerns about Feres being overturned in the justice system which would pave the way for servicemembers to sue for medical malpractice claims.
The Pentagon contends the lawsuits would mean those injured by medical malpractice would have access to more compensation than service members injured in combat.
Democratic Representative Jackie Speier of California, introduced a bill last month named after U.S. Army Sergeant First Class Richard Stayskal, a Green Beret with stage four lung cancer, who said he was egregiously misdiagnosed and provided inadequate medical care by U.S. Army doctors. Speier's bill, which seeks to amend the Federal Tort Claims Act, has bipartisan support in the House. Past attempts by Congress to modify the act to skirt the Feres doctrine have been largely unsuccessful over the past several decades.
"Congress must summon the courage to correct this antiquated law called the Feres doctrine that has harmed our troops," attorney Natalie Khawam, who represents Stayskal, told Newsweek.
"Republicans should heed Justice's Thomas and former Justice Scalia's advice, and Democrats should follow the trailblazer Justice Ginsberg who wants this wrong to be addressed. You can't get <s>to [two] more extremely polar opposite Justices on the bench, yet despite their extremely opposite political views they agree on this one issue, this law is so bad, it needs to be changed," added Khawam on Monday.
Speier's bill has a 3 percent chance of being enacted into law given the early stages of the bill, according to GovTrack. Republican Senator John Kennedy of Louisiana is expected to introduce a similar bill into the Senate.
"Our case and our fight is over—but it continues for other servicemembers," Daniel said in a statement to Newsweek on Monday. "Moani's story has generated a groundswell of momentum to correct the injustice of Feres, and now this issue is going all the way to Capitol Hill. I support the efforts of legislators, military and veterans' organizations, and others who are committed to revising our laws to give servicemembers the rights they deserve."