Supreme Court Halts Texas Man's Execution One Hour Before Scheduled Death
The Supreme Court granted a reprieve to a Texas death row inmate an hour before he was set to be executed because the state's prison system won't allow a chaplain to accompany him in the death chamber.
Ruben Gutierrez, 43, was scheduled to die at 6 p.m. CT on Tuesday at the Texas State Penitentiary in Huntsville for the fatal stabbing of an 85-year-old woman in 1998.
But the nation's top court blocked Gutierrez's execution about an hour before it was due to take place after his attorneys argued his religious rights were being violated, the Associated Press reported.
"As a devout Catholic, Mr. Gutierrez's faith requires the assistance of clergy to help him pass from life into afterlife," Shawn Nolan, one of Gutierrez's attorneys, said in a statement to Newsweek after the stay was granted.
The Texas prison system changed its policy in April last year, banning clergy from the execution chamber. It came after the Supreme Court halted the execution of Patrick Murphy, who had asked for a Buddhist advisor to accompany him into the death chamber, according to the Associated Press.
Only prison security staff are now permitted into the chamber. A trial on whether Murphy's religious rights were violated is pending.
"The Texas Department of Criminal Justice changed its policy for its own convenience, but spiritual comfort at the time of death is not a convenience; it's a protected legal right," Nolan said.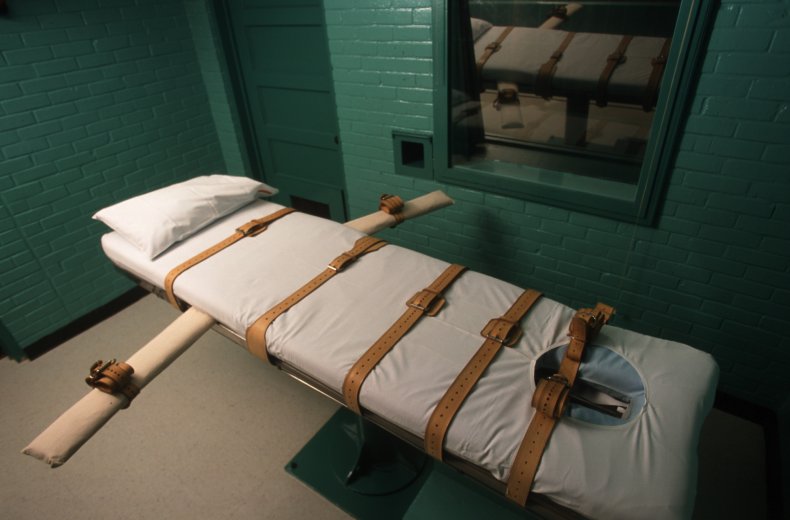 In its order, the Supreme Court said it had granted the stay pending a ruling on whether a spiritual advisor should be allowed to accompany Gutierrez into the death chamber.
The court said if it rules in Gutierrez's favor, the District Court should "promptly determine, based on whatever evidence the parties provide, whether serious security problems would result if a prisoner facing execution is permitted to choose the spiritual adviser the prisoner wishes to have in his immediate presence during the execution."
According to prosecutors, Gutierrez was trying to steal more than $600,000 that Escolastica Harrison had hidden in her home in Brownsville, Texas, when he killed her.
But Gutierrez has long maintained he didn't kill her. His attorneys say there is no physical or forensic evidence tying him to the killing.
Two others, Rene Garcia and Pedro Garza, were also charged in the case. Garcia is serving a life sentence, but Garza fled after he was released on bond and remains a fugitive, according to Reuters.
Gutierrez's case is "gravely concerning" because of the urgent need to test the DNA evidence in his case, Nolan added in his statement.
"For years, Mr. Gutierrez has sought such testing in order to prove he did not commit the crime for which he was sentenced to death," Nolan said.
"The state has fought such testing at every turn, but surely the public interest would be best served by allowing DNA testing while the [Supreme] Court considers Mr. Gutierrez's case, in order to prevent a wrongful execution in the future."
Had Gutierrez's execution gone ahead, he would have been the first inmate in Texas to receive a lethal injection since Abel Ochoa on February 6.
Six executions in Texas, the busiest death penalty state in the U.S., set for earlier this year have been postponed due to the coronavirus pandemic. Gutierrez's attorneys had sought a delay due to the pandemic, but the motion was denied by the Texas Court of Criminal Appeals on Friday.