DACA, LGBTQ Rights, Abortion, Gun Control: Cases to Watch in the Supreme Court's New Term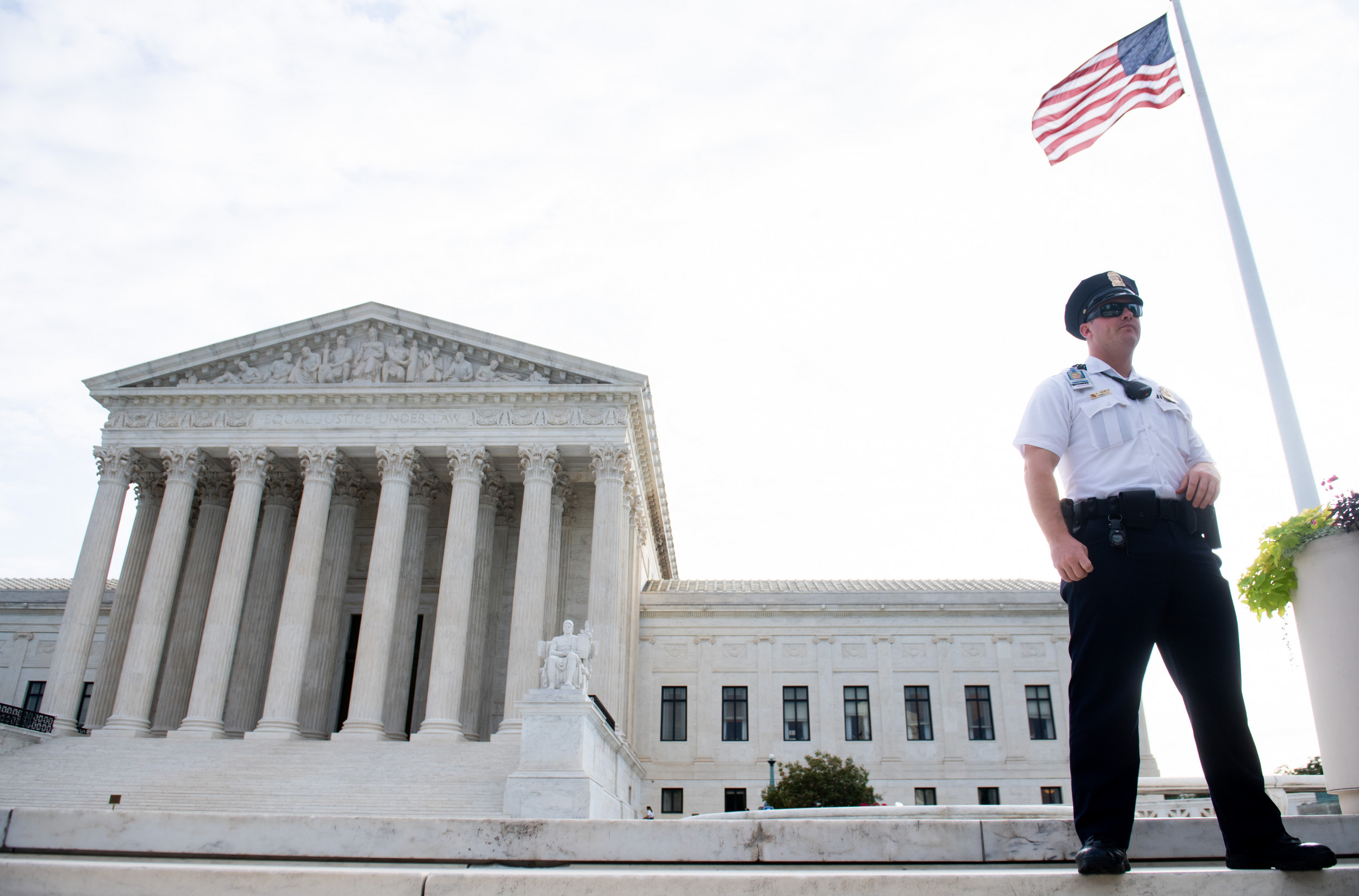 The Supreme Court kicked off the first day of its new term. This year's schedule has several high-stakes cases, including LGBTQ rights, abortion, DACA, gun control, immigration rights and some big environmental cases. There is a lot to gain and a lot to lose—and with a conservative majority calling the shots, many of the more boundary pushing cases are on thin ice.
ALTITUDE EXPRESS, INC. V. ZARDA & BOSTOCK V. CLAYTON COUNTY, GA
Argument Date: 10/8/19
Donald Zarda and Gerald Bostock both were allegedly fired for being gay. The Supreme Court will hear their cases together.
Zarda was a sky-diving instructor at Altitude Express when he was suddenly fired for revealing his sexuality to a customer. He would often let women clients know he was gay so they would feel more comfortable when they were strapped in close to him. Zarda died in a skydiving accident a few years ago, and his case is being pursued his estate.
Bostock claims that Clayton County Georgia fired him for being gay.
He worked for the county as a child welfare services coordinator when he joined a gay recreational softball league. He was criticized for playing on the team at a work meeting where his supervisor was present. Soon after, he was fired. Clayton County told him he was fired for "conduct unbecoming of its employees." Bostock argues he was fired for being gay.
The Supreme Court will decide in both cases whether the Title VII of the Civil Rights Act of 1964 includes discrimination based on an individual's sexual orientation.
R.G. & G.R. HARRIS FUNERAL HOMES V. EEOC
Argument Date: 10/8/19
Aimee Stephens was fired from her job as a funeral home director at R.G. & G.R. Harris Funeral Homes in 2013, two weeks after she came out as transgender to her employer.
Following her termination, Stephens filed a Title VII lawsuit with the Equal Employment Opportunity Commission in 2014. The district court ruled in favor of Harris Funeral Homes and claimed that Title VII had not been violated and there was no substantial case.
A panel of the U.S. Court of Appeals for the Sixth Circuit reversed this judgment in favor of Stephens on the grounds that transgender discrimination constitutes as sex discrimination.
The Supreme Court has granted review of this and will decide if Title VII's sex discrimination protections include gender identity.
Argument Date: 10/16/19
Undocumented immigrants used other people's Social Security numbers to fill out an I-9 form, W-4 form, tax form and rental agreement in Johnson County Kansas.
The Kansas Supreme Court found them guilty of identity theft. They all appealed their convictions based on the argument that the Immigration Reform and Control Act⁠ contains an "express preemption provision" that blocks states from using information provided by a worker against them.
The U.S. government requested that the court limit the breadth of its interpretation. It argued that Kansas could prosecute a U.S. citizen who uses a stolen driver's license for identity theft even if he also used the same license to fill out his I-9, while the prosecution of an unauthorized immigrant in the same situation would be preempt.
There is a lot riding on this hearing; if the statute passes, it might appear in similar iterations across other states.
Argument Date: 11/4/19
Charles Glover had not committed any traffic violations when he was pulled over in his pickup truck by a Douglas County police. The officer checked Glover's vehicle registration, found that his license had been permanently seized and charged him with driving as a habitual violator.
Glover argued that because he was not doing anything wrong when he was pulled over his Fourth Amendment rights had been violated. The state district court dismissed the habitual violator charge on the grounds that Glover had been unreasonably searched.
The question presented to the Supreme Court reads: "For purposes of an investigative stop under the Fourth Amendment, it is reasonable for an officer to suspect that the registered owner of a vehicle is the one driving the vehicle absent any information to the contrary."
COUNTY OF MAUI, HI V. HAWAII WILDLIFE FUND
Argument Date: 11/6/19
The county of Maui uses treated wastewater to irrigate golf courses and resort lawns, where it mixes into the groundwater and disperses. Eventually, 90 percent of the wastewater ends up in the ocean.
Four nonprofits sued the county of Maui. They claimed that the treated wastewater was harming sensitive coral reefs at Kahekili Beach and that the county had violated the Clean Water Act. The CWA bans the discharge of any pollutant "from a point source into navigable waters" without a permit obtained from the National Pollutant Discharge Elimination System.
The county asserted it did not need to apply for a NPDES permit under the CWA because the contaminants did not go directly from a point source into the ocean, but instead they traveled indirectly by mixing with groundwater first.
The Supreme Court decided to hear the case to clarify the reach of the Clean Water Act.
DEPT. OF HOMELAND SECURITY V. REGENTS OF UNIV. OF CA; MCALEENAN, SEC. OF HOMELAND SECURITY V. VIDAL; TRUMP, PRESIDENT OF U.S. V. NAACP
The Supreme Court will hear three cases against the termination of DACA.
Created by President Barack Obama, DACA allows these immigrants who were brought to the U.S. as children to apply for a social security number, work and attend school. It does not provide them with a means to gaining citizenship.
The U.S. attorney general ordered the Department of Homeland Security to rescind DACA in 2017 on the basis that President Barack Obama did not follow proper protocol creating the policy.
The lower courts have ruled in each case's favor and required the DHS to continue granting and accepting DACA renewal applications. This is another very high-stakes case that will affect the future of the 800,000 DACA recipients.
Argument Date: 11/12/19
In 2010 Sergio Hernández Guereca, a 15-year-old Mexican boy, was fatally shot in the head by Jesus Mesa Jr., a U.S. border guard. At the time of his death, he was on Mexican soil and Mesa was in the United States. There is currently no law that protects non-U.S. citizens who are injured or killed abroad by federal officials.
Hernández's parents seek to bring a Bivens action against Mesa along with other defendants for violating their son's Fourth and Fifth Amendment rights. A Bivens action, defined by Cornell Law, "generally refers to a lawsuit for damages when a federal officer who is acting in the color of federal authority allegedly violates the U.S. Constitution by federal officers acting."
The Supreme Court is set to decide whether the case allows for a damages claim under Bivens when there is no alternative legal remedy.
NY STATE RIFLE & PISTOL V. NEW YORK, NY
Argument Date: 12/2/19
This lawsuit regarding New York City gun permits has the possibility to affect how future Second Amendment cases are judged.
Three individuals and the NRA sued the city stating that its premise permit restrictions⁠—which did not allow transporting handguns outside of state lines⁠—violated the Second Amendment. After losing the case, the NRA requested the Supreme Court review the case and was granted a hearing.
New York City asked the Supreme Court to disregard the hearing on the grounds that the city had already resolved the issue by introducing two laws to expand transportation regulations. The NRA responded that the city's "goal is not just to try to moot this case, but to do everything they can to avoid ever having to take a definitive position on those issues."
Now the Supreme Court will decide whether New York's transportation ban is consistent with the Second Amendment.
JUNE MEDICAL SERVICES V. GEE, SEC., LA DEPT. OF HEALTH & HOSPITALS & GEE, SEC., LA DEPT. OF HEALTH & HOSPITALS V. JUNE MEDICAL SERVICES
Argument Date: Undecided
The U.S. Supreme Court has combined two cases that challenge a Louisiana law that orders all licensed abortion providers to have admitting privileges at nearby hospitals within 30 miles of their clinics.
This law is the same as the Texas admitting privileges law overturned by the Supreme Court in Whole Woman's Health v. Hellerstedt in 2016. The court ruled that the burdens the law imposed upon women were far greater than any potential benefits.
There are only three abortion clinics in Louisiana and the district court stated that if this law is passed, only one clinic will be be able to stay open. There are only five abortion providers in the state⁠—if the abortion law is passed, only one physician would remain active.