Supreme Court Health Care Ruling Could Roil 2016 Republicans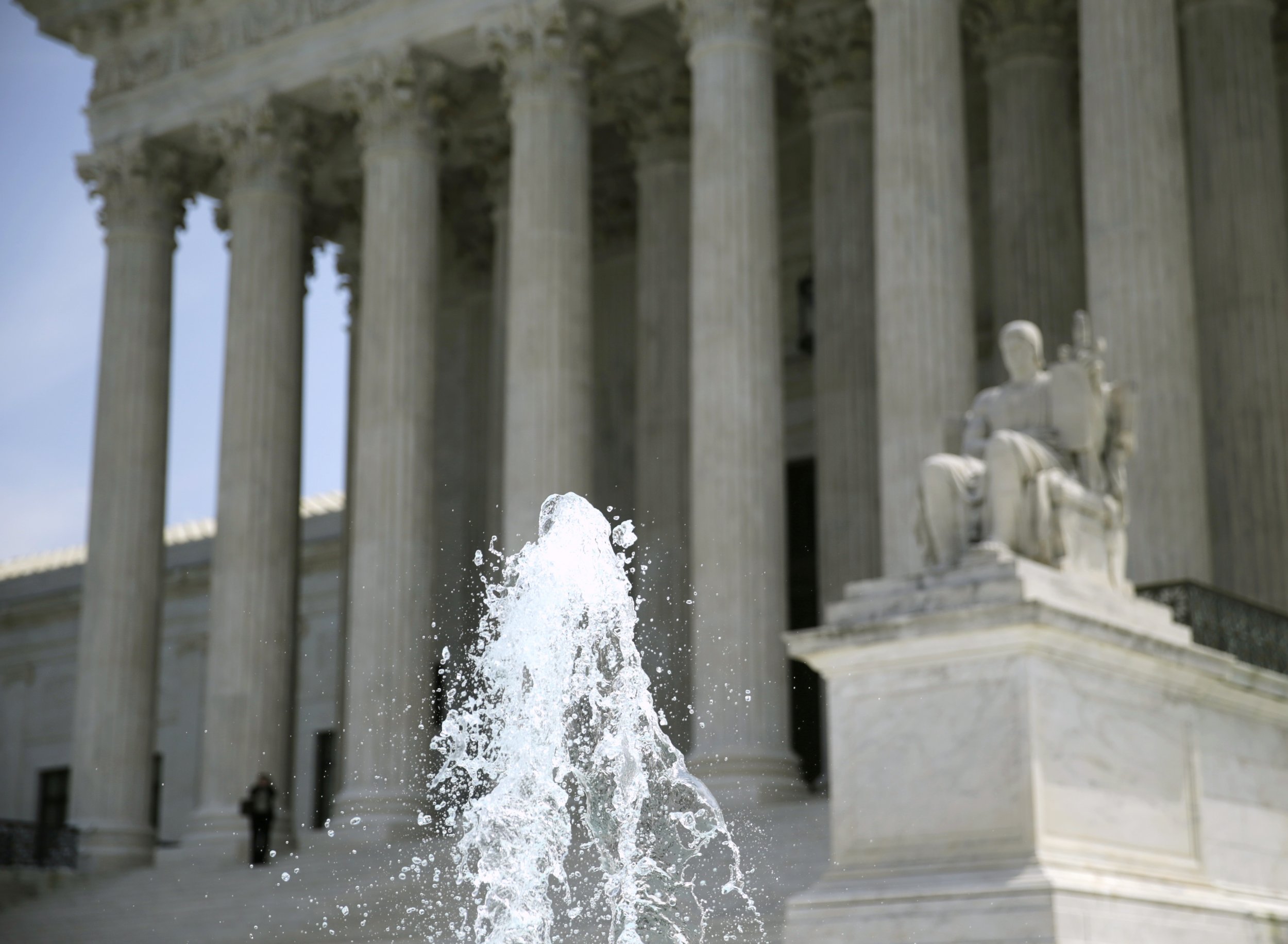 The Supreme Court is on the verge of ruling whether the federal government can continue to provide health insurance subsidies in 34 states—an outcome that could cause millions of Americans to lose coverage under the Affordable Care Act and start a monumental brawl within the Republican race for president.
At issue is whether the residents of states that did not set up their own health insurance marketplaces, or "exchanges," under the Affordable Care Act can continue to receive federal subsidies to offset their health care costs. Those subsidies are a pillar of the entire reform program, intended to making buying insurance on the private marketplace affordable for uninsured Americans.
The vast majority of the states that refused to set up their own exchanges have Republican governors or legislatures, or both. Instead, their residents are relying on the federally-run marketplace, via healthcare.gov, to buy insurance mandated under the 2010 law. If the court strikes down subsidies to residents of states using the federal exchange, it will affect more than six million people who rely on those subsidies. And it is largely GOP politicians from those states—a number of whom are now running for president— who will face the immediate fallout.
Among the 34 states affected: Ohio, Wisconsin, New Jersey and Louisiana, states whose Republican governors are on the verge of officially declaring their candidacies for president. Florida, Texas, South Carolina and Pennsylvania —home to another six Republican presidential candidates'—are also on that list, as are the electorally important states of Colorado, New Hampshire, North Carolina and Virginia. Nevada, another swing state that is hosting an early primary, has a hybrid insurance exchange that uses the healthcare.gov platform, and could also be affected.
Given that political geography, the 2016 Republican candidates would not only have to respond to the problems the decision creates back home, but also answer for their health care positions in the general election battleground states that are grappling with the fallout.
The Republican field is irrevocably split, however, on what the fix should be if the Supreme Court throws out the subsidies, delivering what is looking less and less like a GOP victory on Obamacare, and more like a major policy headache. On the one hand, governors like Scott Walker of Wisconsin, Chris Christie of New Jersey and Bobby Jindal of Louisiana have refused to prepare a state-level response, arguing it's for the federal government, not governors, to handle. On the other hand, Republican senators running for president, particularly Senator Ted Cruz of Texas, have been emphatic that Congress should not throw a lifeline to a health care program they loathe, a position reinforced by outside conservative groups.
Caught in the middle are the low- and middle-income Americans who rely on the tax credits to afford their health insurance, and who are sure to rail against their home state leaders if they fail to address the problem. For Republican candidates, then, it's a lose-lose proposition, and neither 2016 Republicans who currently serve in Washington nor those who are running from potentially affected states want to own it.
Trish Riley, executive director of the National Academy for State Health Policy, says that ideally, Congress should enact a simple fix to the language in the Affordable Care Act that is at the heart of the Supreme Court case, known as King v. Burwell.
"The easier solution would be to change those four words," says Riley, referring to the line in the 2010 law that authorizes subsidies for enrollees in exchanges "established by the State."
The plaintiffs in the case, three individuals from Virginia, argue that means only those people enrolled in state-run health insurance exchanges are eligible for federal subsidies. But their aim is really much bigger—ultimately, ending the subsidies could bring down the whole federal health exchange, since it would drive many people to drop their insurance. And the system is only cost-effective if a large number of people participate.
Federal action is not going to come easily, however, given the realities of divided government and the hyper-partisanship that surrounds health care policy today. Republicans in the House and Senate have begun to discuss options for legislation to respond if the Supreme Court rules against the current system, including a bill introduced by Wisconsin Senator Ron Johnson in April that would extend the subsidies temporarily. But Johnson's proposal would get rid of mandates in the original health care law requiring people to have health insurance, which would be a poison pill for Democrats, Riley points out.
On the other end of the spectrum, conservatives in Congress think Johnson's proposal goes too far in preserving the Affordable Care Act. On Thursday, Arizona Republican Representative Paul Gosar introduced a bill that would eliminate the health care law's mandates but not extend its subsidies. That got a hearty endorsement from Heritage Action for America, an influential conservative advocacy group.
The Republican senators running for president are under particular pressure from the right wing of their party—a powerful force in the presidential primary—to simply let the program die. But they also won't be immune to the impact that would have on people back home.
An Urban Institute report released in January found that among the 34 states relying on the federal exchange, densely populated Texas and Florida would be hit hardest. Those two states alone receive roughly a third of the federal funding that would be eliminated if the court rules against the subsidies. Texas and Florida also happen to be home to four GOP presidential candidates, including Cruz and Florida Senator Marco Rubio. Both continue to call for a full repeal of the Affordable Care Act.
Another 2016 candidate, South Carolina Senator Lindsey Graham, in contrast, is a co-sponsor of the Johnson legislation. Meanwhile, Rand Paul, a presidential contender and senator from Kentucky, is "not weighing in at this time," a spokeswoman said.
Given the tug-of-war that's likely to go on in Washington, many states are scrambling to find ways to protect their citizens who receive the subsidies. Democratic governors in Pennsylvania and Delaware, for example, have developed "backup plans" to take over the federal insurance exchanges in their states if the Supreme Court rules against the subsidies. But in Wisconsin, Walker reiterated earlier this month that he's opposed to taking state action to maintain subsidies for his constituents.
"States didn't create this problem, the federal government did. And they should fix it," the governor told Bloomberg News June 2. An early, though unofficial, frontrunner in the GOP contest, he's expected to announced his presidential run in early July.
Unlike some states facing the subsidy cut-off, the Republican-controlled Wisconsin legislature has not considered any legislation that would offer a potential state-based fix. But Wisconsin is also in the minority of states whose legislatures meet year-round and could take up legislation after the court rules. Legislatures in Colorado, Louisiana, Nevada, Texas, South Carolina and Virginia have all adjourned and New Hampshire's legislature will shortly.
Riley notes governors can call their legislators back to the capitol for special sessions, but the politics and logistics of that would be complicated and vary from state to state. And there would inevitably be a lag, even if a governor decided to try to tackle the issue.
The only governor among the pack of likely GOP presidential candidates who is publicly considering a state-level fix is Ohio Governor John Kasich, a more moderate political figure who's already riled conservatives by accepting funding from the Affordable Care Act to expand Medicaid. Kasich told a gaggle of reporters back in February that "if the court makes a decision that these exchanges get shut down then we're going to have to figure something out in Ohio." And he didn't rule out creating a state-based exchange in the aftermath.
Robert Nichols, the governor's press secretary, confirmed that remains Kasich's current thinking on the case. Democrats in the Ohio legislature have introduced a bill to create a state-based health care exchange, and could take it up after the Supreme Court rules, since they remain in session year-round. But they face opposition from the Republican majority in Columbus.
"I think there's recognition on the part of the states that this is going to be a heavy lift," Riley says. But she also recognizes that it's their job to prepare. "If the forecast says it's going to rain, you bring an umbrella."