Supreme Court Hearing Live Updates: How Neil Gorsuch Could Help Donald Trump Transform the U.S.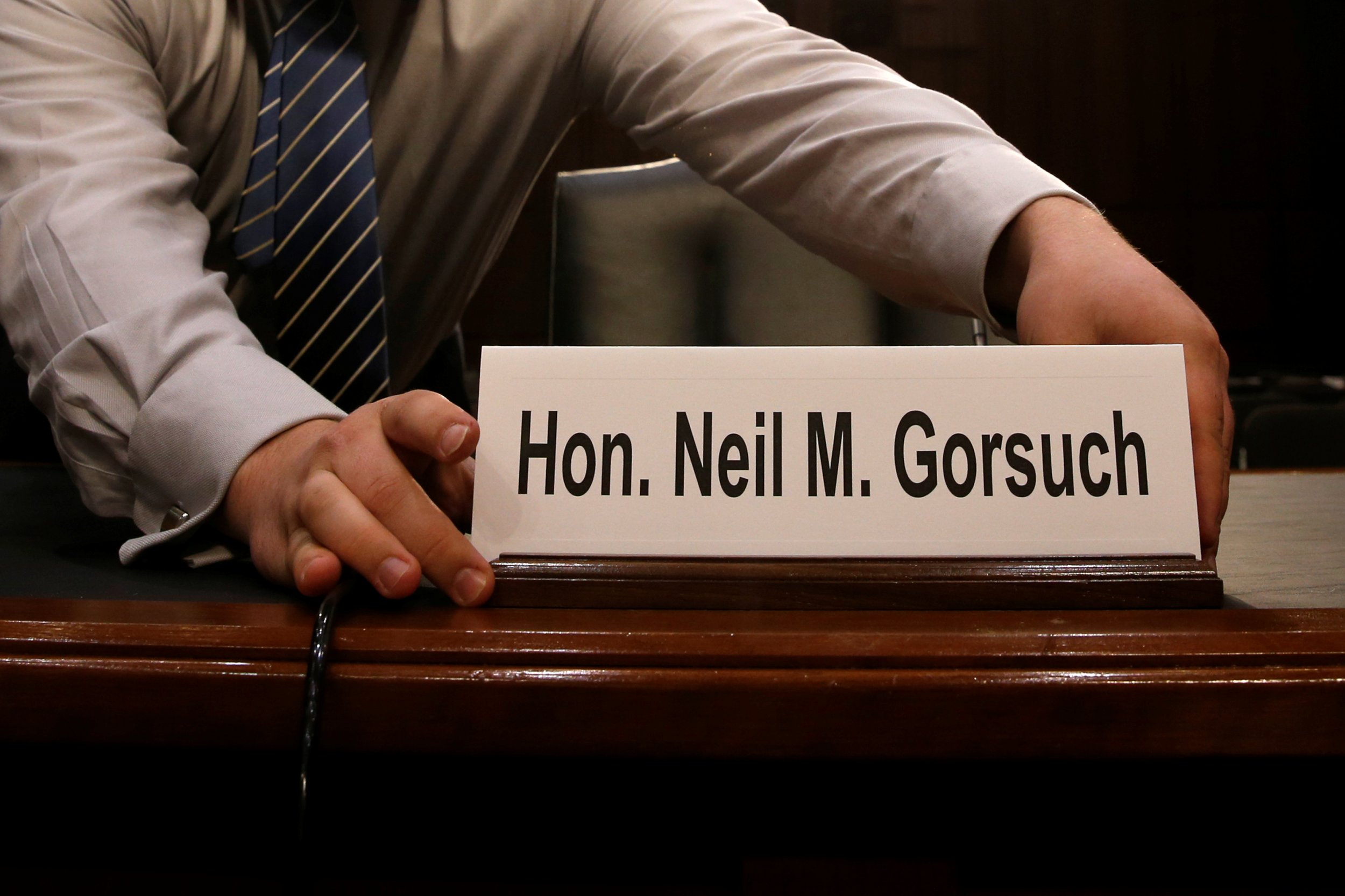 UPDATE: 12:54 p.m. EDT -- Senate Democrats used a Senate Judiciary Committee hearing Monday to pummel Republicans for blocking President Barack Obama's nominee to the Supreme Court. During a hearing for Judge Neil Gorsuch, who was nominated by President Donald Trump, Democrats noted that GOP lawmakers had refused to meet with Garland after the death of Justice Antonin Scalia.
Sen. Patrick Leahy called it an "extraordinary blockade" that was "totally unprecedented in our country's whole history." "Senate Republicans made a big show last year about respecting the voice of the American people in this process," he said, referring to the November presidential election. "Now they're arguing that the Senate should rubber-stamp their nominees selected by extreme interest groups and nominated by a president who lost the popular vote by nearly 3 million votes."
UPDATE: 12:31 p.m. EDT -- Judge Neil Gorsuch gave his opening remarks Monday to the Senate Judiciary Committee as his wife and other members of his family watched on. "I appreciate all of the attention," Gorsuch said.
"Judges are not free to re-write statutes to get results they believe are more just. Judges are not free to re-order regulations to make them more fair. For sure, judges aren't free to update the Constitution. That's not their job," he said in his remarks. "Fortunately for every American, we have before us today a nominee whose body of professional work is defined by an unfailing commitment to these principles. His grasp on the separation of powers, including judicial independence, enlivens his body of work."
UPDATE: 12:15 p.m. EDT -- Iowa Sen. Charles E. Grassley, chairman of the Judiciary Committee, said the Senate could vote on the Supreme Court nomination for Judge Neil Gorsuch within two weeks. That means he could be confirmed before April.
UPDATE: 10:45 a.m. EDT -- Judge Neil Gorsuch could be the nation's next Supreme Court justice, a position that would allow him to weigh in on pressing national issues such as gun rights, abortion access and immigration reform. So where does Gorsuch, a federal judge on the 10th Circuit Court of Appeals, stand on major issues? Here's what we know based on his limited judicial record.
Abortion rights: Gorsuch wrote in his 2006 book, "The Future of Assisted Suicide and Euthanasia," that he believes in the "inviolability" of human life.
Freedom of religion: Gorsuch backed business owners who opposed the so-called contraceptive mandate passed under the Affordable Care Act. "This isn't the case, say, of a wily businessman seeking to use an insincere claim of faith as cover to avoid a financially burdensome regulation," Gorsuch wrote in what became known as the Hobby Lobby case.
Gun control: Gorsuch has said, "The Second Amendment protects an individual's right to own firearms and may not be infringed lightly."
UPDATE: 10:22 a.m. EDT -- Texas Sen. Ted Cruz sought to remind Republicans Monday that former Supreme Court Justice Antonin Scalia liked his potential successor, Judge Neil Gorsuch, President Donald Trump's nominee for the vacant seat left by Scalia's death last year. Hours before the Senate Judiciary Committee was scheduled to start a hearing on Gorsuch's nomination, Cruz, a member of the committee, tweeted a picture of Gorsuch and Scalia embracing by a lake.
Original story:
President Donald Trump's efforts to transform the Supreme Court were poised to get a major boost Monday as the Senate Judiciary Committee prepared to hold hearings on his nominee for the high court, Judge Neil M. Gorsuch. Gorsuch, a judge with the U.S. Court of Appeals for the Tenth Circuit in Denver, is considered a tough conservative. He was nominated to the federal court by President George W. Bush.
The hearing was slated to start at 11 a.m. You can check back here for live updates throughout the process.
It could get ugly very quickly. Democrats are eager to portray Gorsuch as too extreme for the court after Republicans blocked Judge Merrick B. Garland, President Barack Obama's Supreme Court nominee, last year, refusing to hold hearings or even meet with him. Gorsuch's record championing corporate interests is also another point of contention for Democrats.
Gorsuch is ready for a fight. He has worked hard to muster support since his nomination, meeting with 72 senators in less than two months. He was expected Monday to deliver his opening statement before the Judiciary Committee, his first public remarks in months.
Trump nominated Gorsuch his first month in office in January to fill a months-long vacancy created by the death of Associate Justice Antonin Scalia in February 2016. Gorsuch was previously nominated to a federal judgeship in 2006 and confirmed by the Senate without recorded opposition.
He graduated from Harvard Law School in 1991—in the same class with Obama—and received a Doctor of Philosophy degree from Oxford University in 2004. He also served as a law clerk for Supreme Court Associate Justices Byron R. White and Anthony M. Kennedy.
Monday's hearing will be overseen by the committee's chairman, Republican Sen. Charles E. Grassley of Iowa, and his Democratic counterpart, Sen. Dianne Feinstein of California. The committee also includes outspoken senators such as Republicans Ted Cruz of Texas, Lindsey Graham of South Carolina and Jeff Flake of Arizona, all of whom have been critical of Trump at various points after he launched his long-shot presidential campaign.
"Single best thing the president's done," Graham has said of Gorsuch's nomination.