Supreme Court Deadlock on Immigration May Boost Democrats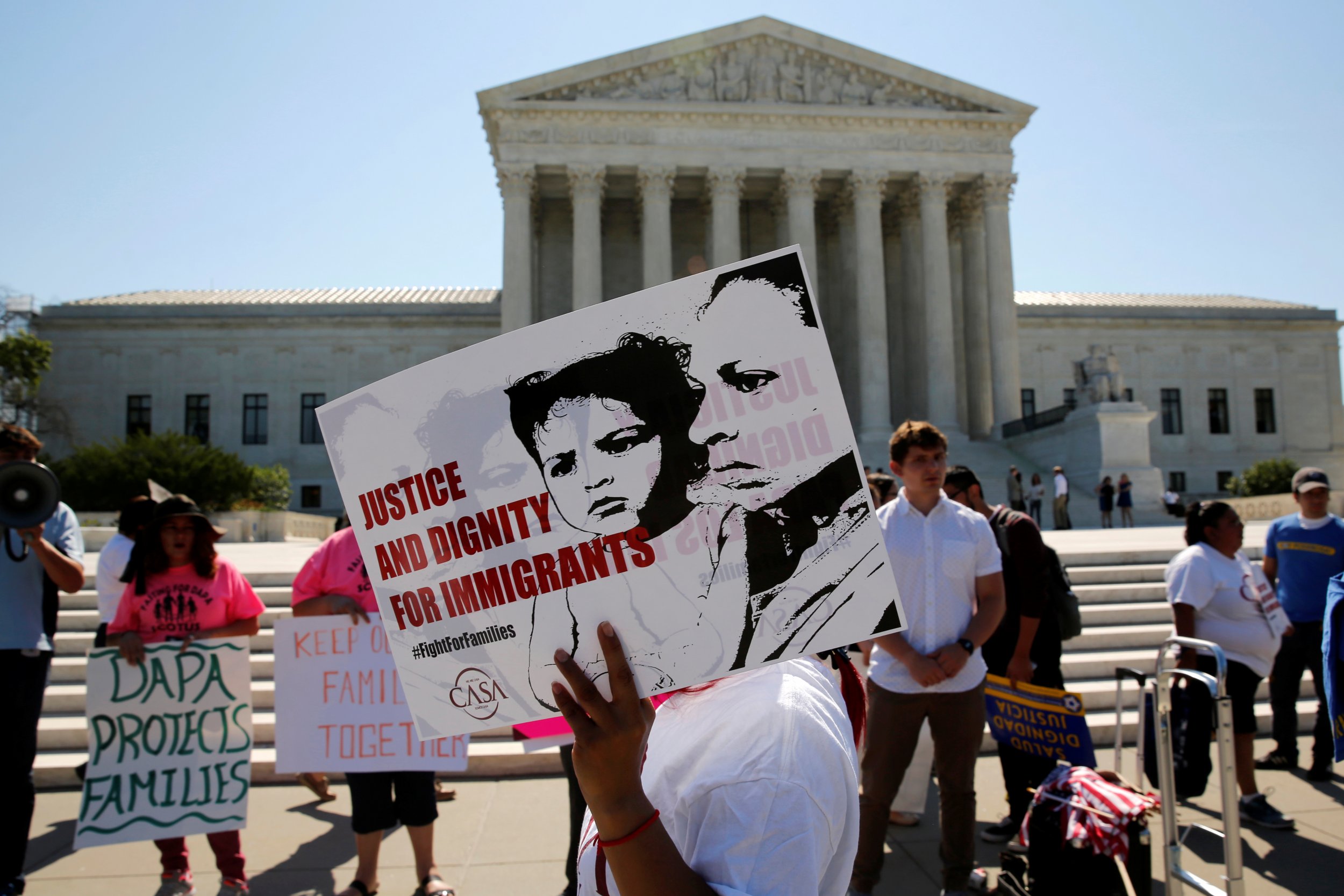 The Supreme Court's deadlock on President Obama's immigration executive order on Wednesday was a blow to the White House, keeping in place a preliminary injunction against the order that would have brought millions of undocumented immigrants out of the shadows. But from a political standpoint, the decision—or lack thereof—could actually be good news for the Democratic Party in this election year.
The outcome in United States v. Texas was another stark reminder of what's at stake in November, both for the makeup of the Supreme Court, which has been down a justice since Antonin Scalia's death in February, as well as the country's immigration policy. And it could help mobilize Latinos, who are a Democratic-leaning but not always politically active constituency—or it could at least motivate those that weren't already so turned off by presumptive Republican presidential nominee Donald Trump's harsh immigration rhetoric that they will turn out to vote against him.
Democrats and their allies were quick to try and capitalize on that dynamic Thursday, warning of the consequences of electing Republicans this fall. Likely Democratic presidential nominee Hillary Clinton said the Thursday's decision was " a stark reminder of the harm Trump would do to our families, our communities, and our country. Trump has pledged to repeal Obama's executive actions on his first day in office." A Super PAC backing Clinton was even more blunt. Noting that Republicans are blocking Obama's Supreme Court nominee, Merrick Garland, from being confirmed as the ninth justice, American Bridge Vice President Eddie Vale warned in a statement, "The future of millions of American families is on the ballot in November." It's a pitch you can expect to hear a lot between now and November.
Obama won 71 percent of the Latino vote in 2012, according to Pew Research Center, up from 67 percent in 2008. But Pew also notes that the Latino voter turnout rate continues to lag other demographic groups significantly. Getting Latino voters to the polls is an important factor in Democrats' success, particularly given that polling shows upward of 80 percent of Latinos view Trump unfavorably.
Because the Supreme Court was split 4-4 on the case, no precedent is set. The lower court ruling stands, keeping the White House from carrying out the order, which would have granted work permits and other legal provisions to undocumented immigrants whose children are legal U.S. residents. Known as the Deferred Action for Parental Accountability or DAPA, the 2014 order also expanded on the White House's 2012 executive order, Deferred Action for Childhood Arrivals (DACA), which granted the same status to undocumented immigrants brought to the country as children.
The original DACA order is not affected by the Supreme Court's latest action, and Obama said Thursday at a press conference that the administration doesn't intend to change tack when it comes to deporting those eligible for DAPA, either. "People who might have benefitted from the expanded deferred action policies—long-term residents raising children who are Americans or legal residents—they will remain low priorities for enforcement,"he said.
Those who would have benefited from the policies' ability to operate as normal citizens in the U.S. remains limited, however, since they continue to lack the sort of legal identifications necessary to work and travel. And they could face even steeper challenges after November, depending on who wins the elections. Trump didn't reiterate his pledge to deport all 11 million-plus undocumented immigrants in the country. But his statement Thursday in response to the ruling made clear that he plans to toughen immigration enforcement. "The executive amnesty from President Obama wiped away the immigration rules written by Congress, giving work permits and entitlement benefits to people illegally in the country," Trump said. "This split decision also makes clear what is at stake in November. The election, and the Supreme Court appointments that come with it, will decide whether or not we have a border and, hence, a country."
That's not just up to the president, however. As Senate Republicans reinforced in refusing to vote—or even hold a hearing—on Garland's nomination, the Senate races this fall will also shape who gets a seat on the High Court. Congresswoman Anne Kirkpatrick, an Arizona Democrat looking to oust the state's Republican Senator John McCain, highlighted his role in the Supreme Court gridlock. "The terrible effects of John McCain's obstructionism over the Supreme Court vacancy were on full display this morning as the court—ruling without a full bench—announced a deadlocked decision in the crucial United States v. Texas case, hurting millions of families who were eligible for the DAPA and expanded DACA programs," Kirkpatrick said in a statement. Though Arizona is traditionally a Republican-leaning state, Democrats are hoping that high turnout by the state's large Latino population, who are mostly offended by Trump, could help them flip the state to their side this year. And if Democrats win Arizona, there's a good chance they'll retake the Senate.
The DAPA case now goes back before the Fifth Circuit Court of Appeals, which is likely to remand it down to the district court in Texas that issued the initial injunction, says University of California at Davis Law Professor Kevin Johnson. The immigration law expert says the Obama administration is likely to continue to pursue the case from there, with an eye towards getting it back before the Supreme Court when it is back at full strength. But whether the case makes it that far, Johnson says, "will depend on who the president is."