Supreme Court Intervenes in Pennsylvania Vote Count as Alito Orders Late Ballots Separated
Pennsylvania counties must separate all ballots received by mail after polls closed on Election Day from the rest of the ballots, the Supreme Court ordered on Friday.
Justice Samuel Alito made the order on Friday evening, saying that all county boards of election must comply with guidance that requires them to keep ballots received after 8 p.m. on Tuesday "in a safe, secure and sealed container separate from other voted ballots." If those ballots are counted, they must also be counted separately.
An application the court received earlier on Friday informed them that the Republican Party of Pennsylvania, the applicant in the case, and Secretary of State Kathy Boockvar could not verify that all boards were complying with the guidance.
The order comes as the Trump campaign and Republicans are pushing for courts to invalidate certain ballots in Pennsylvania, alleging they were improperly cast.
Alito issued the order because he's the justice for the region that includes Pennsylvania, according to The Washington Post, and he referred it to the whole court for a formal decision. In his order, Pennsylvania officials must respond by Saturday afternoon.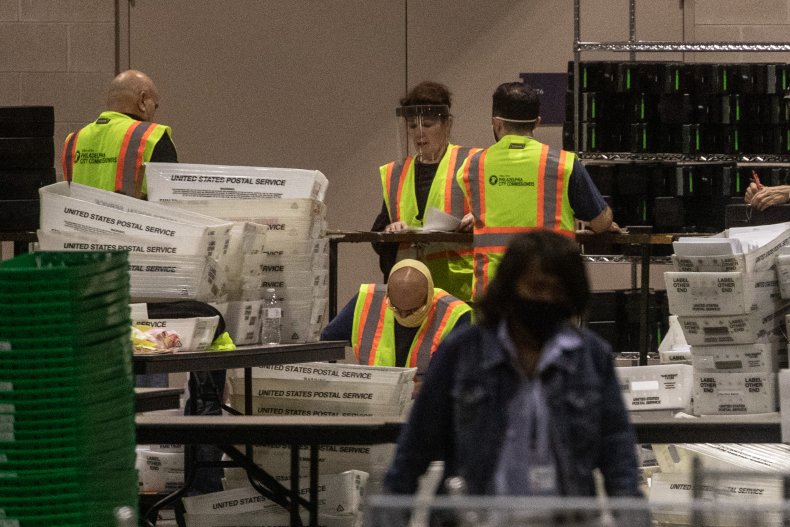 Before the election, Republicans in Pennsylvania appealed to the Supreme Court to intervene in a rule that would allow ballots to be counted if they arrived up to three days after Election Day. The Supreme Court denied the request to fast-track the case and issue a decision, although Alito said at the time that the matter was of "national importance." Given that there was "simply not enough time" to make the decision, the Supreme Court ordered that ballots received after election day be segregated so that if the Supreme Court overturns a lower court's decision after the election, "a targeted remedy will be available."
Ballots that arrived after Election Day aren't the only ones that Pennsylvania must separate. In a lawsuit challenging a deadline extension for voters to validate their identity, the Trump campaign argued that extending the deadline from November 9 to November 12 would "undoubtedly" create a "high risk of jeopardizing the integrity of the election" and delay results. A Pennsylvania court ordered ballots with identification issues that were corrected between November 10 and November 12 be separated.
Trump trails Biden in Pennsylvania — a state he needs to win to reach the 270 vote threshold — by about 20,000 votes and in a close race, a small percentage of votes can make the difference. However, Lieutenant Governor John Fetterman told TODAY that's not the case this time around.
Fetterman said Friday he doesn't think "those ballots are even going to be an issue" because the ballots that arrived before 8 p.m. on Election Day are skewing in the vice president's favor.
The Trump campaign also filed suit to increase access for poll watchers to observe the counting process. Trump attorney Rudy Giuliani argued that keeping people 20 feet or more from where ballots were being counted prevented them from being able to truly see if a ballot was valid or not. A judge ruled in their favor and watchers are now allowed within six feet of the process.
In addition to Pennsylvania, a federal appeals court ruled that Minnesota must also segregate ballots that arrived after polls closed on Election Day. Per the court's order, ballots had to be separated in a manner that made it possible for votes to be "removed from vote totals" if a court rendered them invalid.
The Pennsylvania late ballots challenge remains the most promising legal option available to the Trump campaign in its bid to reverse vote counts that have put Joe Biden on a path to the White House.