If Trump's Travel Ban Targeted Israel, Would It Be Legal? Supreme Court Justice Asks
During arguments over the third iteration of President Donald Trump's travel ban on Wednesday, Supreme Court Justice Elena Kagan posed a provocative hypothetical: What if the ban targeted a different group of people?
Trump's ban blocks nationals from several majority-Muslim countries from entering the United States. But Kagan asked Solicitor General Noel J. Francisco to consider a fictional alternative. In Kagan's scenario, there's a president who's elected to office after running a campaign rife with anti-semitic comments. After he's inaugurated, the president then institutes policies banning Israelis from traveling to the country. Would Francisco call that religious discrimination?
Francisco reportedly dodged the question, according to the Wall Street Journal, telling Kagan that she'd presented a "very tough hypothetical," that didn't satisfy a rational basis standard, the rubric courts use to assess a law's constitutionality.
"This is an out-of-the-box kind of president in my hypothetical," Kagan replied, a comment WSJ said prompted laughter in the courtroom.
Kagan went on to argue that her question isn't about what the hypothetical president truly believes—it's about what the logical conclusion would be for anyone who witnessed the same president who had espoused anti-semitic views implement such a policy.
"The question is what are reasonable people to think?" she pressed.
Francisco remained firm that the president's travel ban is constitutional, given that it falls within his broad authority to act in the country's national security interests. He argued that there's a fundamental difference between the comments Trump made as a candidate and the laws he's put in place as president. As a candidate, Francisco said, Trump was a private citizen, which means whatever comments he made at the time are "out of bounds" for the Supreme Court.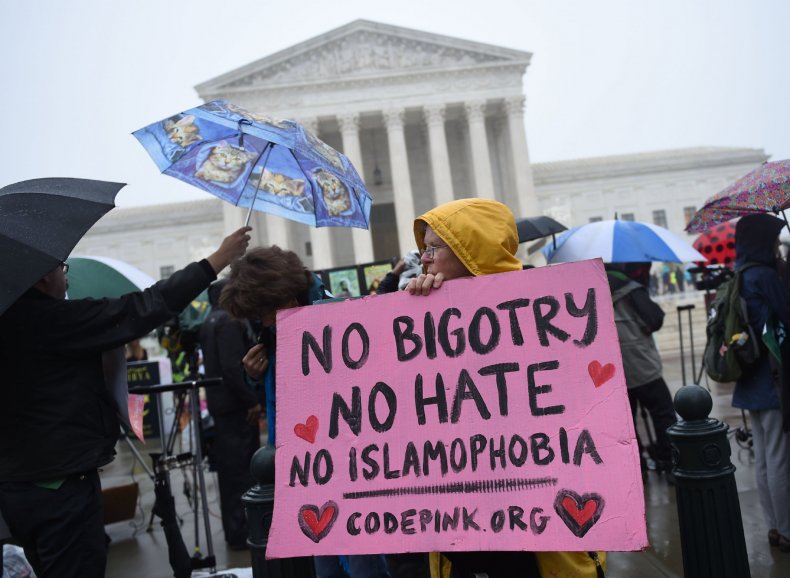 The question of whether Trump's anti-Muslim remarks as candidate prove animus is one justices will continue to wrestle with as they weigh in on the travel ban case, the latest in the ongoing legal battle for Trump to put his plans to bar nationals from certain Muslim-majority countries into effect.
Trump signed the first version of the ban on January 27, 2017, less than a week into his presidency. The move resulted in the detention of dozens of travelers across the country and ignited mass protests in the roughly 24 hours it was active. The next day, a federal judge in New York blocked part of the executive order, and federal judges from other states followed suit. On February 9, the Ninth Circuit Court of Appeals upheld the ruling. About a month later, Trump announced a new travel ban that blocked nationals from Iran, Libya, Somalia, Sudan, Syria and Yemen—but not Iraq, as the first one did—from entering the U.S.
The state of Hawaii followed a lawsuit arguing against the second version of the ban, and on March 15, a U.S. district court judge blocked the ban mere hours before it was poised to go into effect.
In September, the Trump administration announced its third and latest travel ban, which Hawaii once again moved to block, and which is currently being disputed in court.
Attorneys arguing against the travel ban say there's a clear connection between Trump's campaign promises to block Muslims from entering the country and his actions as president, and that in itself establishes Trump's intentions to discriminate against a group based on religion.
"For over a year, the President campaigned on the pledge, never retracted, that he would ban Muslims from entering the United States," a brief filed on behalf of Hawaii, authored in part by Washington D.C.-based lawyer Neal Katyal, reads. "And upon taking office, the President issued and reissued and reissued again a sweeping and unilateral order that purports to bar over 150 million aliens—the majority of them Muslim—from entering the United States."
Another lawyer, whose lawfirm filed a brief on behalf of the U.S. Conference of Catholic Bishops, argues that the president's frankness makes a strong case for discrimination.
"The benefit of having a president who speaks his mind is that you don't have to guess at his intentions," Joshua Lipshutz, a partner at Gibson, Dunn & Crutcher LLP, told Newsweek earlier this week. "Here we know that the intention was discriminatory."