After Supreme Court's Anti-Union Janus Ruling, Here's a List of Donald Trump's Anti-Labor Policies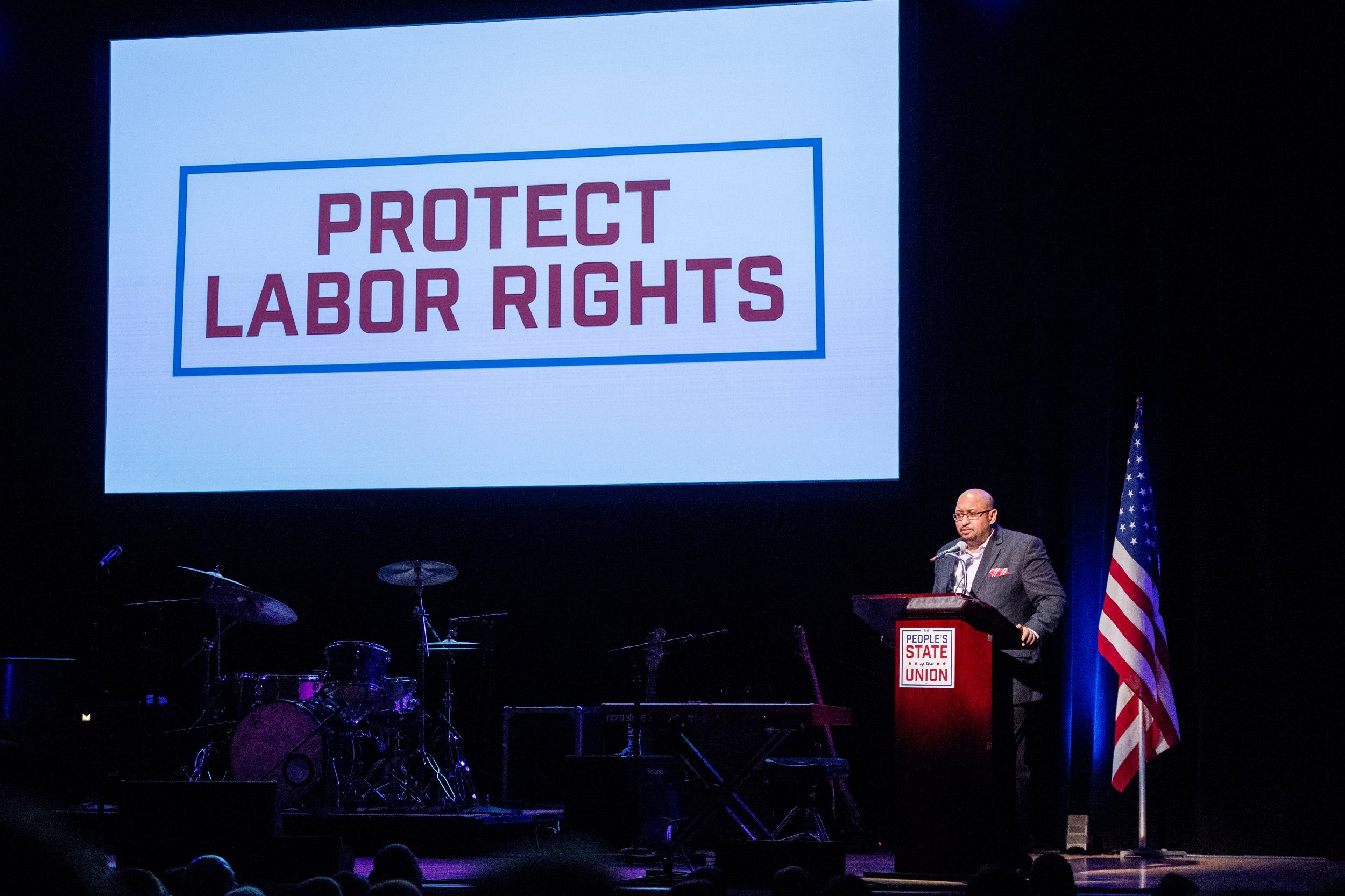 The Supreme Court ruled Wednesday that public-sector unions could not charge non-members fees even if they're covered by the union's collective bargaining agreements. The ruling in Janus v. AFSCME means that state and local government workers are now under "right to work" laws, and that unions must represent employees without necessarily recouping the associated costs.
President Donald Trump celebrated the decision as a victory against Democrats. "Supreme Court rules in favor of non-union workers who are now, as an example, able to support a candidate of his or her choice without having those who control the Union deciding for them," he tweeted. "Big loss for the coffers of the Democrats!"
The 5-4 decision fell directly along party lines, with justices appointed by Republicans ruling against the union and Justices appointed by Democrats ruling on behalf of it.
This is the second labor ruling the Supreme Court has made this year. In May, the court ruled in favor of employment contracts that banned class-actions against employers.
President Trump has a history of mitigating union and labor rights. Since taking office in January 2016, he has chosen anti-labor nominees for Cabinet positions, issued a number of executive orders and backed rules and legislation that weaken labor rights. Below are some the actions he has taken over the last year and a half.
Limited Overtime Protection for Workers
In October 2017, Trump made it clear that he would not back a Department of Labor regulation that required employers to pay overtime if employees worked more than 40 hours a week. The change left 12.5 million Americans without overtime protection, costing them an estimated $1.2 billion in lost wages each year.
Weakened Tip Protection Rules
President Trump's Department of Labor has rescinded regulations protecting employees from "tip pooling," which redistributed the extra money service workers make but is often pocketed by employers. When proposing the rollbacks, agency officials reportedly hid evidence showing that the change could take billions of dollars from workers and put the money into the pockets of their bosses.
A subsequent study by the left-leaning Economic Policy Institute found that employees would likely lose $5.8 billion because of the rule change.
Stopped Employee Records of Workplace Injuries
In April 2017, President Trump signed a congressional resolution that blocked the Workplace Injury and Illness recordkeeping rule. The change means that employers no longer have to report workplace injuries or illnesses to the Occupational Safety and Health Administration (OSHA). OSHA typically analyzes this data and works with employers to prevent future injuries, or fines negligent employers.
Awarded Government Contracts to Companies with Safety-Violation Records
In March 2017, President Trump blocked the Fair Pay and Safe Workplaces rule, which banned government contracts from going to companies with poor safety or labor records, and kept track of violations.
"More than one in five U.S. workers is employed by a federal contractor, and these contractors receive around $500 billion in taxpayer funds each year," wrote Democratic Senator Elizabeth Warren about the decision. "But this analysis finds that they frequently underpay workers or illegally put their health and safety at risk." Now those who award contracts, she added, have no criteria to distinguish between companies that put safety at risk and companies that don't.
Hurt Workers' Retirement Savings
The Trump administration has killed rules intended to protect Americans from wealth and retirement advisers who don't have their clients' best interests at heart. Even an 18-month delay in the fiduciary rule could cost retirement savers an estimated $10.9 billion dollars, according to the Economic Policy Institute. Advisers are now free to recommend that savers invest money in ways that benefit the advisers rather than the savers.