Supreme Court Abortion Law Punt May Leave Arkansas with One Abortion Clinic in Entire State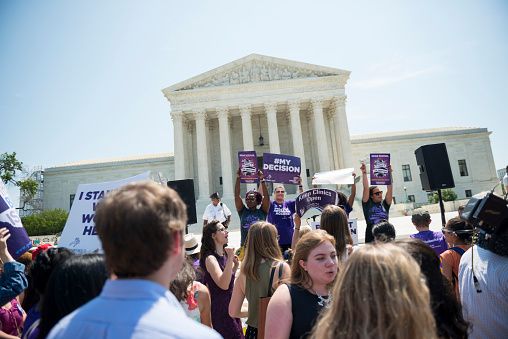 The United States Supreme Court refused to hear a challenge to an Arkansas law that will heavily restrict the state's ability to provide abortion services Thursday.
The 2015 law bans the use of medication abortion, a procedure that allows women to take pills to induce abortion during the first nine weeks of pregnancy. The pill, mifepristone, was approved by the Food and Drug Administration in 2000 and since its approval the number of women using the noninvasive treatment has skyrocketed. About one-third of all abortions in the U.S. are medication abortions, according to a recent study.
The Supreme Court's decision to not intervene with Arkansas's prohibition of medication abortion may also force two of the state's three abortion-providing health centers to shutter their doors. That would mean that only one abortion clinic, located in Little Rock, would be accessible for the state's 3 million residents. In 2014 there were four health centers in Arkansas that provided such procedures.
The Planned Parenthood Action Fund, which promotes advocacy and education for Planned Parenthood, reacted to the court's decision on Twitter, writing, "This fight is far from over. This law cannot and must not stand. We will not stop fighting for every person's right to access safe, legal abortion. #StopTheBans."
The Supreme Court's inaction comes just days after Ireland's historic vote to repeal the eighth amendment banning abortion. Irish prime minister Leo Varadkar told the media that the abortion referendum results showed that the nation will "trust and respect women to make their own decision and choices."
In the U.S., on the other hand, legislation is being passed that restrict women's health care options. Last year, during his first full day in office, President Trump enforced a "global gag rule" that bars any foreign organizations receiving federal aid from even mentioning abortion services. Trump also rolled-back an Obama-era policy that required health insurance to cover contraception and has threatened multiple times to defund Planned Parenthood.
While the Supreme Court declined to take this case, it is still considering two more abortion-related. One case centers around anti-abortion crisis pregnancy centers and a requirement to reveal information about their services, and the other about a court's decision to allow an unaccompanied teenage immigrant to end her pregnancy.