Supreme Court Rejects Challenge to Wisconsin Voter ID Law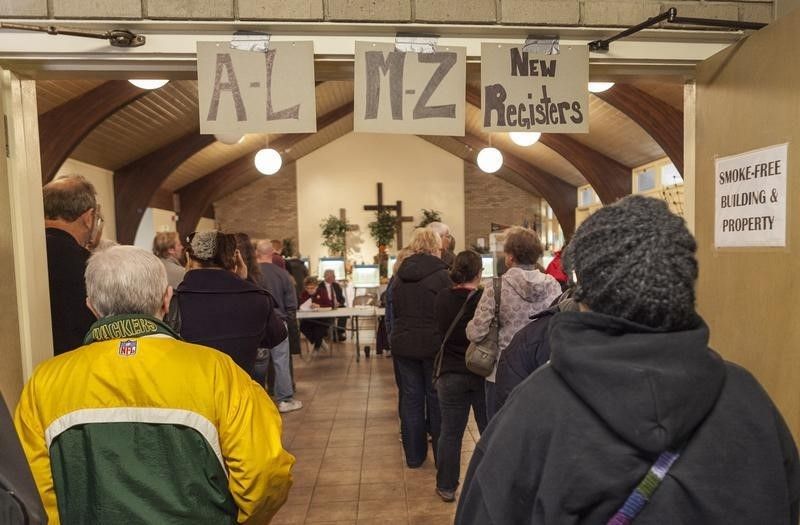 WASHINGTON (Reuters) - The U.S. Supreme Court on Monday rejected a challenge to Wisconsin's Republican-backed law requiring voters to present photo identification to cast a ballot, a measure Democrats contend is aimed at keeping their supporters from voting.
The justices declined to hear an appeal filed by the American Civil Liberties Union, which challenged the law. The ACLU said it then filed an emergency motion with a federal appeals court to try to keep the law from taking effect immediately.
Republican Wisconsin Attorney General Brad Schimel said the law cannot be implemented for the state's April 7 election because absentee ballots are already in the hands of voters but would be in place for future elections. "This decision is final," Schimel said.
Voter identification laws have been passed in a number of Republican-governed states over Democratic objections. Republicans say voter ID laws are needed to prevent voter fraud. Wisconsin's measure, blocked by the Supreme Court last year, was backed by Governor Scott Walker, a potential 2012 Republican presidential contender.
Democrats say voter fraud is rare and the rules are intended to deter voters including the poor, minorities and college students from voting, groups that are less likely to possess the necessary forms of identification but are more likely to vote for Democratic candidates.
The law would require voters to present one of a handful of forms of photo ID such as a Wisconsin driver's license, a passport, a military ID or an ID card from a Wisconsin university or college.
In October, the high court temporarily blocked the Wisconsin law. It did not explain its reasoning, but it was most likely because the statute was being implemented so close to the November election, which could have caused confusion and disruption.
The Supreme Court has previously upheld the constitutionality of such voter ID laws.
A federal judge blocked the state's voter ID law in March 2012 soon after it took effect and entered a permanent injunction in April, finding the measure would deter or prevent a substantial number of voters who lack photo identification from casting ballots, and place an unnecessary burden on the poor and minorities.
The 7th U.S. Circuit Court of Appeals blocked the decision and subsequently ruled in October that the law was constitutional. Wisconsin's Supreme Court upheld the voter ID law in a separate ruling.
The case is Frank v. Walker, U.S. Supreme Court, 14-803.