Supreme Court 'Set a Torch' to Its Legitimacy With Roe Ruling: Warren
Democratic Senator Elizabeth Warren blasted the U.S. Supreme Court on Sunday, just days after it released its ruling that overturned Roe. v. Wade, and argued that the institution "burned whatever legitimacy they may still have had" with its decision.
During her interview on ABC's This Week, host Martha Raddatz discussed how after the decision was released, Senators Susan Collins, a Republican from Maine, and Joe Manchin, a Democrat from West Virginia, said they felt they had been misled during the confirmation hearing of Justice Brett Kavanaugh. Before Kavanaugh was confirmed, Collins said he told her that he viewed Roe v. Wade as "settled law." The two senators said they also felt misled by Justice Neil Gorsuch in his confirmation hearing in regards to Roe in statements they released Friday. Both justices voted to overturn the landmark case.
In her statement, Collins said the Court's decision was "inconsistent with what Justices Gorsuch and Kavanaugh said in their testimony and their meetings" with her after they were "insistent on the importance of supporting long-standing precedents that the country has relied upon."
Meanwhile, Manchin said that he "trusted Justice Gorsuch and Justice Kavanaugh when they testified under oath that they also believed Roe v. Wade was settled legal precedent," adding that he was "alarmed they chose to reject the stability the ruling has provided for two generations of Americans."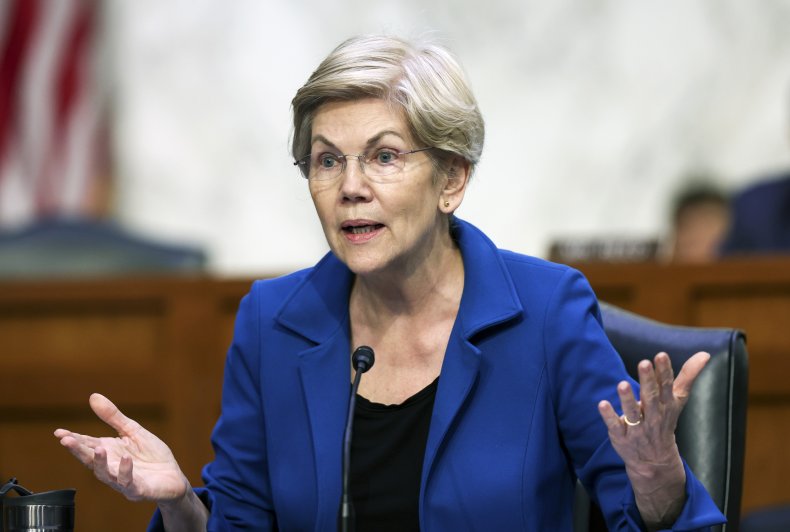 Raddatz asked the Massachusetts senator if she thinks the process for confirming Supreme Court justices should change.
Warren said that Republicans have been "very overt about trying to get people through the Court who didn't have a published record on Roe, but who they knew—wink wink, nod nod—were going to be extremist on the issue of Roe v. Wade."
"And that is exactly what we have ended up with. This Court has lost legitimacy. They have burned whatever legitimacy they may still have had after their gun decision, after their voting decision, after their union decision," she added. "They just took the last of it and set a torch to it with the Roe v. Wade opinion."
Just before the court released its opinion in Dobbs v. Jackson Women's Health Organization—the case that overturned Roe—it also voted to strike down a New York law that required individuals show "proper cause" in order to get a license to carry a firearm outside a home.
Warren added that she believes that "we need to get some confidence back in our court and that means we need more justices on the United States Supreme Court."
The senator has advocated for expanding the Court in the past, and reiterated her argument for doing so in a tweet on Friday.
"We are not powerless. Here's what I'm fighting for: Expanding our Senate majority so we can eliminate the filibuster & codify Roe. Expanding the Supreme Court to rebalance this institution. Defending abortion rights in states through ballot measures and downballot elections," she tweeted.
Last December, Warren called for the Court to "be expanded by four or more seats to protect America's democracy and restore faith in an independent judiciary committed to the rule of law."