Supreme Court To Decide on Trump-Backed Voting Rights Rule That Could Disenfranchise Thousands of Americans
The U.S. Supreme Court will decide on a Trump-backed Ohio voting rights policy that has disenfranchised thousands of American voters by using lists to purge names of those who vote infrequently. The Trump administration filed a brief in support of the Ohio "use it or lose it" voting policy last year in Husted v. A. Philip Randolph Institute, which will be heard in the nation's top court on Wednesday.
The case looks at Ohio's "purge policy," in which the state used maintenance lists to bar people from voting in elections if they had not voted in a two-year period or contacted a state voting agency for a six-year period. Between 2011 and 2016, Ohio had removed about 1.2 million infrequent voters.
Reuters reports that Montana, Oregon, Georgia, Pennsylvania, Oklahoma, and West Virginia also purge infrequent voters using maintenance lists. The American Civil Liberties Union reports that about 7,500 Ohio swing-state voters who would have been blocked from voting in the 2016 presidential election because of the rule. In August of 2017, the Justice Department under President Donald Trump filed an amicus brief in support of Ohio's "use it or lose it" policy, according to Mother Jones.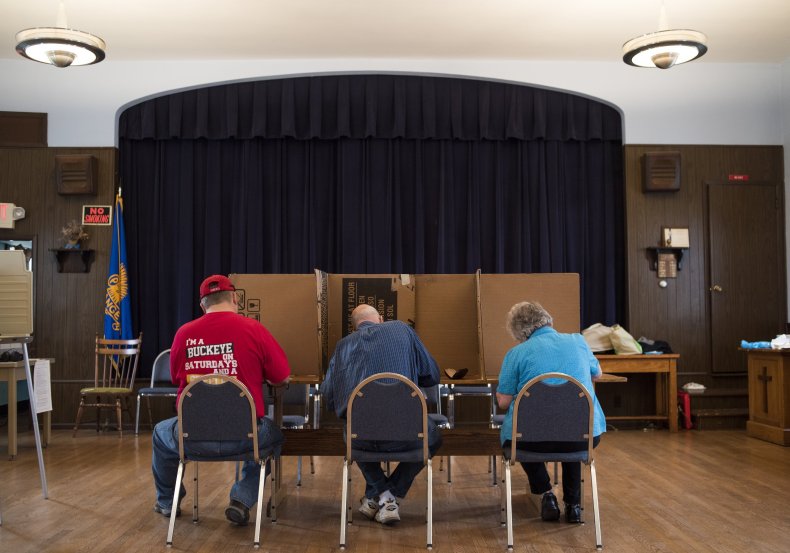 The policy was blocked by a federal district court sitting in Ohio in April 2016 for violating the 1993 National Voter Registration Act. The 1993 act asks states to maintain voter lists by making a reasonable effort to remove the names of those who died or moved out of state. Ohio Secretary of State Jon A. Husted appealed the lower court's decision to the Supreme Court, which took the case in May, 2017.
Just last week, President Trump dissolved the Presidential Advisory Commission of Election Integrity which he set up after widespread claims of voter fraud loomed over the 2016 presidential election. The ACLU and the liberal group Demos are working with the plaintiffs in the Ohio case, including Larry Harmon who was turned away from polls in 2015 after choosing not to participate in Ohio elections since before 2010.
The purge policy would have barred Harmon from participating in the presidential election in November 2016. "Ohio makes voting a 'use it or lose it' right by targeting people who choose to vote infrequently and kicking them off the rolls. That's illegal," the ACLU tweeted on Friday.
"Voting is the foundation of our democracy, and it is much too important to treat as a 'use it or lose it' right," lawyer Stuart Naifeh of Demos told Reuters. The Ohio voting rights decision will be one of several voting rights cases heard by the Supreme Court during this term.