Supreme Court Will Hear Three Key Trump Financial Cases Through First-Ever Teleconference
President Donald Trump's financial records will be on full display in three Supreme Court cases that will be heard via teleconference next month.
The court, which has postponed several major cases amid the coronavirus pandemic, announced Monday that it would begin moving forward remotely with ten arguments in May. It will be the first time in the court's 230-year history that live audio of arguments will be made available to the public.
"In keeping with public health guidance in response to COVID-19, the justices and counsel will all participate remotely," the court said in a news release. "The court anticipates providing a live audio feed of these arguments to news media. Details will be shared as they become available."
The court's docket includes three key cases related to President Trump's withholding of financial records from congressional committees and Manhattan District Attorney Cyrus Vance Jr.
In the first case, Trump v. Vance, the court will decide whether to uphold a grand jury subpoena for Trump's tax returns and other financial documents as part of an ongoing criminal investigation by New York prosecutors.
One issue at the center of the Manhattan investigation is whether Trump directed "hush money" payments to two women who claimed to have affairs with him just before the 2016 election. Trump has denied the affairs. His former personal attorney Michael Cohen is currently serving a three-year prison sentence for falsifying records related to the hush-money payments.
The president requested that the Supreme Court hear the case after a lower court ruled against him. In a petition to SCOTUS last November, Trump's legal team wrote that the "threat that state criminal process poses to a president cannot be overstated."
"That the Constitution would empower thousands of state and local prosecutors to embroil the president in criminal proceedings is unimaginable," the petition said.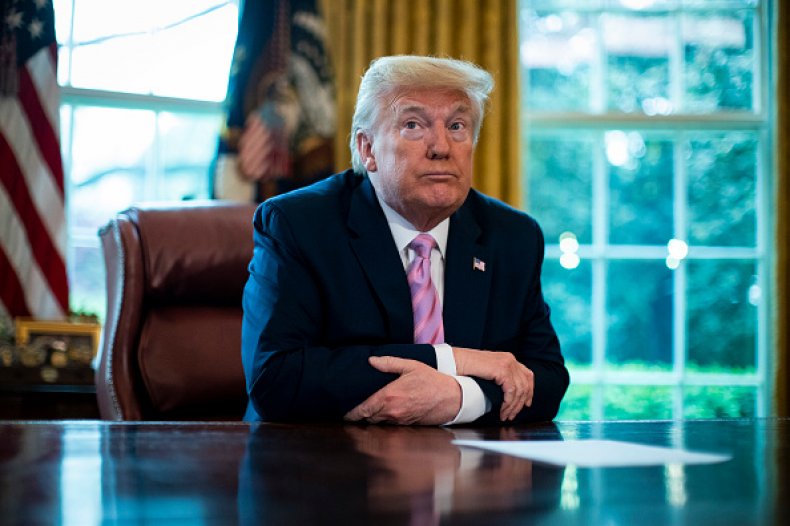 The other two cases—Trump v. Deutsche Bank AG and Trump v. Mazars—are focused on congressional subpoenas.
Last year, the House of Representatives Oversight and Reform Committee requested documents from the president's accounting firm Mazars USA. House Democrats say the records would inform their investigation into whether Congress should amend its ethics-in-government laws. So far, Trump has blocked Mazars from complying with any of the subpoenas, citing his immunity as president.
Another investigation by the House Intelligence Committee and the House Financial Services Committee sought nearly a decade's worth of tax returns and other financial records from Deutsche Bank and Capital One. Lawmakers said the records will help determine whether foreign agents have any financial leverage over the president.
Lower courts have upheld the subpoena requests from the congressional committees. The Supreme Court will hear those cases and several of others on May 4, 5, 6, 11, 12 and 13.