The Supreme Court's DACA Ruling Still Means Congress Must Act | Opinion
The Supreme Court blocked the Trump administration on Thursday from moving ahead with its immediate effort to end the Deferred Action for Childhood Arrivals program. DACA, enacted by the Obama administration in June 2012, shields about 700,000 young immigrants known as Dreamers from deportation.
Thursday's ruling is a beautiful, hard-fought victory, and the road to it was paved by the fearless undocumented immigrants who came before, as well as generations of black organizers and activists who championed racial justice and civil rights and continue their fight to defend black lives today.
As a DACA recipient from Colorado who has lived nearly her entire life in the United States, this victory feels incredible, but no matter what the Supreme Court decided, the fact is that my home is here.
My journey began when my family and I came to Colorado from Mexico when I was just 9 years old. Like so many other families, we sought a better life, and my parents trusted we could build it in the United States. I went to school all the way through college here, became a teacher in Denver, and I now work every day to lift up my community through advocacy. Much of this has been possible only with the protections I earned under DACA, including the temporary protection from deportation and two-year renewable work authorization it provides.
DACA was never a perfect solution, but it has been transformative for many Dreamers like me. It provides an opportunity to live less fearfully and contribute more fully to the communities in which we live and work. In the midst of all the chaos and pain caused by the badly broken, inhumane U.S. immigration system, DACA has provided a lifeline. And while communities across the country are struggling to make it through an unprecedented public health crisis, we should also remember that 200,000 DACA recipients, including nearly 30,000 health care professionals, are serving in essential frontline roles right now to keep all of us healthy and safe.
I know first-hand that this decision will have a far-reaching impact on our loved ones, friends and community members, as well as the millions of Americans who continue to stand with Dreamers. But in certain respects, the court's ruling won't change several fundamental truths of our lives and the battle for our community's rights and dignity.
DACA recipients have been fighting tirelessly for years to secure our place in the only country we know as home—and Thursday's ruling only steels our determination to continue fighting for families and our communities. We've seen up close the ways in which our country's broken system tears apart our loved ones and entire communities, and we will not give up until everyone is treated with dignity and worth, regardless of their status.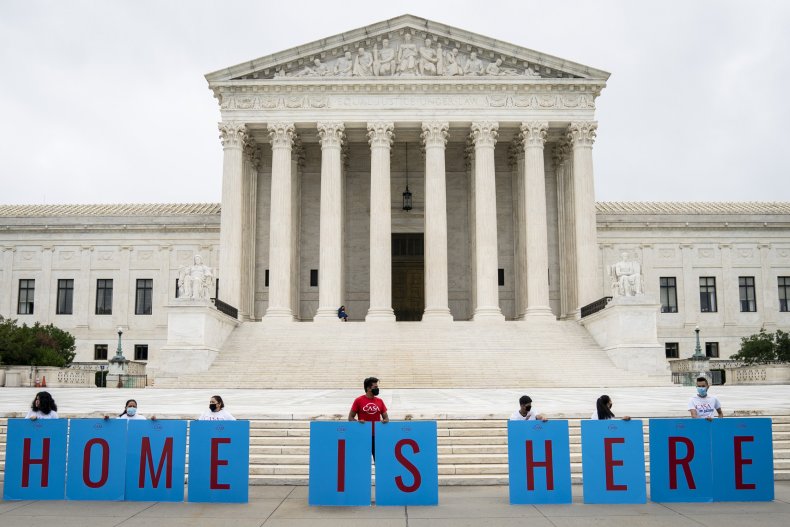 Also, this long-anticipated ruling also doesn't absolve Congress of its responsibility to vote on permanent legislative protections for Dreamers. In fact, the court's decision makes congressional action even more urgent. The House passed the Dream and Promise Act in June 2019, and the Senate could bring the bill up and pass it this week if Senate leadership chose to. Every day of delay means another day in which 700,000 hardworking young people—and their loved ones, employers, neighbors and community members—are trying their best to build their lives on an unstable foundation.
As I said, no ruling from the court was ever going to change what DACA recipients know to be true: Our home is here. The United States is where we've made friends, created jobs by starting our own businesses, become nurses and engineers, worshipped alongside our neighbors, taught our community's kids in school and started our own families. We won't go back to living in the shadows—and we are more determined than ever to fight.
We urge Congress to right what only they can and pass legislation without delay to help ensure that DACA recipients and their family members and loved ones can continue building our lives here.
Marissa Molina is a DACA recipient and the Colorado state immigration director at FWD.us.

The views expressed in this article are the author's own.