The Supreme Court's Landmark Louisiana Abortion Decision This Summer Could Upend the Law Behind 'AKA Jane Roe'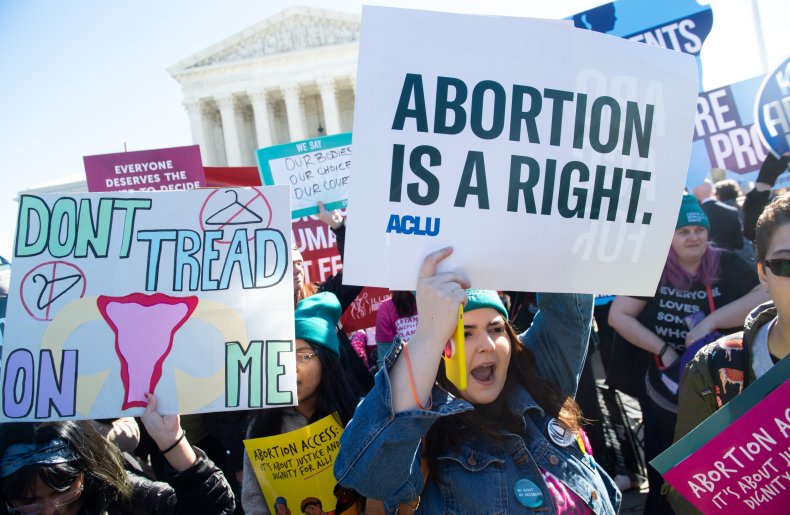 In the final 15 minutes of a new documentary on the life of Norma McCorvey—Jane Roe in the U.S. Supreme Court's landmark 1973 decision that legalized abortion—McCorvey acknowledges the impact that President Donald Trump's election could have on the future of reproductive rights in the United States.
"Roe isn't going anywhere," she declares, shortly before going to bed election night 2016, thinking Hillary Clinton has won. "It's not going to be tampered with. Not happening, baby!"
The next morning, realizing that Trump eked out a win over his Democratic rival, McCorvey describes herself as physically ill.
"I just started shaking," she said. Trump vowed in his 2016 campaign that he would only appoint Supreme Court justices who would back efforts to overturn Roe v. Wade.
The documentary, "AKA Jane Roe", already made world headlines for revealing what McCorvey herself calls her "deathbed confession"—that she was paid to become an anti-abortion activist in the mid-1990s—a "trophy" for activists who once viewed her as their prime enemy in the abortion rights movement.
The renewed spotlight on McCorvey and the role she played on both sides of one of the most contentious issues in the U.S. previews the tensions the country will likely face again this summer as the Supreme Court decides a case that could upend Roe v. Wade.
The court will decide in the coming months whether to allow Louisiana to require abortion providers have admitting privileges at a local hospital, which would likely end abortion in the state, both supporters and opponents agree. It will be the court's first major abortion decision with Trump appointees Neil Gorsuch and Brett Kavanaugh— ultra-conservative justices he promised—on the bench and is seen as a test case for how the new court will treat state laws that restrict abortion.
Opponents of the law, which has not been allowed to take effect because it's being challenged in court, say it threatens to shutter the three remaining abortion clinics in Louisiana and could pave the way for laws in other states that chip away at abortion access. Abortion rights supporters and opponents have identified the Louisiana case, which was argued in March, as one that will set the tone for how states handle abortion laws in the future. It is seen as a case that could erode Roe.
Other abortion restrictions still making their way through the legal system also would restrict how late a pregnancy can be terminated, extend mandatory waiting periods or further regulate facilities. Under Roe, the court ruled that abortions are legal up to the point of fetus viability, or about three months.
McCorvey became a cause célèbre for the growing anti-abortion rights movement in 1995 when she teamed up with Texas-based anti-abortion activists Operation Rescue and denounced the Roe decision.
In the FX documentary, McCorvey claims she was paid to switch sides and that she believes abortion should between a woman and her doctor.
But anti-abortion advocates have dismissed the bombshell confession. Allan Parker, founder and president of The Justice Foundation, represented McCorvey from 2000 to 2005 as she fought to overturn Roe, her own case.
"In view of my many conversations with Norma and considering the sworn testimony she provided to the Supreme Court, I believe the producers of the newly-released FX documentary 'AKA Jane Roe' paid Norma, befriended her and then betrayed her," Parker alleges without providing proof. "This documentary cannot be trusted and the perception it attempts to create around my friend and former client, Norma, is patently false."
Parker continues an active role in pushing for Roe to be overturned. He filed one of the dozens of voluntary briefs arguing in favor of the Louisiana admitting privileges law.
In the brief, filed on behalf of The Moral Outcry—an organization specifically dedicated to overturning Roe, Parker argues that abortion is "a crime against humanity" and compared the Roe decision to the Supreme Court's 1857 decision in the Dred Scott v. Sandford case that denied citizenship to black people and was later overturned.
"A crime against humanity occurs when the government withdraws legal protection from a class of human beings," he writes.
McCorvey, however, won't get to see the results of the cases she left her imprints on. She died of heart failure in February 2017, less than a month after Trump's inauguration.
"AKA Jane Roe" premieres at 9 p.m. ET/PT Friday and will be available for streaming on Hulu Saturday.