On Monday, the Supreme Court heard arguments in its first gun safety case in a decade. Legislative progress, democracy and our lives all hang in the balance. At stake is whether communities across the country will have the ability to pass laws stemming the constant threat of gun violence. As two members of the lockdown generation, this case is a matter of life and death for us, and the justices should remember that.
The case before the court is the New York State Rifle & Pistol Association v. The City of New York. It hinges on a New York City rule—no longer on the books—that regulated the circumstances under which handguns could be carried in public. The NYSRPA, an offshoot of the National Rifle Association, is trying to use this case to expand the scope of the Second Amendment and make it harder to regulate firearms. It wants to radically lower the bar for what it takes to declare a gun safety law "unconstitutional."
These debates are far from theoretical. Every year, 40,000 people in the United States are ripped away from their families, friends and communities by gun violence. These are people, not just statistics.
My twin brother, Zaire Kelly, is a victim of gun violence. He was only 16 when he was shot coming home from a college preparatory program, miles from the Supreme Court. He had the world ahead of him; he was an exceptional student, athlete and person. Zaire had the right not to be shot.
Zaire and I shared everything. Our lives were changed forever on September 20, 2017, the day of his passing. Zaire was an active community member who spoke out about the issues that affected youth in our city. His spirit lives on through me, as I carry out my activism and fight for new gun legislation and a safer country. We can prevent these types of shootings, and we can protect the youth of our country. No one should endure the pain of losing a loved one. With every election, we have a chance to make a difference for real families and real lives like mine.
Ultimately, the decision facing the court is whether it will allow us to prevent future tragedies through sensible legislation or take that avenue of change away from us, instead giving the NRA extraordinary power to use the courts to stifle democracy and reasonable gun regulation that has the public's safety at its heart.
If the court expands the NRA's radical interpretation of the Constitution, it will cut off public debate at a moment where citizens, especially young people like ourselves, are overwhelmingly in favor of stronger gun regulation. Public support for policies to prevent gun violence is it at its highest level in decades.
For nearly two years, we have mobilized, marched and voted for laws that would put an end to our nation's gun violence epidemic. The power of our activism alongside many others has led to the passage of over 100 laws at state and local levels that are helping protect communities.
At the March For Our Lives in 2018, we stood on that stage because we had no other choice. Mass shootings, everyday gun violence, active shooter drills and school lockdowns are fundamental threats to our physical and mental health. We live in fear each and every day—fear of being shot in the places we frequent, fear of burying our loved ones, fear of not coming home. Students should not have to grow up worrying about gun violence, but this is our reality. We had to add our voice to the deep despair and rage that millions of Americans feel about the nation's gun laws. We had to march and then fight for policy change because our lives depended on it.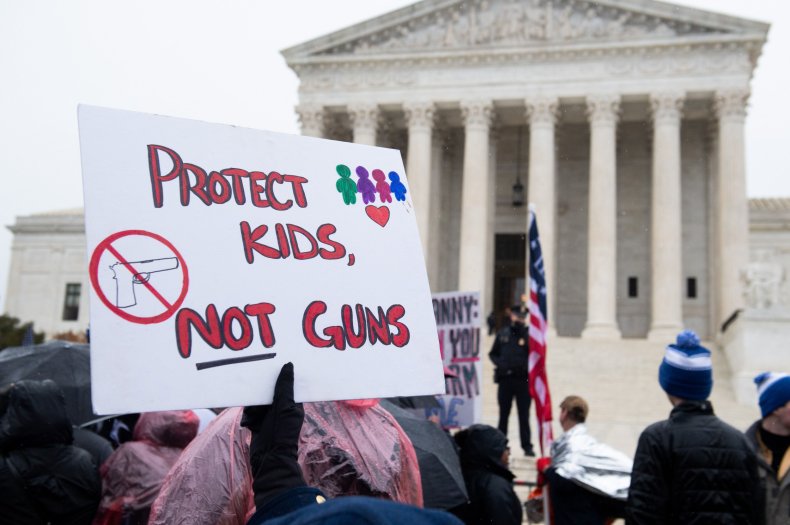 And now, we must urge the Supreme Court to hear us for the same reason. This summer, we wrote and filed an amicus brief sharing the personal stories of nine young people whose lives have been devastated by gun violence. In analyzing the brief, two Yale law students wrote in The Atlanticthat it marked the "beginning of a long-needed effort to offer a pro-gun-control constitutional narrative, one that calls attention to the constitutional rights and goods vindicated by gun regulation." We couldn't agree more. There is a generational change underway on the issue of gun violence that should not be voided by the court.
Our generation will watch closely as the court considers this case. Its decision will either protect our collective right to effect change, one of our nation's founding principles, or subordinate that right to the Second Amendment.
For our survival, we hope the court makes the right choice.
Zion Kelly is a 19-year-old from Washington, D.C., and in his second year at Florida A&M University. Matt Post is a 20-year-old from Maryland in his second year at Yale University. Both spoke at the March For Our Lives in 2018.
The views expressed in this article are the writers' own.