Surf City Fire Update: Massive Fire Destroys Homes in North Carolina
Firefighters are still on site Monday morning after a fire broke out Sunday evening in Surf City, North Carolina.
The large blaze claimed seven houses but no casualties have been reported. According to the Surf City Fire Chief, Allen Wilson, most of the buildings are secondary homes, and were unoccupied at the time the fire started.
The Surf City Fire Department tweeted warnings for people to stay out of the area starting Sunday evening and reported that multiple agencies were responding to the call.
Crews from Topsail Fire, North Topsail Fire and Pender County responded to the call.
Firefighters were on scene around 6 pm. and only three homes were burning at the time. The fire continued to spread after that time.
Onlookers began posting videos and pictures to Instagram and Facebook, showing the dramatic scene with plums of black smoke.
Some people who were home Sunday evening had difficulty evacuating the buildings and some were forced to evacuate by water. The buildings are located on a narrow strip of land with a tight one way street as the only exit route.
Witness saw some of the occupants fleeing by boat, and one good Samaritan assisted with the evacuations.
"I was going to save my boat, that was my first feeling and then I realized that people were trapped at the end of the peninsula," Tom Haether told WECT-TV. "So I went to the end of the Peninsula, docked there, another boat showed up a little while later and we were able to get people off that wanted to leave and I got 3 people and a couple of dogs."
Haether also witnessed an explosion while assisting with evacuations. "It was very hot, when I took the boat past it, it was amazingly hot and just as I passed one of the propane tanks blew up on one of the buildings and blew debris all over the canal. I got out just in time," he said.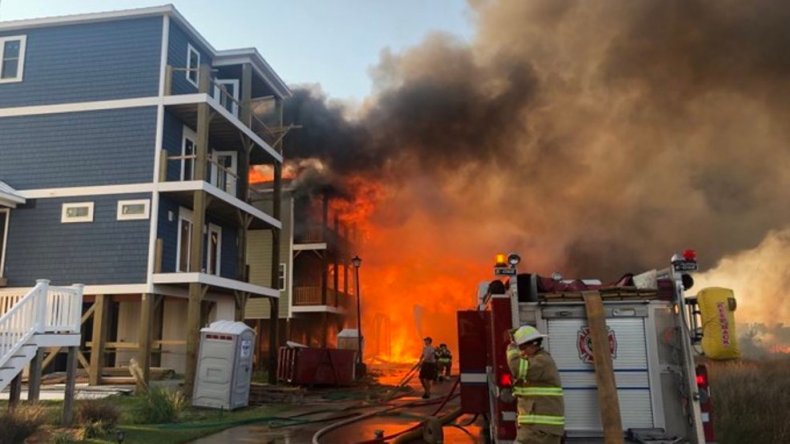 The cause of the fire remained unclear, though an investigation will seek to determine exactly what happened.
"They're working through all the hot spots now, making sure we get this thing extinguished so we can start that investigation promptly this morning," Wilson told WECT.
Wilson highlighted the intensity of the fire, saying, "Some firefighters will work their whole career and never see a fire half this big."
The cause of the fire is still unknown.