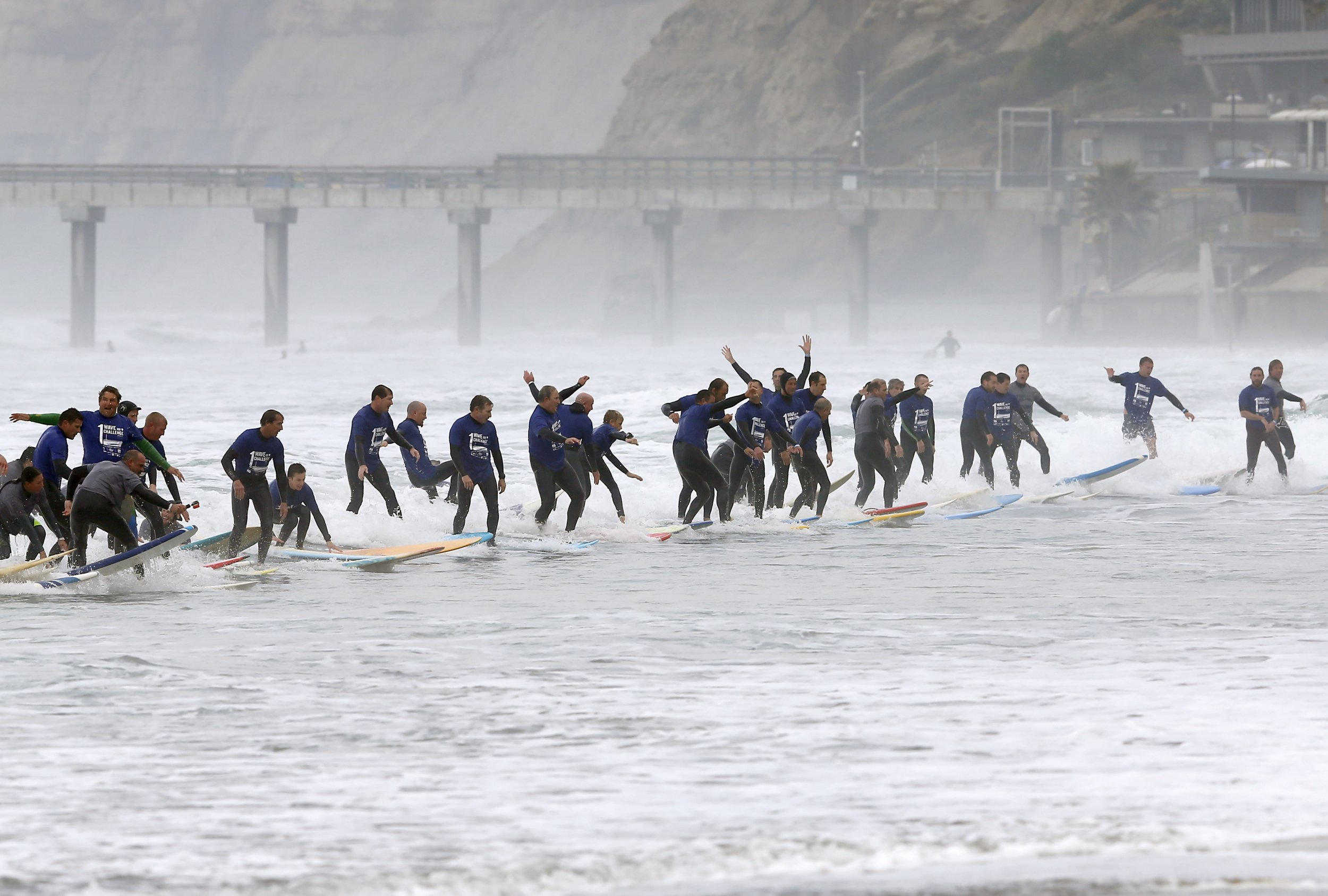 Bob Mignogna moved to Southern California in 1974 to work at Surfing Magazine. On most mornings, he woke up an hour before dawn, make two cups of java, and drove his baby blue Volkswagen Beetle to what is considered one of the best surfing spots in the world: Lower Trestles. After he carried his baby blue surfboard over the train tracks and avoided the rattlesnakes that lived in the reeds along the way, Mignogna regularly paddled out to a then-common sight: completely empty waves.
Today the best surfing spots in the U.S. can be as crowded as rush hour on Interstate 405, the notoriously congested freeway that runs through Los Angeles. The number of surfers in the U.S. has grown from an estimated 1.8 million in 2004 to 2.5 million today—an almost 40 percent increase, according to a new study from the Surf Industry Manufacturers Association (SIMA).
"This morning at the dawn patrol there were 30 or 35 guys. And on a real crowded morning there will be 60 to 100 surfers," Mignogna tells Newsweek, describing the current scene at Trestles. "I preferred it the way it used to be. Less crowded, less challenging, easier for me to ride a lot of waves without having to worry about the crowd."
Mignogna, who was the publisher of Surfing Magazine for 25 years, isn't the only industry insider who hates crowded waves. Since most surf company CEOs are surfers themselves, they have a personal—and selfish—interest in keeping the waves from being overrun with flailing beginners. "We don't do anything to encourage surfing," Sean Smith, executive director of SIMA, tells Newsweek. "The president of Rip Curl doesn't come in and say, 'I was out at Trestles and it was packed, let's get even more people out there.'"
The percentage of surfers who are female has also increased—in part because of the popular 2002 surf movie Blue Crush, Smith says. "They're pretty girls, but they're animals out in the water. Women said, 'Hey I want to do that.'" Now it's common for entire families to compete in the same surf competition. "Here in Southern California, it's the equivalent of little league baseball," Smith says, adding that the sport's popularity will grow even more if it's included in the 2020 Olympics in Tokyo.
The surge in surfers has also increased their political power, says Chad Nelsen, CEO of the Surfrider Foundation, a coastal conservation organization. "We've been able to get into the official planning process so they don't put a wind farm right in front of a great surf spot and kill it," Nelsen tells Newsweek. "We're a legitimate stakeholder and not this fringe group of hippies that nobody cares about."
Asked why he thinks the popularity of surfing has skyrocketed, Mignogna points to its addictive draw. "There's a feeling that people get the first or second or third time they stand up on a surfboard," he says. "Most people who stand up the very first time will tell you, 'I want to do this as much as I possibly can. I want to do it again. When can I come back to the beach?'"
About the writer
Josh Saul is a senior writer at Newsweek reporting on crime and courts. He previously worked for the New York Post, where he covered beats including the NYPD, Brooklyn state court and Manhattan federal court. He also helped launch the Alaska Dispatch, which has since become the biggest news organization in the state. He grew up in Anchorage, graduated from Cornell University, and has also worked as a firefighter and commercial fisherman.