The architect who designed the condo building in Surfside, Florida, that collapsed and killed at least 97 people last month had previously been suspended for "gross incompetency" after designing fallen structures, according to a report.
William Friedman, who designed the Champlain Towers South condo before it was built in 1981, faced a six-month suspension from Florida's architecture board in 1967 for designing structures that toppled during a major hurricane, The Real Deal reported.
The report found that Friedman's design of sign pylons on top of a Miami commercial building failed to stand during Hurricane Betsy in 1965, prompting the Florida State Board of Architecture to issue a temporary suspension.
Friedman's pylons were "insufficient and grossly inadequate" to withstand the wind pressure from the hurricane, according to the board. Furthermore, the board said the pylons were not in accordance with the building code for the location or "to accepted standards of architectural practice."
The five-member board found that Friedman was in violation of Florida law and guilty of "gross incompetency, in that he negligently, improperly, and carelessly" designed the pylons. Friedman attempted to appeal the suspension but without success. His suspension began on June 1, 1967, and ended on December 1, 1967, according to The Real Deal.
The report comes one month after the 12-story Champlain Towers building in Surfside came crashing down on June 24.
Last Friday, rescue teams concluded their weeks-long effort to find missing victims after recovering just two survivors and 97 deceased victims. Officials believe that only one victim has yet to be identified.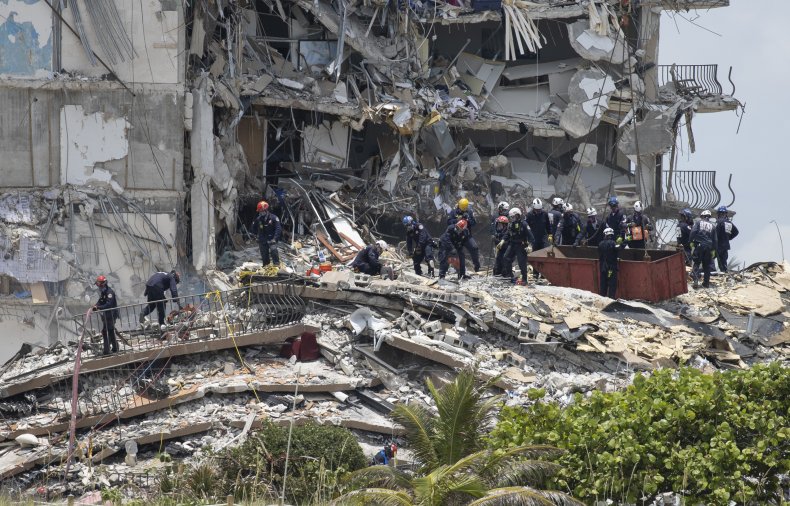 The exact cause of the collapse is not yet known, and officials have not determined whether Friedman's architectural design played any role in the disaster.
However, several theories have emerged regarding the building's structural safety. According to a 2018 engineer's report, the building was said to have contained cracked tile on multiple balconies, as well as failed waterproofing on the pool deck that caused "major structural damage" to the concrete structural slab below.
Concrete repairs that had been made in the garage were also found to be "failing" and caused additional concrete cracking and spiraling.
"I think they're going to be able to find the reasons. I use the plural because I think a number of factors have played a part in this case," Atorod Azizinamini, a professor of civil engineering at the Florida Institute of Technology, previously told Newsweek.
"At the end of the day, you're going to see there were likely several factors combined," Azizinamini added.