Surfside Mayor Says Rescue Still On, Notes Woman in Bangladesh Survived 17 Days After Collapse
The mayor of Surfside, Florida, said Sunday that the effort to rescue more than 120 missing people after a condominium partially collapsed last week remains ongoing, while noting that a woman in Bangladesh survived for 17 days in a similar disaster.
Speaking on CBS' Face the Nation Sunday, mayor Charles Burkett remained optimistic about search and rescue efforts to find missing residents of Champlain Towers South, a 12-story oceanfront condo that came crashing down on June 24. As of Sunday, at least two dozen people have been confirmed dead from the incident, while an additional 121 people remain unaccounted for.
But when asked whether the mentality has shifted from a search and rescue mission to a recovery effort after 11 days of grueling efforts, Burkett said it has not.
"It's absolutely not a recovery effort. I constantly am telling people about the BBC documentary, which outlines survivability after a building collapse, where they pulled a lady in Bangladesh out after 17 days. So we're not even near that. And, you know, there's nobody in charge really talking about stopping this rescue effort," Burkett said. The mayor was referring to a 2013 incident in which a woman was pulled out of the rubble alive after an eight-story building collapsed in a suburb of Bangladesh's capital, Dhaka.
"This rescue effort, as far as I'm concerned, will go on until everybody's pulled out of that debris," Burkett added.
Over 350 first responders have been tirelessly searching through piles of steel, concrete, and rubble to find survivors of the partially collapsed building. Throughout the week, the dramatic rescue efforts have been complicated by inclement weather, spontaneous fires and unstable conditions across the site.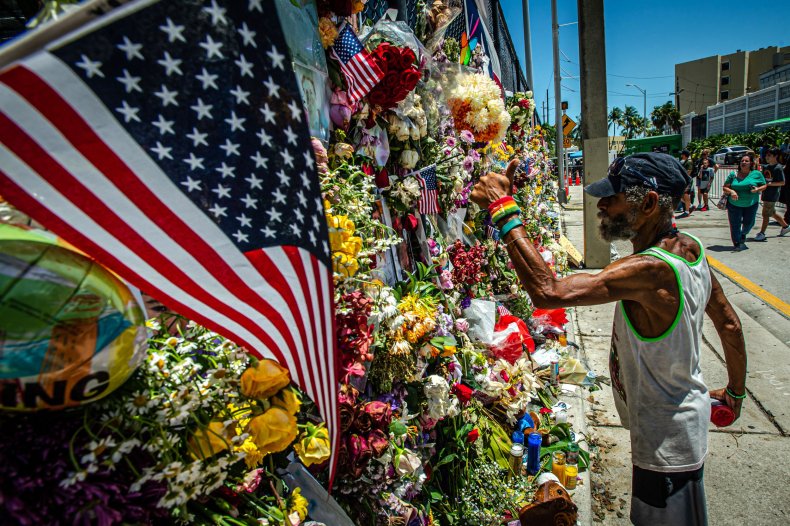 Yesterday Burkett and Miami-Dade Mayor Daniella Levine Cava said portions of the building that remain standing will be demolished as soon as possible, following concerns that strong winds from an incoming tropical storm could cause the structure to collapse on its own.
By Sunday morning, Burkett said demolition efforts were 80 percent complete, and noted that the building may be torn down later today. Rescue efforts have since been paused as authorities formulate the safest plan to bring down the rest of the building.
"As you know, the fact that the building is being prepared to be demolished has stopped the work, which is critical. We need to get back to work as soon as possible. We need to get this building taken down and we need to move forward with the rescue of all those people that are still left in the rubble," Burkett said Sunday.
Burkett said authorities will aim to bring the building down in a westward direction, so that a debris pile that could have victims located in it would not be affected.
Once the building is demolished, the mayor said that a new area will be opened up for rescue workers to sift through. Authorities estimate that rescue operations will resume within an hour of the controlled demolition.
"We're going to be able to pour resources onto that pile. Or, as the fire chief recently said, we have resources that are five deep, and we are going to attack it big time and we are going to try to pull those victims out and reunite them with their families," Burkett added.
Newsweek contacted Burkett for additional comment, but did not hear back in time for publication.