Surfside Building Collapse Video Shows Dramatic Moment Condo Caves In
A dramatic video has captured the moment part of a 12-story beachfront condo collapsed in Florida early on Thursday morning.
The 24-second clip, captured from a nearby building, was shared by talk show host Andy Slater on Twitter on Thursday.
A wing of the Champlain Tower, located at 8777 Collins Avenue in the town of Surfside, collapsed at around 1.30 a.m., killing at least one person and trapping residents in rubble.
Miami Dade Fire Rescue is conducting search and rescue operations. In a tweet, the agency said more than 80 crews were "on scene with assistance from municipal fire departments."
Shocked residents have described the chaotic scene after the collapse. Ofe Osin-Cohen told Today: "We heard a weird sound and we felt the building shake."
She added: "Unfortunately we did hear screams; I'm not exactly sure where the sounds were coming from."
Santo Mejil told the Miami Herald that his wife had called him from the building, where she works as an aide for an elderly woman. "She said she heard a big explosion. It felt like an earthquake," Mejil told the newspaper.
At a press conference, the mayor of Miami-Dade County, Daniella Levine Cava, said around half the tower's 136 units had collapsed.
Miami-Dade Fire and Rescue Chief Raide Jadallah added that rescuers had pulled at least 35 people from the wreckage. Ten people were treated on site and two were transferred to hospital. One later died in hospital.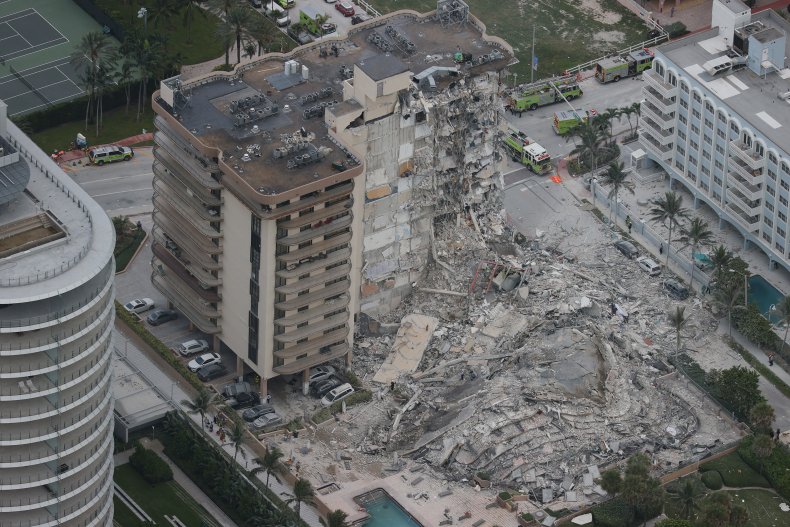 In Focus
Search and rescue personnel work in the rubble of the 12-story condo tower that crumbled to the ground on June 24 in Surfside, Florida.
Launch Slideshow

6 PHOTOS
Jadallah said equipment was being brought in to help stabilize the structure as the rescue efforts continued.
Surfside Mayor Charles Burkett warned that the death toll was likely to rise, adding that the building manager had informed him the tower was quite full.
"The building is literally pancaked," he said. "That is heartbreaking because it doesn't mean to me that we are going to be as successful as we wanted to be in finding people alive."
Officials do not yet know what caused the collapse.
Burkett said work was being done on the building's roof, but he did not see how that could have caused the tower to give way.
"Thank you to those who have responded to the tragic building collapse in Surfside. These first responders saved lives. The state has emergency response personnel on site and will assist in any way it can," tweeted Florida Gov. Ron DeSantis.
The condo development was built in 1981 on the beach in the southeast corner of Surfside, which is around six miles from Miami Beach.