Surfside Rescue Crews Saluted as Mission Ends 29 Days After Condo Collapse
After they spent 29 days searching for victims and recovering remains at the site of the condo collapse in Surfside, Florida, rescue crews concluded their work on Friday.
Search and rescue workers departed the Surfside site Friday afternoon in a procession of vehicles that led to the City of Miami Fire Rescue Headquarters. There, they were greeted by family and friends, according to local news station WPLG.
Members of two rescue task forces have worked 12-hour shifts in the month following the collapse that killed at least 97 people.
"It was extremely grueling,"said Nicole Notte, a member of one of the rescue task forces.
"Especially having a baby at home and seeing the things that we have seen, it's hard. It's harder. It's personal," she added.
On Wednesday, Miami-Dade County officials said they had identified 97 victims of the June 24 condo collapse. They believe only one victim has yet to be identified.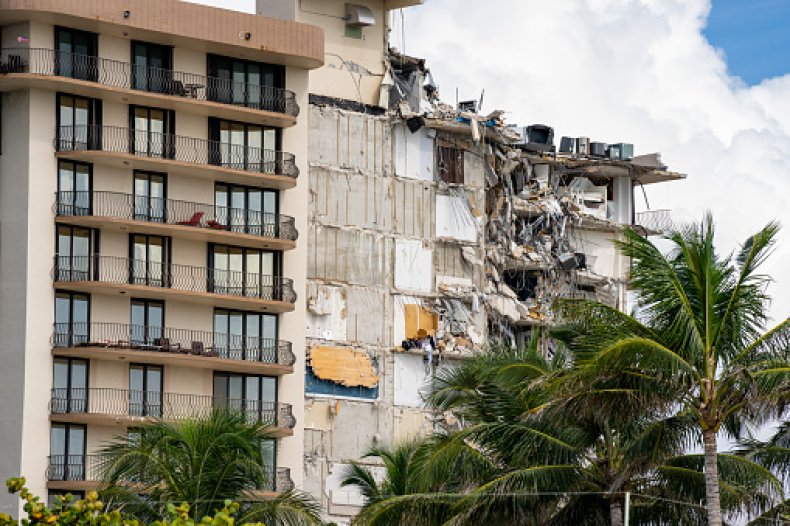 While the rescue crews departed the site of the collapse Friday, police and forensic specialists remain there as they continue to identify remains, WPLG reported.
Miami-Dade County Mayor Daniella Levine Cava said Wednesday that the rescue crews and "debris handling teams" had "mostly cleared" the site of the collapse.
The mayor added that officials were continuing"to search as thoroughly as possible for any remains to bring closure to families."
"In collapses like this one it is unfortunately very difficult to recover all the remains. Some of the factors that impeded the search work against us, like fire and water," Levine Cava said in a statement.
"The enormous pressure of the weight of the collapse and the passage of time also make it more challenging. Our teams are committed to doing everything possible to bring closure to the families, and that's why they continue to search the debris," she continued.
Officials have yet to identify a cause of the collapse that brought down the Champlain Towers South in Surfside.
However, a report from an engineer in 2018 concluded that there was structural damage throughout the building. CNN reported Wednesday that when the search for victims ends, experts believe it will be easier for the investigation into the cause of the disaster to pick up.
Florida State Attorney Katherine Fernandez Rundle told CNN that there have been "multiple requests by engineers and attorneys" who want to go to the site.
"Engineers from the federal agency National Institute of Standards and Technology (NIST) were deployed to Surfside with Congressional authority to gather evidence and determine how and why the Champlain South Tower collapsed," Fernandez Rundle said.
"It is my understanding that once NIST, the Miami-Dade Fire Rescue and Miami-Dade Police Departments determine that it is safe and appropriate for others to gain access to the site, they will be permitted to do so under guidelines set forth by those agencies," she added.