Surfside Resident Steve Rosenthal Files Lawsuit Against Property, 2nd Since Collapse
A resident who survived Thursday's partial building collapse at Champlain Towers South in Surfside, Fla. filed a lawsuit in connection with the collapse on Saturday.
News of the lawsuit against the Champlain Towers South Condominium Association became public on Monday. The complaint was filed on behalf of Steve Rosenthal in the circuit court of the 11th judicial circuit of Miami-Dade County. Rosenthal is seeking unspecified monetary damages and a jury trial. Rosenthal's suit is the second one made public since the building's collapse.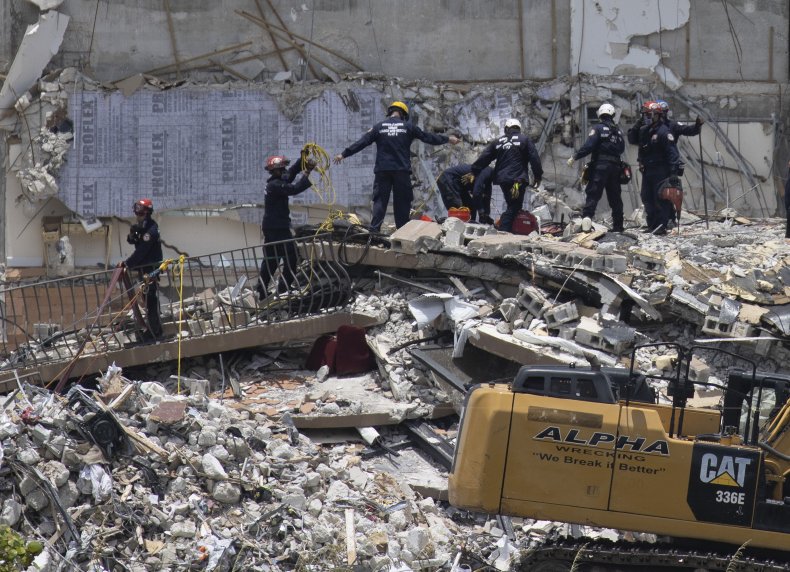 Rosenthal's attorney Robert McKee spoke with ABC affiliate WPLG regarding the suit. "The tragedy of Champlain Towers South should not be allowed to be repeated'" he said. "It is not a solitary freak event."
"The conditions relating to its collapse exist in many of our hi-rise concrete buildings," McKee added before speaking of a need for better safety in such large dwellings. Without measures such as more frequent building inspections, the attorney speculated that "we will have other events such as the horrible failure and collapse we have all witnessed at Champlain Towers South."
NBC affiliate WTVJ spoke with Rosenthal in a story published online on Sunday before news of his lawsuit was made public. The story detailed how Rosenthal was receiving aid from Capponi's Global Empowerment Mission. The non-profit group is offering all survivors of the building collapse $1,500 in prepaid credit cards and a care package that contains basic necessities such as toothbrushes, socks, and phone chargers.
Rosenthal, who lived on the seventh floor, told WTVJ that he was sleeping when the building started to collapse. "I heard what I thought was the loudest thunderclap times a hundred that I ever heard in my life, about five seconds later, the bed shook and the room shook," he said.
The first lawsuit over the partial building collapse was filed electronically on Thursday night on behalf of Manuel Drezner and others "similarly situated" by the Brad Sohn Law Firm. The class-action suit seeks $5 million in compensation for the victims.
"As a lawyer, I can't fix what is irreparable. But what I can do is fight to immediately fully compensate these victims so that they can focus all of their energy on healing as best they can," Brad Sohn said in a statement.
The suit filed by Sohn's firm states the condo association failed to "secure and safeguard the lives and property" of those who live at the building.
Rosenthal's complaint claims the association "knew, or in the exercise of reasonable care, should have known that the entire structure was deteriorating and becoming susceptible to catastrophic loss by collapse."
"Many of his [Rosenthal's] friends who lived within the building have not been heard from and are presumed dead in this collapse," the lawsuit continued.
Miami-Dade County Mayor Daniella Levine Cava said on Monday that another body was found in the rubble of the collapse, bringing the death toll to 10. More than 150 people remain missing as of press time.
Newsweek contacted the Champlain Towers South Condominium Association for comment but did not hear back in time for publication.