Surfside Update: Rescue Efforts Paused After Additional Building Stability Concerns Arise
The search and rescue mission in Surfside, Florida, has been put on pause a week after the Champlain Towers South condominium suffered a partial collapse that has devastated the community.
Officials announced on Thursday morning that operations were halted after additional building stability concerns were raised by several on-site structural engineers. They said that the structure has become "significantly compromised."
"We were forced to halt operations on the collapse in the early hours of the morning due to structural concerns about the standing structure," Miami-Dade County Mayor Daniella Levine Cava said at a press conference. "We're doing everything we can to ensure that the safety of our first responders is paramount and to continue our search and rescue operations as soon as it is safe to do so."
Families still waiting for word on their missing loved ones were informed by county officials ahead of the briefing.
Miami-Dade Fire Rescue Chief Alan Cominsky said assessors are worried that the six to 12 inches of movement of a large column hanging from the structure could cause additional collapse and damage to the support columns. He added that there wasn't one particular thing that had caused the shift.
"We've been working on a very, very unsafe environment, so I couldn't pinpoint it for one specific incident," Cominsky explained. "Just last night, as we're actively producing our search and rescue efforts, our monitors [for cracks in the structure] went off."
Officials say that engineers will continue to monitor the structure during the pause and are evaluating all possible next steps. No time frame has been provided as to when operations will resume.
As of Thursday morning, the death toll stands at 18, while another 145 people remain unaccounted for. The victims range in age from 4 to 92.
"We're now standing united once again with this terrible revelation that children are the victims as well," Levine Cava said on Wednesday after the bodies of two children were found. "So in the worst of times we come together and we pray together."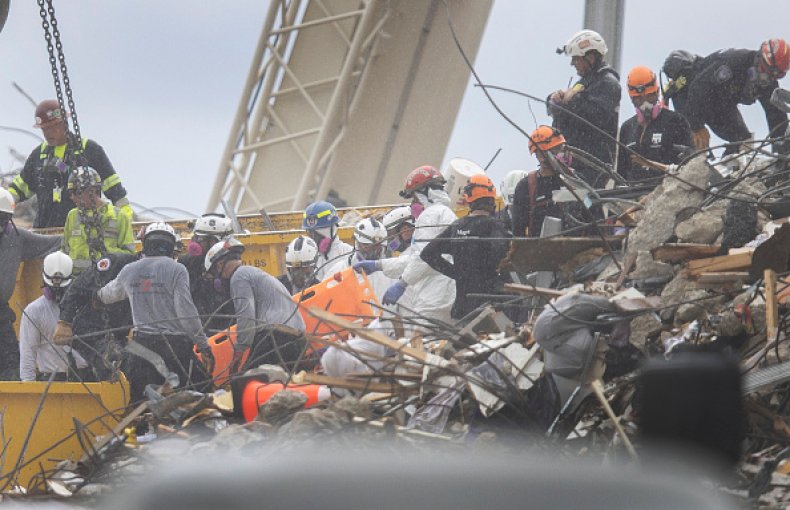 President Joe Biden and first lady Jill Biden will head to Surfside on Thursday to meet with search and rescue teams to thank them and then with families in a second stop. Biden has blocked off more than three hours to meet with dozens of families that have been affected by the tragedy.
Levine Cava has repeatedly reassured the public that the president's arrival will not affect the search and rescue efforts.
"I want to stress that President Biden's visit today will have no impact on what happens at the site. The search and rescue operation will continue as soon as it is safe to do so," Levine Cava said. "The only reason for this pause is concerns about the standard structure."
Biden will also meet with GOP Governor Ron DeSantis on his trip. The White House has said the administration aims to keep the visit as apolitical as possible.
Biden and DeSantis have seemingly been able to work together productively in the wake of the collapse. Biden signed an emergency declaration sending agents from the Federal Emergency Management Agency to join the search efforts.
"They're all in," DeSantis said of the Biden's administration during a news conference last week. "And so we really appreciate having the support of the president."