Surfside Victims, Families to Receive $150M Initially in Compensation, Judge Says
Victims and families impacted by the condominium collapse in Surfside, Florida, will receive a minimum of $150 million in compensation.
Miami-Dade Circuit Judge Michael Hanzman made the announcement during a hearing on Wednesday, the Associated Press reported. Hanzman said the court's concern has "always been the victims" and that their "rights will be protected."
The $150 million sum includes the insurance of the Champlain Towers South building and expected earnings from the sale of the property where the building was located. According to court documents, there have already been inquiries to buy the property for between $100 million to $110 million.
The compensation doesn't include payout from the lawsuits that have been filed since the June 24 collapse. Hanzman said Wednesday that he has no doubt "no stone will be left unturned" in regards to the litigation.
The collapse has killed at least 97 people. All but two of the victims have been identified by authorities.
Crews have removed more than 20 million pounds of debris and concrete in their search and recovery efforts. Surfside Mayor Charles Burkett said earlier this month that the operation is moving toward completion.
"The search continues until everyone trapped in the debris is pulled out," Burkett said on July 12. "It's obvious that this has become much more than a collapsed building site. It is a holy site."
State and local officials have launched a website, Surfside Assistance, to provide aid to Champlain Towers residents, survivors, and family members. Those with unmet needs can apply for assistance through the site. Donors and organizations can also find information on how to help.
Authorities are continuing to investigate the cause of the Champlain Towers South collapse.
The U.S. Department of Commerce's National Institute of Standards and Technology (NIST) is working to collect pieces of concrete and debris from the site and preserve it as evidence. The institute announced on June 30 that it was launching a full technical investigation into what caused the partial collapse.
While a cause of the collapse hasn't yet been determined, there were several previous warnings of structural concerns.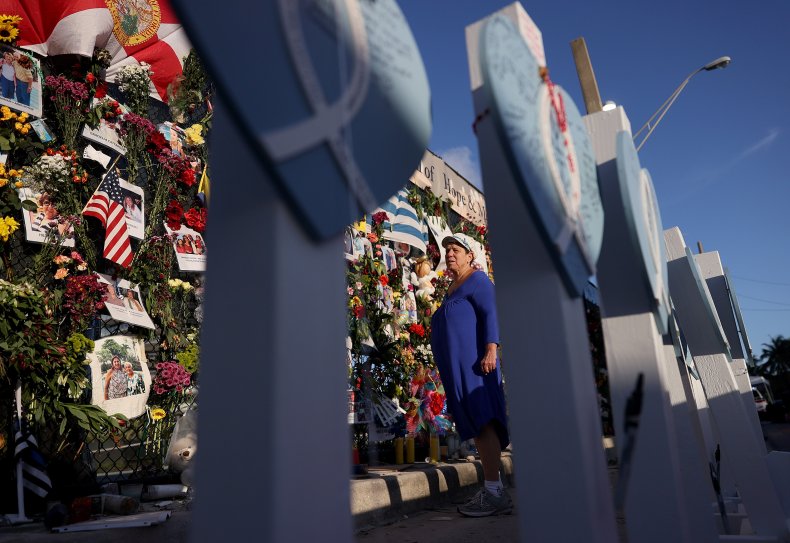 The New York Times reported in late June that three years before the Champlain Towers South crumbled, a consultant inspected the building and found evidence of "major structural damage" to a concrete slab below the pool deck as well as "abundant" cracking of columns and walls in the underground parking garage.
Three months before the collapse, the condominium association's president warned that the damage in the tower was "significantly worse" than the 2018 inspection highlighted.
"We intend to undertake a thorough technical investigation into what caused the collapse, to ultimately make recommendations that would make our buildings safer and keep something like this from happening again," the NIST said in a statement. "This effort will take time, but we will work on this as long as necessary."