Surgeon General Says If Federal Govt. Makes Face Masks Mandatory, Many People Will 'Rebel'
U.S. Surgeon General Jerome Adams said that if the federal government issued a nationwide mask requirement, many people would "rebel."
"Here's the challenge, if you make something mandatory, particularly for the younger age groups we are talking about, many of them will rebel and do the exact opposite," Adams said while appearing on NBC's Today.
Adams comments came after he was asked by the show's co-host Craig Melvin, why the government has not yet issued a nationwide mandate, "if we know wearing them, literally saves lives."
While Adams suggested that many people would go against a nationwide mask requirement he asserted that they will help bring lives back to normal, and said, "if you want college football in the fall young people, please wear a face covering."
"If you want prom next year, please wear a face covering, it could prevent asymptomatic spread and help us overcome this virus," Adams added.
During his appearance on Today, Adams also spoke about large public gatherings, including two that President Donald Trump will attend to celebrate the Fourth of July. On Friday, Trump is scheduled to attend an early Independence Day celebration at the Mt. Rushmore National Memorial in Keystone, South Dakota and on Saturday he is hosting a "Salute to America" event in Washington D.C.
Adams stated that people across the country need to make their own decisions on whether to attend large gatherings like the two Trump will be attending, but stressed that masks should be worn.
"There are gonna be people going to beaches, going to barbecues, going to different environment's and they have to look at their individual risk," Adams said. "As you mentioned CDC says larger gatherings are a higher risk. You have to take that into account with again whether or not you're at risk, whether you live with someone who is vulnerable and then you have to take measures to stay safe."
"The most important thing I would say to people is, if you do go out to a gathering or in public, please wear a face covering," Adams said. "As we talk about Fourth of July and Independence, it is important to understand that if we all wear these [masks] we will actually have more independence and more freedom."
Each of Trump's events will host thousands of people and both South Dakota Governor Kristi Noem and White House press secretary Kayleigh McEnany have stated that masks will not be required but will be given to those who want them.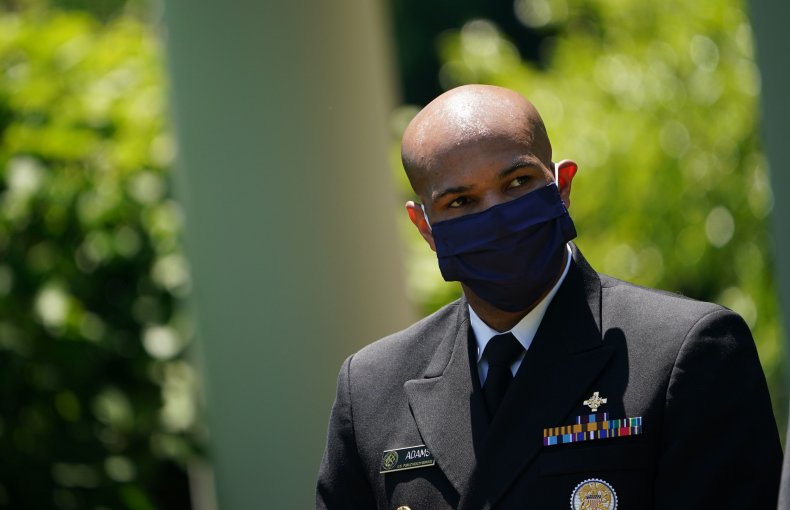 As of Friday, June 3 cases of the novel coronavirus, which causes the respiratory disease COVID-19, continue to surge across the U.S. According to a tracker provided by Johns Hopkins University, there are currently over 2.7 million cases across the U.S. as well as at least 128,740 deaths.
The U.S. Department of Health and Human Services referred Newsweek to Adams' comments during his Today appearance when reached for additional comment.