Surgeon Treating YouTube Shooting Victims Says He Sees Gun Attacks 'All the Time'
A doctor treating the survivors of the shooting at YouTube Headquarters in San Bruno, California, said mass shootings have become far too frequent.
"The reality is we have to deal with this all the time," Dr. Andre Campbell, a 23-year veteran of trauma surgery at Zuckerberg San Francisco General, told reporters during a press conference Tuesday, according to a WDSU report. "We have to deal with the families, the injuries. We have to deal with this constantly."
Campbell said he is exasperated with mass shootings, which he feels are never-ending in the U.S. His remarks come after a suspect approached a seating area at the YouTube campus and fired a handgun. All three victims were alive as of Wednesday morning, but one was in critical condition, one was in serious condition, and another was stable. After the suspect wounded three people, she killed herself.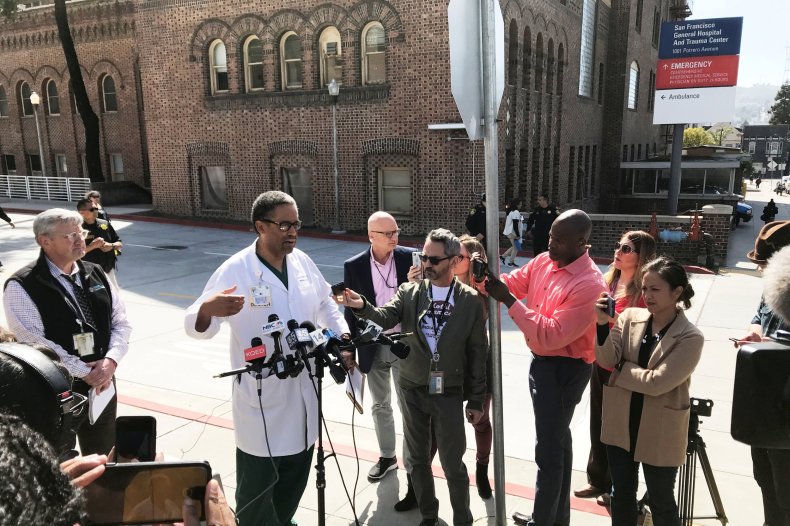 Zuckerberg San Francisco General Hospital receives victims of shootings from across California's Bay Area. The state has some of the strictest gun-control laws in the country and significantly fewer firearm deaths in proportion to its population than the national average.
The suspect in Tuesday's shooting was a YouTube user. She appears to have been angry that changes at the video-sharing platform resulted in her videos getting fewer views, so she earned less money, according to the BBC.
Campbell told reporters that he had seen another mass-shooting the week before, and another the week before that. Those shootings were devastating, and in some cases more fatal, but Campbell said the media didn't cover those crimes.
Campbell isn't the first person linked to a mass shooting to come out against gun laws, and he likely won't be the last. More recently, teenage survivors of the recent mass shooting at the Marjory Stoneman Douglas High School in Parkland, Florida, have been campaigning for gun reform, and the #NeverAgain movement, meant to pressure the government into imposing restrictions on gun ownership, is in full swing.
Campbell mentioned the Parkland attack and other mass shootings in his remarks. "To think that after we've seen Las Vegas, Parkland, the Pulse nightclub shooting, that we would see an end to this, but we have not," Campbell said.
He told CNN: "We as trauma providers, we are just saddened by the fact that this is a persistent problem."