Neither surgical nor cotton masks are effective at stopping the new coronavirus from spreading when a person coughs, a study suggests. The authors of the paper, published in the journal Annals of Internal Medicine, said more research is needed to determine whether such masks prevent the bug that causes COVID-19 from being passed on.
To test whether certain masks prevent the spread of SARS-CoV-2, the virus that causes COVID-19 (not to be confused with the SARS virus), researchers asked four COVID-19 patients in South Korea to enter negative-pressure isolation rooms. The volunteers, aged between 35 and 82, were asked to cough four times each on to five separate Petri dishes positioned 20 cm (7.9 inches) from their mouths. The first time they wore no mask, then a surgical mask, followed by a cotton mask, and again no mask. The disposable surgical masks used in the study measured 180 mm × 90 mm and had three layers, while reusable cotton masks measured 160 mm × 135 mm and were comprised of two layers
After the participants finished coughing, the researchers took swabs from the inner and outer surfaces of the masks.
Dr. Sung-Han Kim of Asan Medical Center, University of Ulsan College of Medicine, Seoul, and colleagues found SARS-CoV-2 on the outside of every mask, but "most" swabs from inside tested negative.
Finding more virus particles on the outer than inner mask surfaces was "of note," the scientists said. It was unlikely the researchers spread the virus while swabbing the masks, they argued, as they tested the outside before the inner surface.
Instead, SARS-CoV-2 particles may have escaped around the edges of the mask, the researchers said. Alternatively, small SARS-CoV-2 particles created during a hard cough may have penetrated the masks.
The findings emphasize the importance of washing hands after touching the outer surface of masks, according to the team.
The authors highlighted: "This experiment did not include N95 masks and does not reflect the actual transmission of infection from patients with COVID-19 wearing different types of masks."
"We do not know whether masks shorten the travel distance of droplets during coughing," they said.
"In conclusion, both surgical and cotton masks seem to be ineffective in preventing the dissemination of SARS–CoV-2 from the coughs of patients with COVID-19 to the environment and external mask surface."
More research is needed to confirm whether face masks lower the risk of passing COVID-19 on from asymptomatic people and those with suspected COVID-19 who are not coughing.
As the new coronavirus that causes COVID-19 is so new, little is known about how to prevent its spread, the authors suggested. Past research indicating surgical masks filter the flu virus partly informed recommendations that suspected or confirmed COVID-19 patients should wear face masks to stop SARS-Cov-2 from spreading, they said.
But these were followed by studies suggesting surgical masks may not work against SARS-CoV-2. The researchers cited a previous study that suggested wearing surgical and N95 respirator masks, which seal the nose and mouth, may help prevent the spread of SARS-CoV-2. But as the pandemic has led to a shortage of N95 and surgical masks, cotton masks have emerged as a potential alternative.
The study comes as health officials review guidance on mask-wearing to combat COVID-19, with the U.S. Centers for Disease Control and Prevention last week updating its recommendations. The agency now advises the general public to wear cloth face coverings in public where social distancing measures are hard to maintain, for instance at the grocery store or pharmacy—particularly in areas where the virus is spreading in the community.
On Monday, the World Health Organization Director-General Tedros Adhanom Ghebreyesus addressed the debate during a media briefing, once again stressing that medical masks are in short supply globally and "must be prioritized for health workers on the front lines of the response."
He said: "In the community, we recommend the use of medical masks by people who are sick and those who are caring for a sick person at home."
Ghebreyesus said the organization had been evaluating the use of medical and non-medical masks and was issuing guidance to help countries decide on their policy.
"If masks are worn, they must be used safely and properly. WHO has guidance on how to put on, take off and dispose of masks," he said, calling on countries to study their effectiveness
"What is clear is that there is limited research in this area," he said. Ghebreyesus stressed: "Masks should only ever be used as part of a comprehensive package of interventions.
"There is no black or white answer, and no silver bullet. Masks alone cannot stop the pandemic. Countries must continue to find, test, isolate and treat every case and trace every contact."
Since the virus emerged from the central Chinese city of Wuhan late last year, more than 1.3 million people have been diagnosed with COVID-19, a total of 74, 816 people have died, and almost 285,000 people have recovered, according to Johns Hopkins University. As shown in the map by Statista below, COVID-19 cases have been confirmed in almost every country and territory around the world.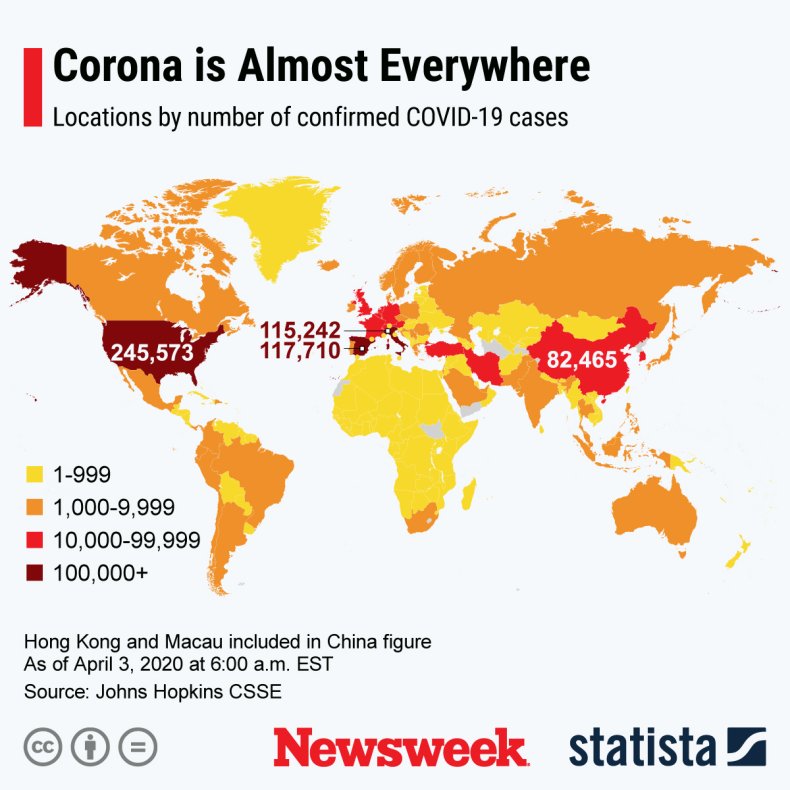 Centers for Disease Control and Prevention Advice on Using Face Coverings to Slow Spread of COVID-19
CDC recommends wearing a cloth face covering in public where social distancing measures are difficult to maintain.
A simple cloth face covering can help slow the spread of the virus by those infected and by those who do not exhibit symptoms.
Cloth face coverings can be fashioned from household items. Guides are offered by the CDC. (https://www.cdc.gov/coronavirus/2019-ncov/prevent-getting-sick/diy-cloth-face-coverings.html)
Cloth face coverings should be washed regularly. A washing machine will suffice.
Practice safe removal of face coverings by not touching eyes, nose, and mouth, and wash hands immediately after removing the covering.
World Health Organization advice for avoiding spread of coronavirus disease (COVID-19)
Hygiene advice
Clean hands frequently with soap and water, or alcohol-based hand rub.
Wash hands after coughing or sneezing; when caring for the sick; before, during and after food preparation; before eating; after using the toilet; when hands are visibly dirty; and after handling animals or waste.
Maintain at least 1 meter (3 feet) distance from anyone who is coughing or sneezing.
Avoid touching your hands, nose and mouth. Do not spit in public.
Cover your mouth and nose with a tissue or bent elbow when coughing or sneezing. Discard the tissue immediately and clean your hands.
Medical advice
Avoid close contact with others if you have any symptoms.
Stay at home if you feel unwell, even with mild symptoms such as headache and runny nose, to avoid potential spread of the disease to medical facilities and other people.
If you develop serious symptoms (fever, cough, difficulty breathing) seek medical care early and contact local health authorities in advance.
Note any recent contact with others and travel details to provide to authorities who can trace and prevent spread of the disease.
Stay up to date on COVID-19 developments issued by health authorities and follow their guidance.
Mask and glove usage
Healthy individuals only need to wear a mask if taking care of a sick person.
Wear a mask if you are coughing or sneezing.
Masks are effective when used in combination with frequent hand cleaning.
Do not touch the mask while wearing it. Clean hands if you touch the mask.
Learn how to properly put on, remove and dispose of masks. Clean hands after disposing of the mask.
Do not reuse single-use masks.
Regularly washing bare hands is more effective against catching COVID-19 than wearing rubber gloves.
The COVID-19 virus can still be picked up on rubber gloves and transmitted by touching your face.