Crocodile Autopsy Reveals Surgical Plate in Stomach That Could Be From Missing Person Decades Ago: 'It's a Mystery'
Crocodile keepers in Australia were shocked to find a surgical plate in the stomach of one of their dead crocs and hope the piece of metal could help solve a cold missing person case.
MJ the crocodile died recently at Koorana Crocodile Farm in Queensland, near the coast of eastern Australia. To determine why the 4.7 meter long reptile passed away, its owners sliced open its gut, they explained on Facebook. Inside, they discovered a handful of stones—which crocodiles use to grind up their food—and a piece of metal lined with holes, and six screws.
"Imagine our surprise when we opened up the gut on this large croc and found what looks to be an orthopaedic plate!" the keepers wrote. "No staff and no pets are missing here! So, for now it's a mystery..."
Owner John Lever told the Australian Associated Press he has contacted the farm where he bought MJ to ask whether they can provide any clues about the plate's origin.
He told Newsweek he sent photos of the plate to a surgeon who concluded it was more likely to be from a human rather than an animal. "My hope is that the plate may assist in the solving of a cold case," he said. Since the news broke, several people have contacted the keeper to tell of missing persons cases in North Queensland, he told Newsweek.
Koorana Crocodile Farm bought MJ six years ago, John Lever told Australian broadcaster WIN News Central Queensland. Before that, the reptile lived in the wild.
John Lever, who has worked with crocodiles since 1972, told Newsweek MJ fell ill after fighting with another crocodile last December, and stopped eating for six months before he died in mid-June.
Three members of staff were there at the time when MJ's stomach contents were inspect on the day he died, he said. "Someone immediately identified it as a surgical plate—we were all stunned at the find."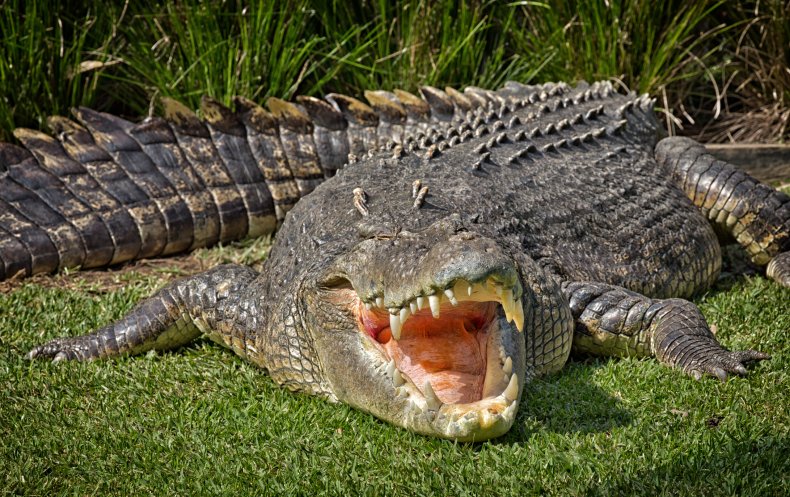 MJ's owners don't know much about the plate as it isn't numbered, but they think it was made in Eastern Europe, WIN News reported.
"Obviously whatever bone he'd taken in that had had the operation performed on it, had been eaten away by the crocodile's stomach juices and just left the stainless steel plate with the six screws in it," John Lever told ABC.
"I've never seen anything like this before and I'd just love to find out where it came from," he told WIN News.
Judging by MJ's size and estimated age, John Lever told WIN News he thinks the plate could have been sat in the croc's stomach for as long as 30 to 40 years.
Adam Lever of Koorana Crocodile Farm explained it's not unusual to find "random things" in the stomachs of crocodiles. During their lives, many reptiles like crocodiles as well as some birds and mammals like seals and whales swallow rocks. Known as gastroliths—or stomach stones—they help the animals digest food.
"You find stones, usually, you find hairballs, you find bones. But then there are also things that take you completely sideways," Adam Lever told WIN News.
"It is quite surprising but at the same time you're sort of half expecting random things to be in their stomach anyway," he said. "I mean, this is an animal that is the keeper of its homes and its waterways and of course if you're the keeper you're the cleaner as well."
John Lever has sent photos of the plate to the U.K. in the hope experts can determine its original use. He then intends to pass it on to police.
This article has been updated with comment from John Lever.