Mortgage rates continue to hit all-time lows each week, with 30-year fixed rates now averaging 3.07 to begin July. Despite this continued drop and the fact that the U.S. real estate industry has been stalled for months due to COVID-19 restrictions, new mortgage applications are seeing a quick resurgence to normal levels.
According to the Mortgage Bankers Association weekly survey of nationwide mortgages, new applications rose year-over-year by 9.3 percent and 8 percent at the beginning of June before falling slightly at the end of the month. This new data, along with the general uptick in applications over the past month, shows that home buyers are having a renewed spark of confidence in the country's coronavirus recovery.
While interest rates have been falling since the early 1980s, they can predictably push upward in tandem with long-term bond yields. Coronavirus concerns have pushed these bonds down, which in turn has driven mortgage rates even lower. As cities and states reopen, some predict rates could start trending upward if restrictions continue to be lifted heading into the summer. However, if cases continue to rise—as current evidence seems to suggest in states like Arizona, Florida and Texas—interest rates could continue to plummet even further.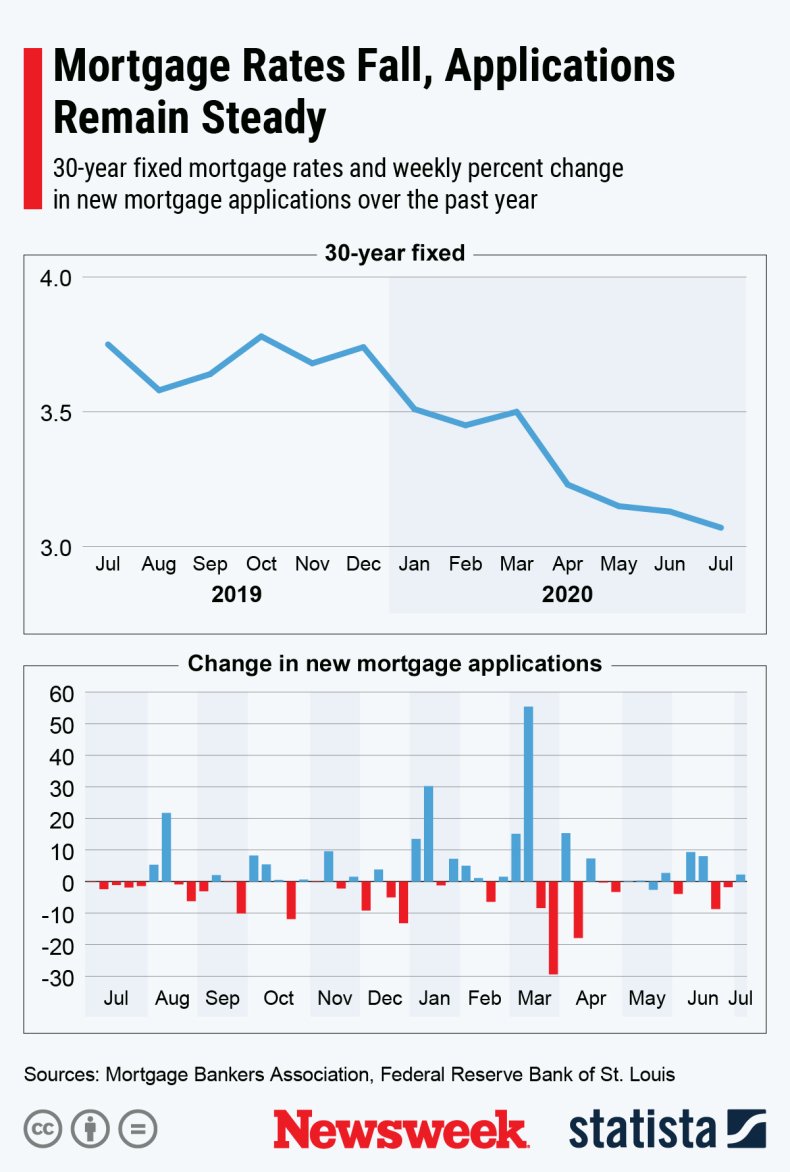 New mortgage applications are still rising even with this high level of volatility. Numbers indicate home buyers are rushing back to the market sooner than expected, with low interest rates and high demand playing key roles in the unexpected surge. On the flip side, refinancing loans aren't seeing the same level of growth but are expected to rise due to prolonged low mortgage rates the rest of this year.
Another aspect of mortgage applications are their availability, which hit a six-year low at the beginning of June. Despite record-low interest rates, the approval standards for many banks are making it tougher for Americans to qualify. One big reason for this is the fact that lenders are simply more risk-averse during the current pandemic, with data showing credit and mortgage forbearances at all-time highs in the country.
Ultimately, rates and further applications will be tied to how well the economy continues to recover as the U.S. enters July. Advanced reopening stages are happening in most states, and the real estate industry is quickly taking advantage of reduced restrictions with open houses and in-person showings.
Yet COVID-19 could quickly destroy any ground real estate companies and banks are recouping in home sales and new mortgage loans. At least 20 states are seeing increases in daily COVID-19 case counts, and fears about an impending second wave have stalled the stock market's comeback from its February crash. Small wins, like the Federal Reserve continuing to buy mortgage-backed bonds, show that optimism may be the crucial factor for keeping mortgage applications high and interest rates friendly.
Manuel Moerbach is CEO of Statista Inc. and hypergrowth tech expert.
The views expressed in this article are the writer's own.